The holidays are over for another year, so let's talk about the fun stuff — books. 🙂
What books did you guys get for Christmas? Here are some of the books that I got for the holidays that I'm looking forward to reading this winter. Note that the descriptions are from Amazon: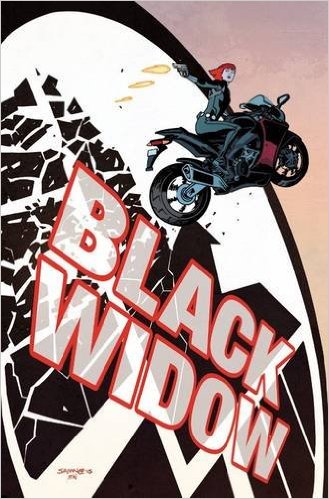 Black Widow Vol. 1: S.H.I.E.L.D.'s Most Wanted by Mark Waid and Chris Samnee
They wowed you with Daredevil, now the Eisner Award-winning team of Mark Waid and Chris Samnee take Black Widow to new heights -by forcing her to go on the lam! Natasha has a lifetime of secrets, and when some of the darkest ones are made public, nobody is safe. As S.H.I.E.L.D. turns on its once greatest asset, she seeks out her own answers in a knockdown drag-out tale of action and espionage! But will the Widow's hunt for the Weeping Lion send her back to the one place she never wanted to go? And, when a S.H.I.E.L.D. funeral makes the assembled top brass an attractive target, it's lucky for them that the Black Widow is still on their side, even if they aren't on hers.
COLLECTING: BLACK WIDOW 1-6
My thoughts: I'm always up for a Black Widow story, and I've heard good things about this series.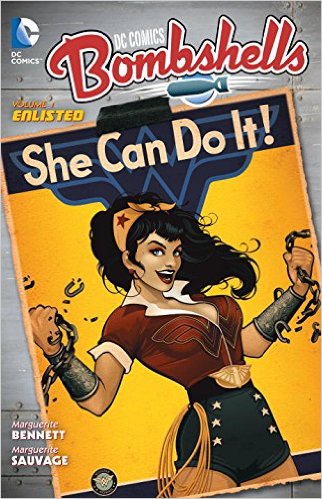 DC Comics: Bombshells Vol. 1: Enlisted by Marguerite Bennett and Marguerite Sauvage
The incredibly popular DC Collectibles line is brought to life in these stories that reimagine the course of history!
As Word War II rages across Europe, the Allied forces issue a call to arms for the greatest heroines the world has ever known: THE BOMBSHELLS!
KATE KANE, the all-American Batwoman; DIANA OF THEMYSCIRA, warrior Princess of the Amazons; KARA STARIKOV and KORTNI DUGINOVNA, defenders of Mother Russia; and MERA, royal daughter of the legendary Atlantis! With aid from their allies at home and abroad, these mighty women will turn the tide of war and defend those inviolable rights of Truth, Justice and Freedom.
From writer Marguerite Bennett (BATGIRL, EARTH 2: WORLD'S END) and featuring artists including Marguerite Sauvage (HINTERKIND), Laura Braga (Witchblade), Bilquis Evely (Doc Savage), Mirka Andolfo (Chaos) and Ming Doyle (CONSTANTINE: THE HELLBLAZER) comes DC COMICS: BOMBSHELLS VOL. 1: ENLISTED. Collects DC COMICS: BOMBSHELLS #1-6.
My thoughts: This looks like an interesting and different take on Wonder Woman and other classic comic book heroines.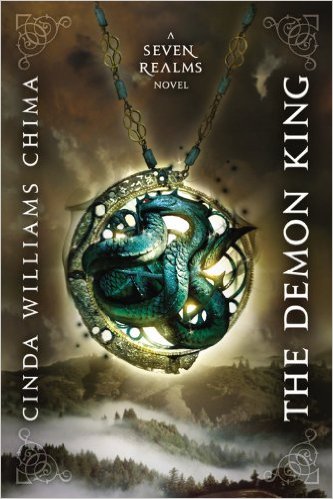 The Demon King by Cinda Williams Chima
One day Han Alister catches three young wizard setting fire to the sacred mountain of Hanalea. Han takes an amulet away from Micah Bayar, son of the High Wizard, to ensure the boy won't use it against him. The amulet once belonged to the Demon King, who nearly destroyed the world a millennium ago. With a magical piece so powerful at stake, Han knows that the Bayars will stop at nothing to get it back.
Meanwhile, Princess Raisa ana'Marianna has her own battle to fight. She's just returned to court after three years of riding and hunting with her father's family. Raia aspires to be like Hanalea, the legendary warrior queen who killed the Demon King and saved the world. But it seems that her mother has other plans for her-plans that include a suitor who goes against everything the Queendom stands for.
The Seven Realms will tremble when the lives of Han and Raisa collide in this stunning page-turner from best-selling author Cinda Williams Chima.
My thoughts: I've heard a lot of good things about this series, and I've been wanting to try it for a long time.
What about you guys? What books are you looking forward to reading this winter?