'Tis the season for holiday romances …
It's October now, which means that the holidays are right around the corner — and that the bookstore shelves are full of holiday romances.
I really like reading holiday romances, and they always seem to have the loveliest covers. I am a sucker for a pretty cover. LOL. Here are some holiday romances that I'm hoping to either read myself or give as gifts this year. Note that the descriptions are from Amazon.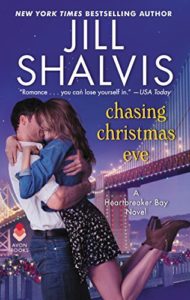 Chasing Christmas Eve by Jill Shalvis
Out now
(A standalone Heartbreaker Bay novel)
Meet cute…
Run for the hills—temporarily. That's Colbie Albright's plan when she flees New York for San Francisco. Wrangling her crazy family by day and writing a bestselling YA fantasy series by night has taken its toll. In short, Colbie's so over it that she's under it. She's also under the waters of a historic San Francisco fountain within an hour of arrival. Fortunately, the guy who fishes Colbie out has her looking forward to Christmas among strangers. But she's pretty sure Spencer Baldwin won't be a stranger for long.
Make merry…
Spence's commitment to hiding from the Ghosts of Relationships Past means he doesn't have to worry about the powerful—okay, crazy hot—chemistry he's got with Colbie. Just because she can laugh at anything, especially herself… just because she's gorgeous and a great listener…just because she "gets" Spence immediately doesn't mean he won't be able to let Colbie go. Does it?
…and hope for a miracle.
Now the clock's ticking for Colbie and Spence: Two weeks to cut loose. Two weeks to fall hard. Two weeks to figure out how to make this Christmas last a lifetime.
My thoughts: I see so many good reviews for Shalvis's books, and I keep meaning to read more by her. Plus, I have her 2016 holiday romance — The Trouble with Mistletoe — in my TBR pile. So I'm hoping to read that book and this new one.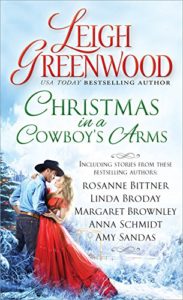 Christmas in a Cowboy's Arms by Leigh Greenwood, Rosanne Bittner, Linda Broday, Margaret Brownley, Anna Schmidt, and Amy Sandas
Out on Oct. 3

In the wild and untamed West, it takes cowboy's embrace to see you through a long winter's night. Stay toasty this holiday season with heart-warming tales from bestselling authors Leigh Greenwood, Rosanne Bittner, Linda Broday, Margaret Brownley, Anna Schmidt, and Amy Sandas.
The Beating Heart of Christmas
Whether it's a lonely spinster finding passion at last…an infamous outlaw-turned-lawman reaffirming the love that keeps him whole…a lost and broken drifter discovering family in unlikely places…a Texas Ranger risking it all for one remarkable woman…two lovers bringing together a family ripped apart by prejudice…or reunited lovers given a second chance to correct past mistakes…a Christmas spent in a cowboy's arms is full of hope, laughter, and—most of all—love.
My thoughts: My mom loves reading historical westerns, so I'm going to buy this for her as an early Christmas gift. Plus, I met Mr. Greenwood at a conference several years ago, and he was a lovely gentleman.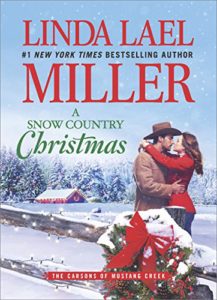 A Snow Country Christmas by Linda Lael Miller
Out now
It's a Christmas affair to remember as a Hollywood mogul discovers his inner cowboy—and the woman of his dreams—amid the rugged beauty of Wyoming. 
Raine McCall would take snow-covered mountains over a star-studded premiere any day. But when hotshot movie executive Mick Branson arranges dinner on Christmas Eve to discuss a work opportunity, she's intrigued—by the offer and the man. She's a no-makeup, no-frills single mom, who's happy with her quiet life. Sharing chili cheeseburgers and sizzling kisses with Mick is sure heating up her holiday, but country girl and power player don't mix… 
It's not just work that's brought Mick back to Mustang Creek. Since he first visited to oversee a documentary, free-spirited graphic designer Raine has been in his head. Her approach to life is as unconventional as her quirky holiday ornaments. Their attraction is undeniable—and so are their differences. Putting down roots in the Wild West wasn't in the script. But there are some Christmas gifts you can't walk away from, even when they turn your whole world upside down…
My thoughts: I love westerns and Hollywood stories, so this seems like it is right up my alley.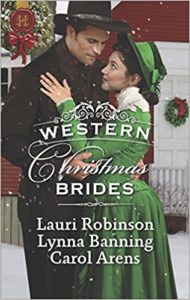 Western Christmas Brides by Lauri Robinson, Lynna Banning, and Carol Arens
Out now
Three heartwarming stories of Christmas in the Wild West. 
A Bride and Baby for Christmas by Lauri Robinson 
Pregnant Hannah Olsen has made a list of Oak Grove's eligible men. A list that Teddy White sees—and he's not on it! Time for him to act so that both their Christmas wishes can come true. 
Miss Christina's Christmas Wish by Lynna Banning 
Dedicated new teacher Christina Marnell feels her heart race as she watches Ivan Panovsky chop wood for the school. She had ruled marriage out, but Christmas is a time when miracles can happen… 
A Kiss from the Cowboy by Carol Arens 
Kitson James and Livy York both have secrets, but can their love overcome the lies they've told? A Christmas kiss might help…
My thoughts: Harlequin usually puts out a historical western romance anthology every year, and I always buy the latest anthology for my mom.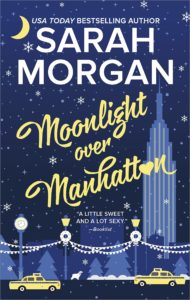 Moonlight Over Manhattan by Sarah Morgan
Out on Nov. 28
She'll risk everything for her own Christmas miracle… 
Determined to conquer a lifetime of shyness, Harriet Knight challenges herself to do one thing a day in December that scares her, including celebrating Christmas without her family. But when dog walker Harriet meets her newest client, exuberant spaniel Madi, she adds an extra challenge to her list—dealing with Madi's temporary dog sitter, gruff doctor Ethan Black, and their very unexpected chemistry. 
Ethan thought he was used to chaos, until he met Madi—how can one tiny dog cause such mayhem? To Ethan, the solution is simple—he will pay Harriet to share his New York apartment and provide twenty-four-hour care. But there's nothing simple about how Harriet makes him feel. 
Ethan's kisses make Harriet shine brighter than the stars over moonlit Manhattan. But when his dog-sitting duties are over and Harriet returns to her own home, will she dare to take the biggest challenge of all—letting Ethan know he has her heart for life, not just for Christmas? 
My thoughts: I've enjoyed Morgan's other books, and this is the latest book in her From Manhattan With Love series. Plus, I think the covers for this series are really fun.
What about you guys? Do you read holiday romances? Which books are you looking forward to reading this season?
4 Responses to "'Tis the season for holiday romances …"
LOVED Jill's book. It was super cute. The holidays were more of a setting than theme. I have Sarah Morgan's book for review on my kindle.

I also read a great novella by Shannon Stacey. I suggest HOLD HER AGAIN by SS. It's a second chance, feel-good story!

Glad to hear you enjoyed the book. And thanks for the recommendation. I'll have to try to check that one out too.

Too many holiday romances, too little time. LOL.

I'm really enjoying this series. Can't go wrong with a Shalvis book if you're in the mood for small town romances with heart and humor.

I haven't tried this series yet, but I've seen so many good reviews of her books. I'm looking forward to reading it.
Back to Top