Tidbits, observations, and thoughts from the RT convention …
Here are some more tidbits, observations, and thoughts from the RT Booklovers Convention: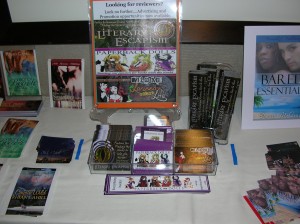 Bloggers: One thing I thought was interesting was that authors weren't the only ones giving stuff away on promotion lane this year. I noticed that several bloggers had set out business cards and other goodies, like the ones shown here by Literary Escapism, Paperback Dolls, and Larissa's Bookish Life. Blogging is a full-time job, just like writing a book is. I can't even imagine how many review requests a blogger gets in a month, and I applaud them all for working so hard and doing so many reviews, giveaways, and other events. At the end of the day, we're all trying to get the word out about books we love.
E-publishing: There was a lot of talk about e-publishing, and I went to a couple of the e-pub panels, which I thought were interesting. I got the same message from a couple of the panels: that covers are important, along with producing a quality story, just like in traditional publishing.
Everyone touts e-publishing as the next big thing, but really, it's just like traditional publishing. Let me say that again: e-publishing is just like traditional publishing. Some people will be wildly successful, some folks will do okay, and some folks won't sell enough copies to make back the money they invested in publishing their e-book. I did hear some folks advising people to be careful about scams, which I thought was good advice. Be careful with your money and your time. Do your homework and figure out what's best for you and what you can afford to do. Really, that applies to whatever you do, not just publishing.
Also, I thought it was interesting that some of the e-pub authors talked about making deals with Amazon, etc. to have their books on exclusive platforms, or exclusive for a set amount of time, and things like that. But if e-publishing is so great and you can make so much money doing it yourself, then why are authors making these kinds of deals? I think part of the answer is because they need a platform to sell their e-books, just like print authors need publishers to print their books and get them into stores. It's all about getting the word out about your book, whether it's an e-book or print book.
Print books: Also, there was a lot of talk about print books and whether or not they are dead. Well, you know what? During the book fair, folks were carrying around print books — not e-books. Yes, a lot of folks had e-readers, and I signed several e-readers and e-reader covers, but people still wanted signed, print books, which I thought was cool.
I do think publishers need to figure out how to best marry print and e-books, and how to produce print books more quickly and efficiently, but I think print books are a long way from being dead.

Best moment: One of my best moments was when Spider's Revenge won the award for Best Urban Fantasy novel. It really was an honor just to be nominated. Like I said before, I don't remember much of my awards speech, but I just want to say thanks to my friends, my family, everyone who worked on the book, everyone who helped get the word out about the series, and all the readers. I write books to entertain folks, and it's wonderful to be recognized for that.
Most embarrassing moment: I went to a YA Speed Reading panel where authors were supposed to read from their books — only I didn't have a copy of any of my books. I thought there would be some copies at the panel, but I was wrong. Also, I don't have a smart phone or an e-reader so there was no way for me to look up one of my books online and read from that.
Panic time.
So I sat there while the other authors were reading and furiously scribbled down some lines from the books that I remembered, like the first lines and a couple of other teasers. I got up and read those, along with the back cover copy for Touch of Frost (which I got off the back of one of the bookmarks I had with me). But folks seemed to like the little snippets and teasers, so I think I did okay. Anyway, next time, I will remember to at least bring something with me to read. LOL.
And that's a wrap: And that was my conference. I had a lot of fun, and I hope to attend many more RTs in the future. If you went to RT, what were some of the highlights for you?
6 Responses to "Tidbits, observations, and thoughts from the RT convention …"
Congratulations on the award!!

Thanks! I appreciate that. It really was wonderful to be honored with an award.

Congratulations! Are you going to be posting a photo of the award?

Thanks! I appreciate that.

Not sure if I will post a photo of the award or not. It's a really nice award. But it's also glass, so I'm not sure how well it would show up. I think you would just see the background through the glass more than the award itself. I may try to take a few photos and see how they look, though.

HeroBoy says:

Gratz on the award. Oh dang, that is an embarrassing moment. Talk about writing under pressure! Glad to hear you pulled through.

Thanks! I appreciate that.

Yeah, I don't why I didn't think to at least print out a few pages from one of the Mythos Academy books and take that with me. Ah, well. I think (hope) it worked out okay.