Elemental Assassin Series
The Elemental Assassin series of books focus on Gin Blanco, an assassin codenamed the Spider who can control the elements of Ice and Stone. When she's not busy killing people and righting wrongs, Gin runs a barbecue restaurant called the Pork Pit in the fictional Southern metropolis of Ashland. The city is also home to giants, dwarves, vampires, and elementals – Air, Fire, Ice, and Stone.
Books in the series are: Spider's Bite #1 / Web of Lies #2 / Venom #3 / Tangled Threads #4 / Spider's Revenge #5 / By a Thread #6 / Widow's Web #7 / Deadly Sting #8 / Heart of Venom #9 / The Spider #10 / Poison Promise #11 / Black Widow #12 / Spider's Trap #13 / Bitter Bite #14 / Elemental Assassin #15 / Elemental Assassin #16
E-novellas and short stories in the series are: Thread of Death #5.5 / Kiss of Venom #8.5 / Parlor Tricks stand-alone / Haints and Hobwebs stand-alone
Note: Works listed as stories are generally 10,000 words or less. E-novellas are more than 10,000 words, while books are generally 85,000 words or more (young adult books) or 90,000 words or more (adult books).
The Elemental Assassin books are set in the fictional Southern metropolis of Ashland, where Tennessee, Virginia, and North Carolina meet in the heart of the Appalachian Mountains. The books focus on Gin Blanco, an assassin codenamed the Spider who runs a barbecue restaurant called the Pork Pit in her spare time. Gin is also an elemental or person who can control one of the four elements – Air, Fire, Ice, and Stone. Gin has the rare gift of being able to control two elements, Ice and Stone in her case. Besides elementals like Gin, Ashland is also home to giants, dwarves, and vampires.
Books in the series are: Spider's Bite #1 / Web of Lies #2 / Venom #3 / Tangled Threads #4 / Spider's Revenge #5 / By a Thread #6 / Widow's Web #7 / Deadly Sting #8 / Heart of Venom #9 / The Spider #10 / Poison Promise #11 / Black Widow #12 / Spider's Trap #13 / Bitter Bite #14 / Elemental Assassin #15 / Elemental Assassin #16
E-novellas and short stories in the series are: Thread of Death #5.5 / Kiss of Venom #8.5 / Parlor Tricks stand-alone / Haints and Hobwebs stand-alone
Note: The Elemental Assassin books are intended for adults only. You should be be 18 years old or older to read the books or the excerpts that are posted on my website.
Right now, I'm contracted for at least 16 books in the series.
I tend to write in story arcs that span at least a few books before I close that arc out and move on to another one. For example, the first five books — Spider's Bite to Spider's Revenge — finish out the first major story arc with Gin and her nemesis and answer a lot of the big questions in the series. Thread of Death, the e-novella, takes place around the time of the end of Spider's Revenge.
Books seven through nine, Widow's Web to Heart of Venom make up another story arc regarding Gin and Owen's relationship, and some questions raised in those books about a possible character that are answered in Poison Promise and Black Widow, books #11 and #12 in the series.
The Spider, book #10, is a flashback book and an origin story that shows how Gin truly became the Spider, so it is more of a stand-alone adventure, although there will be lots of Easter eggs and references to events in other books for fans of the series.
However, I think there are a lot of Gin stories left to tell and a lot of bad guys still left for her to face, so I'm hoping to write several more books in the series. But that depends on sales. So if you like my books, please tell your friends about them.
I've also written several short stories to go along with the Elemental Assassin books. You can find the stories on the Free Reads page. You don't have to read the short stories to enjoy the books, but I thought the stories would be something fun and extra to offer readers.
Why write about an assassin? That doesn't seem like a very sympathetic character.
Ever since I started reading epic fantasy books in high school, I've been intrigued by assassin characters and the moral questions that they raise. Do some people deserve to die? Does killing someone for money automatically make you a bad person? Does an assassin ever feel guilty about killing? These are some ideas I wanted to explore, so I created my own assassin Gin Blanco, with her own motivations, quirks, powers, and problems.
Assassins might not be the most sympathetic characters or the easiest to identify with, but I think they are some of the most fascinating. Plus, I wanted to write a really smart, strong, tough female character, which I think that I've done with Gin Blanco.
What exactly is urban fantasy?
Urban fantasy is a genre that's really exploded in popularity in recent years. Urban fantasy books are usually set in a contemporary world (one with cars, electricity, etc.) that also features magic and magical creatures of some sort. Elementals, vampires, giants, dwarves, demons, elves, selkies, trolls, witches, wizards – all those and more can be found in urban fantasy books.
In urban fantasy, the focus is usually one main character, and the story is often told in the first-person point of view. Readers follow this one character through her various trials and tribulations. Examples of urban fantasy include my Elemental Assassin series, the Dresden Files by Jim Butcher and the Hollows/Rachel Morgan series by Kim Harrison, among many others.
Why is the tone of the Elemental Assassin books so much darker and grittier than your Bigtime series?
The Bigtime books are basically tongue-in-cheek comic book spoofs. The tone is light, fun, and campy in keeping with the old television shows like Batman with Adam West and Wonder Woman with Lynda Carter. They're just fun, breezy reads.
But I wanted to write a different kind of book with the Elemental Assassin series – a dark, gritty urban fantasy full of magic, power, and danger. My city, Ashland, is a violent, corrupt, southern metropolis where anything can happen, so I wanted to make my heroine, Gin Blanco, as strong, capable, and deadly as she could be. Also, Gin is an assassin – she kills people for money, which necessitated the darker tone of the books.
But in the end, I think the Elemental Assassin books have a lot in common with my Bigtime series. Both books feature strong, smart, kick-butt heroines, cool magical powers, awesome action scenes, and steamy romance. I think they're all just fun reads. Everything is just a little darker and grittier in the Elemental Assassin series, including the humor.
Want to cook like Gin Blanco does in the Elemental Assassin series? Then check out these recipes. Every so often, I swap out the recipes and post new ones.
Note: I did not come up with these recipes myself. Some of them are ideas and recipes that I've combined, added onto, or otherwise tweaked to suit my own tastes. Others are tried and true favorites that I've collected over the years from various relatives, friends, cookbooks, magazines, food product packaging, and more. Some of the recipes are so old that I don't even know where they came from, especially the ones that my family has been making for years.
Also, most of the dishes mentioned in the Elemental Assassin series, like Fletcher Lane's secret barbecue sauce recipe, exist only in my imagination. But I hope you'll see something here that you might like to make. Enjoy!
APRICOT-GLAZED CARROTS
1 package baby carrots
Apricot preserves, to taste
Brown sugar, to taste
Put carrots into a pot of water. Bring the water to a boil, and boil carrots until they are tender (about 5 minutes or so). Drain water off carrots. Add 1/4 to 1/2 cup apricot preserves to the carrots, along with 1 to 2 tablespoons of brown sugar (depending on your taste preferences and how much glaze you want). Stir preserves, sugar, and carrots together, until the preserves and sugar have dissolved and formed a sweet glaze. Serve immediately.
Note: If you are cooking a large bag of carrots, just add more apricot preserves and brown sugar until you have enough glaze to cover all the carrots, and the glaze is the desired sweetness that you want.
Blackberry Dessert Salad
1 (8-ounce) cream cheese, softened
1 (14-ounce) can sweetened condensed milk
1 (21-ounce) can blackberry pie filling
1 (8-ounce) tub whipped topping, softened
Using the mixer, beat the cream cheese until smooth. Add the sweetened condensed milk and beat until smooth. Gently stir in the whipped topping and the blackberry pie filling. Refrigerate until cold and serve. Note: You can use any kind of pie filling you like in this recipe. Cherry works especially well. For a really sweet, fruity salad, use two cans of pie filling instead of just one.
Spicy Southwestern Chicken
4 boneless, skinless chicken breasts (or however much you like)
Chili powder
Cumin
Black pepper
Red pepper
Lime juice (about 1 cup)
Honey (optional)
Arrange the chicken breasts in a baking dish. Season both sides with the chili powder, cumin, black pepper, and red pepper, forming a spicy rub. (The more seasoning you use, the spicier the chicken will be.) Pour the lime juice over the chicken, putting enough in the baking dish so that the chicken won't dry out while it cooks. Bake at 350 degrees until the chicken is done. Before serving, drizzle the chicken with the honey for a touch of sweetness.
Sweet Summer Strawberries
1 gallon fresh strawberries
Sugar, to taste
Wash and cap strawberries. Let strawberries dry, then cut them into bite-size pieces and place in a large bowl. Starting with about a cup of sugar, add sugar to strawberries until desired sweetness is reached. (The more sugar you add, the sweeter they will be.) Stir the sugar until it is dissolved and has formed a syrup over the strawberries. Serve immediately, or ladle strawberries and syrup into airtight containers and freeze until ready to use.
Note: These strawberries are great on toast, as part of a PB&J, or over vanilla ice cream.
Almost everyone in Ashland uses a rune of some sort to identify themselves or their power, or say something about their family, alliances, businesses, and more. Here are some of the runes mentioned in the Elemental Assassin books:

Spider: A small circle with eight thin lines radiating out of it. Spider runes are the symbol for patience. Gin Blanco had the rune burned into her palms by the mysterious Fire elemental who murdered her family when she was thirteen.

Snowflake: The symbol for icy calm and the personal rune of the Snow family. Gin's mother, Eira, wore a snowflake rune on a pendant around her neck – until she was murdered.

Ivy vine: The symbol for elegance and the personal rune of Annabella, Gin's older sister.

Primrose: The symbol for beauty and the personal rune of Bria, Gin's younger sister.

Cloud: Jo-Jo Deveraux uses a cloud rune to identify herself as an Air elemental.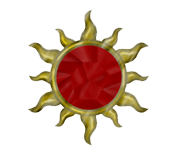 Sunburst: The symbol for fire and the personal rune of Mab Monroe. Mab is never seen out and about Ashland without wearing her signature sunburst necklace – a circular ruby surrounded by several dozen golden wavy rays. The diamond cutting on the gold makes the rays look like they are actually flickering – like Mab is actually wearing a ring of fire around her neck.

Heart and arrow: A heart with an arrow through it is the symbol for Northern Aggression, the upscale nightclub run by Roslyn Phillips.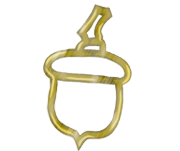 Five Oaks Country Club: The country club's rune is a gold acorn.

Hammer: The symbol for strength, power, and hard work. The personal and business rune of wealthy Ashland businessman Owen Grayson, who has an elemental talent for metal and a strange interest in Gin Blanco.

A lit stick of dynamite: The personal rune of dwarven coal mine owner Tobias Dawson, as well as the symbol for his business, Dawson Mining Company.

Riverboat and dollar sign: This is the rune for the Delta Queen, a riverboat casino owned by underworld shark Phillip Kincaid. The casino trolls up and down the muddy waters of the Aneirin River inviting folks to come on board and those their money in high style.

Orchid: The symbol for delicate grace. Assassin Elektra LaFleur has an orchid tattooed on the side of her neck – and always leave a white orchid on the bodies of the people that she kills.

Lightning: In addition to her fighting prowess, assassin Elektra LaFleur also has deadly electrical elemental magic at her disposal.

Viper: Brutus, an assassin that Gin Blanco has had numerous dealings with, has this symbol tattooed on his neck in honor of his assassin name, Viper.
Gin Blanco
A cook, waitress, and owner of the Pork Pit barbecue joint. In her spare time, Gin moonlights as an assassin codenamed the Spider. Gin also happens to be a Stone and Ice elemental.
Finnegan Lane
Gin's foster brother and general partner in crime. He's also an investment banker, computer whiz, and shameless womanizer.
Fletcher Lane
Gin's handler and foster father, who took her in off the streets when she was thirteen. He owned the Pork Pit before he was murdered and willed the restaurant to Gin. Fletcher was also an assassin codenamed the Tin Man before he retired, and he taught Gin every deadly skill that she knows.
Jolene "Jo-Jo" Deveraux
The dwarven Air elemental who's responsible for healing Gin when she gets injured. Jo-Jo also runs a beauty salon out of the back of her antebellum mansion.
Sophia Deveraux
Jo-Jo's sister who's responsible for disposing of any bodies that Gin leaves behind. Sophia is known for her Goth fashion sense and incredible dwarven strength.
Roslyn Phillips
The vampire madam who owns Northern Aggression, the most decadent nightclub in Ashland. Roslyn is known as much for her beauty as she is for her business smarts.
Xavier
The giant bouncer who works at Northern Aggression, when he's not moonlighting as a cop for the Ashland Police Department.
Owen Grayson
Owen is one of the wealthiest businessmen in Ashland, with an empire that includes mining, timber, and other companies. He also happens to be interested in Gin, for reasons unknown at this point.
Eva Grayson
Eva is Owen's college-age sister and the best friend of Violet Fox.
Detective Donovan Caine
One of the few honest cops in Ashland, Caine actually believes in trying to help people – despite the violence that is so prevalent in the city.
Eira, Annabella, and Bria Snow
Gin's mother, older sister, and younger sister. Eira and Annabella were brutally murdered by a Fire elemental when Gin was thirteen.
Warren T. Fox
Warren runs Country Daze, an old-fashioned country store in the mountains north of Ashland. Warren was best friends with Fletcher Lane when they were young men – until they had a falling out over a woman they both loved.
Violet Fox
Violet is Warren's college-age granddaughter and the best friend of Eva Grayson. Violet also helps Warren run Country Daze.
Vinnie and Natasha Safin
Vinnie is an Ice elemental who tends bar at Northern Aggression. Natasha is his young daughter.
Mab Monroe
The Fire elemental who runs Ashland like it's her own personal kingdom. She's the head of the city's underworld and controls a Mob-like empire of drugs, gambling, prostitutes, and more. Nobody messes with Mab Monroe and lives to tell about it.
Elliot Slater
Mab's giant enforcer and one of her top lieutenants. The giant enjoys beating people to death with his fists, which is why he takes care of any problems that Mab has – permanently.
Jonah McAllister
Mab's lawyer and her other top lieutenant. Jonah is responsible for burying Mab's enemies in legal red tape.
Tobias Dawson
This dwarf owns Dawson Mining Company and is obsessed with mining coal out of the Appalachian Mountains. Dawson is also a Stone elemental who's fond of wearing ten-gallon Stetson hats and cowboy boots.
Elektra LaFleur
This assassin is rumored to have incredibly strong electrical elemental magic at her disposal. For some reason, she always leaves a white orchid behind on the bodies of all her victims after she electrocutes them.
Viper aka Brutus
Brutus is an assassin that Gin has tangled with more than once over the years. He has a viper tattooed on his neck in honor of his assassin name.
Want to know more about the sites in Ashland?
Read on:
The Ashland Opera House
One of the city's cultural jewels, the opera house hosts concerts, plays, and more. It's also the site of more shady business, on occasion.
The Ashland Rock Quarry
This area on the outskirts of town has long been closed, but it still remains a popular site for body dumps, elemental duels, and more.
Country Daze
This old-fashioned country store sells penny candy, homemade honey and fruit preserves, and sodas that come in glass bottles. The store, owned by Warren T. Fox, is located up in coal country in the mountains north of Ashland.
Dawson Number Three
This coal mine is owned by Tobias Dawson and is located just over the ridge from Country Daze, the country store owned by Warren T. Fox.
The Delta Queen
This riverboat casino is owned by underworld shark Phillip Kincaid. The casino trolls up and down the Aneirin River tempting folks to come on board and lose their money in high style.
Downtown
This part of Ashland is full of skyscrapers, businesses, apartment buildings, and restaurants like the Pork Pit. The downtown area connects Northtown to Southtown and is flanked on either side by middle-class suburbs.
The Five Oaks Country Club
The most exclusive country club in Ashland is known for its many amenities, including a health spa, golf course, tennis courts, and more.
Jo-Jo's Beauty Salon
This beauty salon run by Jo-Jo Deveraux is located in the back of the dwarf's southern antebellum mansion and features every beauty service known to man and woman. You can get your hair permed, cut, and teased to new heights; your skin waxed, plucked, and tanned; and everything in between.
Mab Monroe's mansion
As befitting her status as the queen bee of the Ashland underworld, Mab lives in the largest private residence in the city, a mansion so big that it would make a sultan's palace seem small.
Northern Aggression
This is the city's most decadent and sin-filled nightclub. You can get anything you want at Northern Aggression – blood, drugs, drinks, smokes, sex – if you have the money to pay to play.
Northtown
This is the northern part of the city that's home to Ashland's wealthy, magical, and socially elite. But don't let the enormous mansions and sprawling estates fool you. Lots of dangerous people live here – they just have more money than anyone else.
The Pork Pit
This restaurant serves up the best barbecue in Ashland – maybe even the whole South. The Pit, as locals call it, is especially known for its delicious barbecue sauce. People buy it by the gallons.
Southtown
This is the southern part of the city that's home to Ashland's depraved, downtrodden, and down on their luck, like vampire hookers, elemental junkies, and gangbangers.
The Train Yard
The old Ashland train yard isn't used for much of anything these days, but trains still rumble through the area on a regular basis.
Valhalla
This is the name of Elliot Slater's remote mountain mansion, which is rumored to be a burial site that the giant uses to get rid of folks who cross Mab Monroe.
– See more at: http://www.jenniferestep.com/books-series/elemental-assassin-series/#sthash.mHK7Cqlw.dpuf
Buy My Books
The Elemental Assassin; Black Blade; and Mythos Academy series
Print, e-book, and audio books
The Elemental Assassin and Mythos Academy series
Audio books
The Bigtime series
Print and e-books

Newsletter
Loading...
Privacy Policy
I do not sell or share the e-mail address of those people who sign up for my monthly e-newsletter.