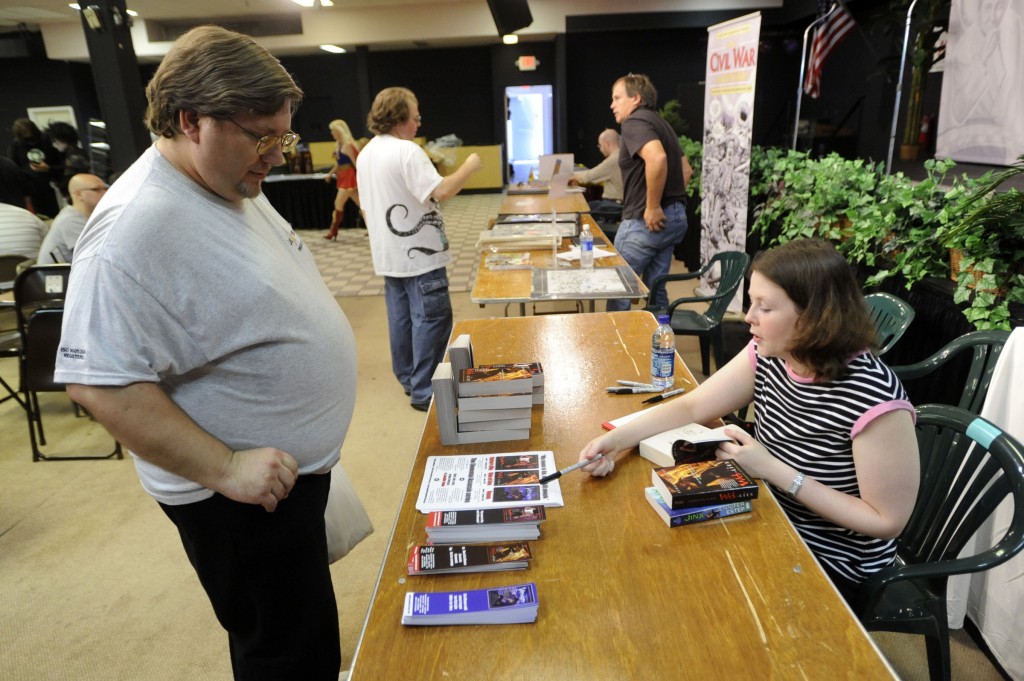 So I did a book signing this weekend at Rob-Con, a comic book convention that's held every July in Bristol, Va. The event is sponsored by Mountain Empire Comics, and I want to give a shout-out to Rob, the owner, for having me back at the con again. Thanks, Rob!
Yep, that's me on the right, telling someone all about the Elemental Assassin urban fantasy series. Many thanks go out to Wheezley, my significant other, for snapping the photo.
A couple of weeks ago, I did some posts on book promotion, and one of the things that I mentioned was that I don't do any book signings at chain bookstores any more. Why not? Well, I just never seem to have any interest or sell more than a book or two.
But going to Rob-Con is totally different. There, folks know all about superheroes and fantasy books, movies, and TV shows. So even if I don't sell any books, I can still have a good time talking to people. I much prefer doing events like Rob-Con or group book signings rather than sitting by myself in a chain store for two hours. And yes, people will think that you work at the store and ask you where the bathroom is when you do those kind of signings. Sigh.
So how did I do at Rob-Con? Well, I sold seven books, and several more people came over and got me to sign copies of the books that they already had. Any time I can sell more than five books in two hours, I feel like I've done okay. And of course, I handed out some bookmarks and flyers to everyone who stopped by my table. Overall, it was a fun way to spend a Saturday afternoon. 😉
For those of you who might be interested, I'll probably be doing a signing for Venom at Mountain Empire Comics sometime in late October, when the store has its big Halloween sale/party. I'll post the details when I get them.
6 Responses to "Rob-Con 2010 …"
We always love having you at our events. You add an element of class to the show!

Thanks, Rob! I appreciate you having me back at the con. Let me know about the Halloween party, and we'll plan to do something then too.

Natascha says:

I can totally understand why you would prefer not doing book signings at chain book stores. I will have to keep that in mind.

I don't mind doing them — I just never seem to have much success or sell enough books to make it worth my time. I've done several where I've only sold 1 or 2 books. In those cases, I feel like writing at home or blogging or whatever would have been a better use of my time.

Hey, you got to have fun, and sell some books at the same time, what's better than that? I understand you'll be at the RWA Literacy signing next Wednesday, hope to see you there.

I did have fun at the con. 😉

Unfortunately, I will not be at RWA. I had to cancel my plans to go after they switched it to Orlando. But I hope you have a great time!
Back to Top