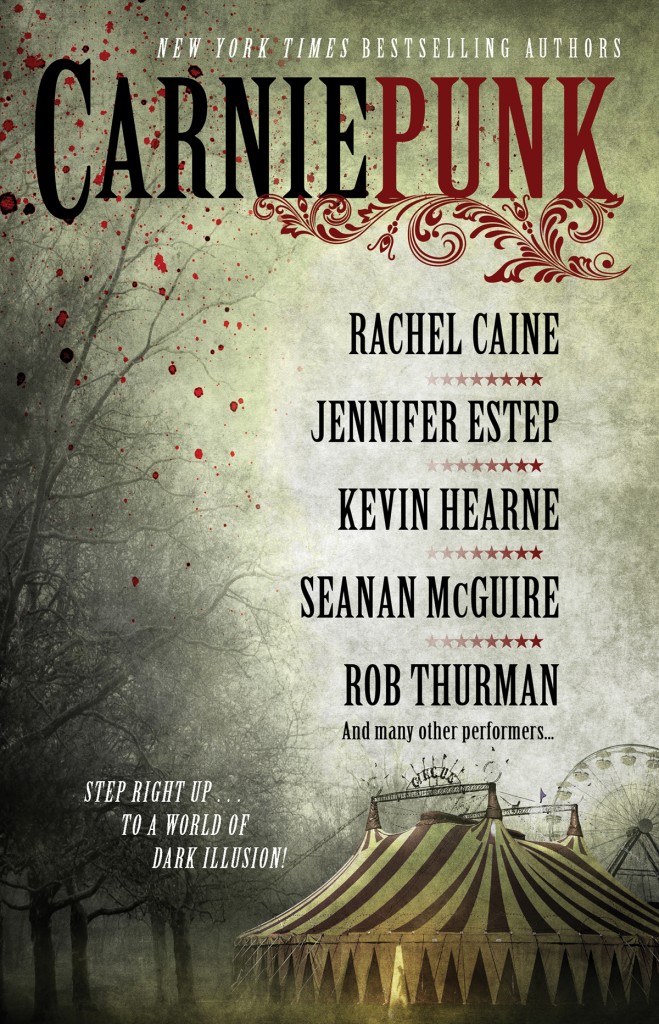 My editor has generously offered to let me do a giveaway of three ARCs (advanced reading copies) of Carniepunk, the urban fantasy anthology that will be released on July 23.
Here's the anthology description:
A star-studded urban fantasy anthology starring bestselling authors Rachel Caine, Jennifer Estep, Kevin Hearne, Seanan McGuire, and Rob Thurman, and including Delilah S. Dawson, Kelly Gay, Mark Henry, Hillary Jacques, Jackie Kessler, Kelly Meding, Allison Pang, Nicole D. Peeler, and Jaye Wells, whose stories explore the creepy, mysterious, and, yes, sometimes magical world of traveling carnivals.
The traveling carnival is a leftover of a bygone era, a curiosity lurking on the outskirts of town. It is a place of contradictions — the bright lights mask the peeling paint; a carnie in greasy overalls slinks away from the direction of the Barker's seductive call. It is a place of illusion — is that woman's beard real? How can she live locked in that watery box?
And while many are tricked by sleight of hand, there are hints of something truly magical going on. One must remain alert and learn quickly the unwritten rules of this dark show. To beat the carnival, one had better have either a whole lot of luck or a whole lot of guns — or maybe some magic of one's own.
Featuring stories grotesque and comical, outrageous and action-packed, Carniepunk is the first anthology to channel the energy and attitude of urban fantasy into the bizarre world of creaking machinery, twisted myths, and vivid new magic.
Pretty cool, huh? This has been a really fun anthology to be a part of, and I hope that everyone enjoys it.
Carniepunk is up for pre-order at Amazon, Barnes & Noble, Books-A-Million, iTunes, and other booksellers.
CARNIEPUNK: PARLOR TRICKS
My story in the anthology is called Parlor Tricks and is part of my Elemental Assassin urban fantasy series. In the story, Gin and Bria go to a country carnival in search of a missing girl and find some unexpected sights and danger along the way. My story is about 9,000 words long, and you can read an excerpt here.
GIVEAWAY DETAILS
To enter the Carniepunk ARC giveaway, just leave a comment on this post talking about which story in the anthology you are looking forward to or your favorite author in the anthology.
The giveaway is open to those 18 and older, U.S and Canada only. The giveaway will run through midnight, May 22, EST. The winners will be announced here on the blog on Friday, May 24.
Happy commenting!
62 Responses to "Carniepunk ARC contest …"
Natascha F. says:

Most certainly, it would be Gin's story I am anticipating most. Have a great day!

I am most looking forward to the story by Danny Marks, he was talking about this on his youtube channel, and now I am dying to read it.

Deanna P. says:

I am looking forward to Gin's story if course! I LOVE the Elemental Assassin series!!!

Would love the opportunity to read this and then review it.

I'm looking forward to this book more than I have any other book in quite some time. With stories from you and my friends Jaye and Nicole how can this not be a fantastic read. I'm also excited that Jaye and Nicole along with Mark Henry are coming to Austin for a book signing. Maybe one day we can get you down here too!

Stephanie says:

Looks like a cool anthology! Of course all the authors will have good stuff right? Curious about Jenn's story!

Susan McCart says:

Mainly to read Jennifer and Rachel's but to also check out the others.

EvelynS says:

I can't wait to read this!! Definitely want to read Gin's story! I'm a big fan of the Elemental Assassin series!

Toni says:

Need more Gin!

Kay says:

I'd love to read the entire ARC! I read every single author's books, so I'm greedy, I want to read them all

I love anthologies like these! They're such a great introduction to so many authors. I've heard really good things about Kevin Hearne so I'm looking forward to reading his story.

may says:

Gin's story of course! I am also a big fan of Rachel caine though…..

Mags says:

I've been anxiously awaiting this one for a long time now. Almost all of my faves are here! Lurv Gin! And Seanan Mcguire and Kevin Hearne and Rachel Caine! I haven't heard if their stories are from their series or not. Been wanting to start Delilah S Dawson's series so happy to see that too. So much good stuff!

natalie says:

Gin is one of my favorites. The anthology would be great to try some of the authors I haven't read yet.PV

Joy says:

Of course it will be Gin's story!! It will be nice to try some new authors that I have not had the chance to read yet. Thanks for the contest.

Kim says:

Most looking forward to your story first, and Rob Thurman's second. Whole thing looks great!

Shannon says:

I have only read stuff from you and Rachael so obviously I'm looking forward to both of those the most. Reading through the descriptions of the others I think Rob Thurman's sounds really interesting.

Stacey Marin says:

I am looking forward to Gin's story

September says:

Oooh, more Gin & Bria….yes please! <3

Tina G says:

I am looking forward to Gin's story, but also interested in the stories by Nicole Peeler, Seanan Mcguire and Kelly Gay. Thanks for the giveaway!

I can't wait to read Hillary Jacques' story, but honestly I'm excited for them all! Thanks for the giveaway!!

Mike D says:

Really looking forward to Gin's story. Always love a giveaway!

Vivien says:

I'm looking forward to yours, Rachel Caine's and especially Seanan McGuires!!

Vivien
deadtossedwaves at gmail dot com

Stacy Briggs says:

I would read the side of a cereal box if you signed your name to it! I am looking forward to both of your next two installments in Gin's story. I cannot wait to see her kick Harley Grimes in the ass and I am going to get "The Spider" for Christmas from my daughter, she knows how much I love your books!

Amy says:

There are a lot of good authors in this anthology. But I would have to say I'm looking forward to Gin's story the most.

Viki S. says:

I love all of you but I think I'm in the mood for Rachel and her vampires right now . But in all honesty I want to read them all equally. Thank you.
vsloboda(at)gmail(dot)com

marydee says:

I am looking forward to yours and Kevin Hearne's story. The book is already on my wish list.

Jen M says:

This looks like an awesome book. I love Gin so I'd have to say I'm excited for her story,but I also love Rachel Caine. I also like Delilah S Dawson and Kelly Gay. I can't wait to read it!!

Katafer says:

No brainer – definitely the Gin story. 2nd – Rob Thurman. Tied for 3rd: Kelly Meding & Rachel Caine.

Xid Trebor says:

Gin's story for sure, but I love all the other authors too!!

Dawn Marie says:

I am torn between you and Kevin Hearne. He turned me on to you at San Diego Comic Con last year and I fell in love with Gin. I love Gin and her life but I also love the Iron Druid. What a mess, can I just say both?

have a great day
Dawn Marie

Laurel says:

I'm definitely looking forward to reading this anthology. I, of course, want to read your story, but I'm also looking forward to reading Kevin Hearne's, Kelly Meding's, and Kelly Gay's. I was so sad that her publisher didn't continue the Charlie Madigan series, but at least we get one more story from her world. (I'm still hoping she looks into publishing more of these on her own.) Thank you for the chance to win this book!

Bonnie says:

They all look great but Gin is my favorite

My favorite authors in the anthology are:
Jennifer Estep, Delilah S. Dawson, Mark Henry, Kelly Meding, Nicole D. Peeler, and Jaye Wells.

I've not read Mark Henry yet although I have his zombie series on my bookshelf. But I loved meeting him in person at last year's AAD. He is so funny and in a sick dark way.

Karen Carothers says:

They all look awesome, and I don't think I'm familiar with any author. The Iron Druid character interests me most, I think. Anything remotely related to the Irish always does!

Rev. Bob says:

I recognize several of the contributors, and am looking forward to all of their stories…even though it may mean seeing my to-read list explode AGAIN.

Jay says:

I am anticipating Kevin Hearne's story "The Demon Barker of Wheat Street"

probably looking forward to Hearne's story the most, but a lot sound quite good.

Well, Kevin Hearne's story because, well, it's Kevin Hearne and he is awesome! And Rachel Caine…because I liked her style in Weather Warden Stuff, and your story as a start to reading all your stuff… well, you get the idea!!

Tim says:

Hearne is the author that I'm most familiar with, but I'm always looking for new series as well.

Susan says:

I'm a big Seanan McGuire fan and have read all her books to date. I also have all of Kevin Hearne's books too. And I enjoy the other authors as well.

Leah says:

I want to read the Seanan McGuire story!!

Been looking forward to this, I've really been wanting to get more of a taste for the darker underpinnings of fantasy/urban fantasy, and this seems like the thing!

While most of them look really interesting, I love me some Kevin Hearne. The man spins a great yarn!

Followed a Kevin Hearne's tweet over here. Looks like an intersting anthology.

twiser says:

Actually I'm wanting to read at least four of them( Jennifer Estep's, Nicole Peeler's, Jaye Wells's, Rachel Caine's).

Well, I love your books, so I'm most excited about yours. But I would love to be introduced to all the other authors and this seems like the perfect book for it!

Cynthia M says:

Jennifer Estep, Seanan McGuire, Rachel Caine, but looking forward to discovering others!

Bethany says:

Can't wait for another chapter in Gins life!!

Most looking forward to reading Gin's story of course! Also excited that Kevin Hearne, Nicole Peeler, Kelly Gay, Jaye Wells, Mark Henry, and Kelly Meding are also in the book! This one will be epic!!!

Roxanne says:

Cant wait to finish reading the rest of Jennifer Estep's "Parlor Tricks". I couldnt stop laughing at Gin's comments, especially when she is talking to the clown. I could just picture her looking at him with that killer look. This is the Gin I absolutely adore.

Tiffany D says:

I am so excited for this book! I've not heard of anything like it and I'm really looking forward to reading more about my favorite Elemental Assassin Gin Blanco. I've been hooked on the series from the get go and I am anxiously awaiting the next. I'm a huge Jennifer Estep fan and I've not found a book of hers that I don't like. The only other author I'm familiar with in the book is Rachel Caine, so I look forward to reading her story. However, as an bookaholic I am always on the lookout for a new fantastic read to lose myself to. Thanks for the giveaway!

Cate aka absolutartist1 says:

I'm definitely looking forward to more Gin! I only know 2 of the authors, and haven't managed to read their work yet so everyone else is introductory.

gabbyg says:

I would like to read your story or Rob Thurman's the most… I love both of you

I'm really excited about your story, Kevin Hearne's, and Seanan McGuire's!

Thanks for the giveaway.

Sara M says:

I'm most looking forward to your story, along with Kelly Gay, Kevin Hearne, and Delilah S. Dawson.

MaryEllen Muir says:

Gin's Story for sure, and I think Kevin Hearne's too. I've had this on my wishlist since it was first announced!

Erica Boyd says:

Pick just one….. Ok Jennifer Estep

Abby Merry Sherwood says:

Jennifer Estep hands down is my favorite!!

There are so many awesome authors in Carniepunk, but I'm most excited for Kevin Hearne, Rachel Caine, Allison Pang, Jaye Wells, and yours! Thanks for the chance

Linda says:

I'm looking forward to the Seanan McGuire story the most.

Cariena says:

Lots of amazing authors in this book I am looking forward to reading, I am most excited to read the stories by Jennifer Estep and Kevin Hearne!!

Gina M Mora says:

My favorite series is the Elemental Assassin, so I am looking forward to the new Gin story the most–but second fave by far is Seanan. I REALLY hope that it adds to October's story. Love her also!