Well, the holiday rush is over, and those bookstore gift cards have been getting a workout. I've been on a bit of a young adult reading kick lately, so today, I thought I'd share some of the YA books in my to-be-read pile. Note that the descriptions are from Goodreads: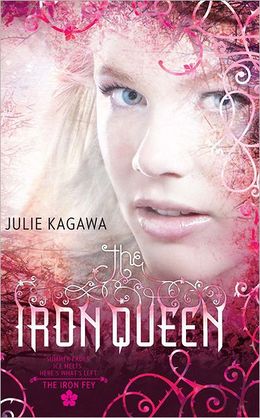 The Iron Queen by Julie Kagawa: My name is Meghan Chase.
I thought it was over. That my time with the fey, the impossible choices I had to make, the sacrifices of those I loved, was behind me. But a storm is approaching, an army of Iron fey that will drag me back, kicking and screaming. Drag me away from the banished prince who's sworn to stand by my side. Drag me into the core of conflict so powerful, I'm not sure anyone can survive it.
This time, there will be no turning back.
My thoughts: This is the third book in Kagawa's Iron Fey series, after The Iron King and The Iron Daughter. I'm looking forward to continuing with the series. One of the things that I like about these books is the magic of the traditional Fey as compared to the new Iron Fey.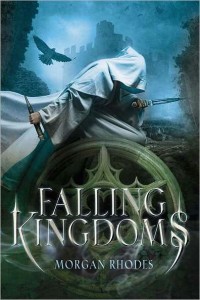 Falling Kingdoms by Morgan Rhodes: In a land where magic has been forgotten but peace has reigned for centuries, a deadly unrest is simmering. Three kingdoms grapple for power–brutally transforming their subjects' lives in the process. Amidst betrayals, bargains, and battles, four young people find their fates forever intertwined:
Cleo: A princess raised in luxury must embark on a rough and treacherous journey into enemy territory in search of a magic long thought extinct.
Jonas: Enraged at injustice, a rebel lashes out against the forces of oppression that have kept his country impoverished–and finds himself the leader of a people's revolution centuries in the making.
Lucia: A girl adopted at birth into a royal family discovers the truth about her past–and the supernatural legacy she is destined to wield.
Magnus: Bred for aggression and trained to conquer, a firstborn son begins to realize that the heart can be more lethal than the sword…
The only outcome that's certain is that kingdoms will fall. Who will emerge triumphant when all they know has collapsed?
My thoughts: This is the first book in Rhodes's Falling Kingdom series. I love epic fantasy, and I've seen this book on several blogs. I'm looking forward to checking it out.
Also, Morgan (aka Michelle Rowen) will be doing a guest blog for my site later this month, so be on the lookout for that.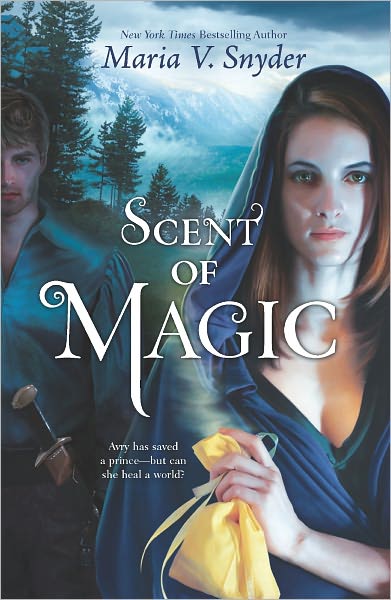 Scent of Magic by Maria V. Snyder: Hunted, Killed — Survived?
As the last Healer in the Fifteen Realms, Avry of Kazan is in a unique position: in the minds of her friends and foes alike, she no longer exists. Despite her need to prevent the megalomanical King Tohon from winning control of the Realms, Avry is also determined to find her sister and repair their estrangement. And she must do it alone, as Kerrick, her partner and sole confident, returns to Alga to summon his country into battle.
Though she should be in hiding, Avry will do whatever she can to support Tohon's opponents. Including infiltrating a holy army, evading magic sniffers, teaching forest skills to soldiers and figuring out how to stop Tohon's most horrible creations yet; an army of the walking dead—human and animal alike and nearly impossible to defeat.
War is coming and Avry is alone. Unless she figures out how to do the impossible … again.
My thoughts: This is the second book in Snyder's Healer young adult epic fantasy series, after Touch of Power. Again, I love epic fantasy, and I'm looking forward to seeing what new adventures are in store for Avry.
What's in your TBR pile these days? What books are you looking forward to reading this year?
10 Responses to "Books in my TBR pile …"