Thread of Death
Gin Blanco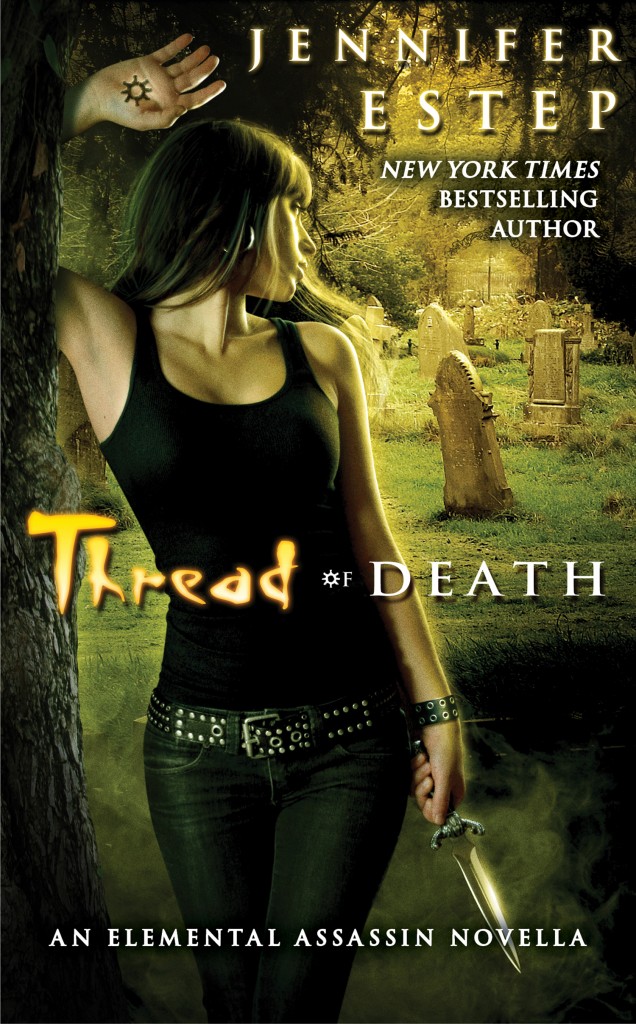 I couldn't believe the bitch was dead.
Mab Monroe, the Fire elemental who'd been head of the Ashland underworld for years, the woman who'd murdered my mother and older sister, was finally, finally dead.
And I was the one who'd made her that way.
Me. Gin Blanco. The assassin known as the Spider.
Now, my killing people as the Spider was nothing new. I'd helped more than a few folks quit breathing over the years, for everything from money to helping out my friends to my own continued survival. But Mab had been different—and killing her had been very, very personal.
The Fire elemental hadn't gone down without a fight—the toughest fucking fight of both our lives. Not that I'd expected anything less from Mab. Not only had she been rumored to be the strongest elemental born in the last five hundred years, but she had also been as smart, cunning, and as vicious as they come. You didn't get to be the head of the Ashland underworld and stay there as long as she had without being absolutely ruthless. Oh, no. Taking down Mab had been anything but simple. I still couldn't quite believe she was dead—and I wasn't.
But killing Mab hadn't been without a price. We'd fought each other in an elemental duel, my Ice and Stone magic against her Fire power. According to some folks who'd been there, you could see the flames of our respective magics from a half mile away. I didn't know whether I believed that or not, but Mab was seconds from incinerating me before I finally managed to stab the bitch in her black heart with one of my silverstone knives. Even then, Mab's Fire washed over me, engulfing most of my body and burning me down to the bone, and I was about a breath away from dying right along with her. Now, after weeks of healing Air magic and intensive physical therapy, I was finally back to my old self—more or less.
I peered into the mirror in my bedroom, critically eyeing my reflection. This would be one of the first times I'd been out in public since killing Mab, and I wanted to be sure I looked one hundred percent, like the Gin of old, even if I knew I wasn't quite there yet.
My dark chocolate brown hair was pulled back into a sleek ponytail, while black shadow, mascara, and liner rimmed my eyes, bringing out their cold gray color. A shiny strawberry-pink gloss covered my lips, softening the heavy eye makeup, while a bronzing powder added some much-needed color to my cheeks. Despite the coppery sheen, a hint of death white still tinged my skin, reminding me how come I'd close to dying right alongside Mab. 
I smoothed down a stray hair and plucked a piece of lint off my right sleeve. I'd traded in my usual jeans and long-sleeved T-shirt for a pantsuit. Stark, black, and simple, given where I was going today. Sturdy black low-heeled boots encased my feet, while my usual five knives were hidden on my body. One up either sleeve, one in the small of my back, and two tucked into the sides of my boots.
Just because Mab was dead didn't mean that I could lower my guard and leave my weapons at home. Quite the contrary. There were still lots of other dangerous folks in Ashland, people who would just as soon shoot you as look at you—and those were some of the nicer folks in town. That was one of the reasons I was going out today and had taken such care with my appearance. I wanted to see for myself just how much the underworld landscape had shifted with the Fire elemental's death and more importantly what it might mean for me as the Spider and Gin Blanco too.
Footsteps sounded outside in the hallway, a steady, familiar tread that I knew and welcomed. A moment later, a soft knock sounded on the door.
"Come on in," I called out. "I'm ready."
The door opened, and my lover, Owen Grayson, stepped into the bedroom.
Owen wore a black suit similar to mine over a smoke gray shirt and matching tie. The fitted fabric outlined his body, stretching over the hard, sculpted muscles of his chest and arms, while the dark colors only made him seem more ruggedly handsome, especially when paired with his blue-black hair and the slightly crooked tilt of his nose.
Owen looked at me, a troubled light flaring in his violet eyes. "Are you sure you want to do this?" he asked. "You don't have to, you know. You don't have anything to prove to anyone. Not to me, not to the others, and especially not to yourself."
That's where he was wrong. I had a lot of things to prove to myself—namely, that I could be the same Gin, the same Spider, as before. Physically, I was still weak from my fight with Mab. Still stiff and creaky, still saddled with arms and legs that gave out too soon, still without the quickness, stamina, and strength I'd had before. I knew those things would return eventually, but I was pushing myself hard to get back to where I'd been as soon as possible. I couldn't afford not to.
But today wasn't about my physical limitations. No, today—today was about my state of mind. Today was one of the necessary steps to recapturing that mental toughness that had served me so well over the years. Once I got that back, everything else would follow. That's why I was so determined to go through with this particular outing. I wanted to be the old me—starting right now.
Note: To read the rest of the e-novella, check out Thread of Death, which is available from Amazon and Barnes & Noble. You can also buy the book from your favorite bookseller or one of the other retailers listed in the Buy My Books box at the top of this page.