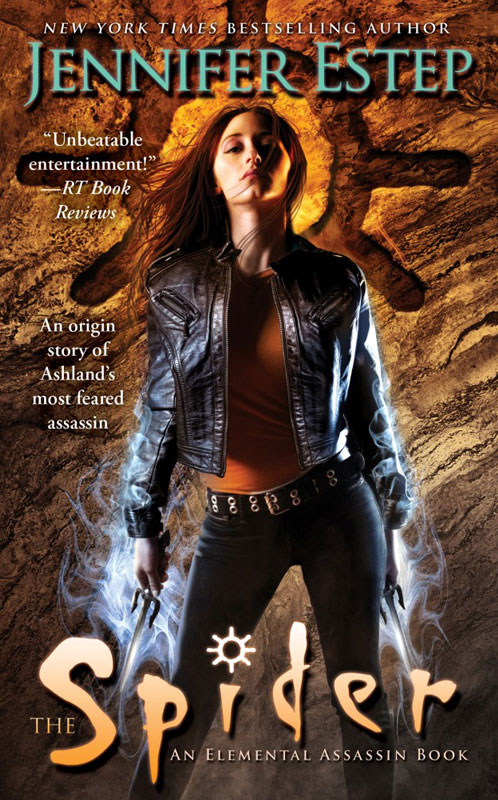 So The Spider, the 10th book in my Elemental Assassin urban fantasy series, has been released today, Dec. 24. Woot! Woot!
The book is available in print, audio, and e-book formats from many retailers, including the following:
Amazon / Barnes & Noble / Books-A-Million / iTunes / Kobo / Audible
And here is the book description:
How did I end up in a career where I always have blood on my hands? Well, let me tell you a story about an assassin who thought she could do no wrong. . . .
Ten years ago. A blistering hot August night. I remember like it was yesterday. The night I, Gin Blanco, truly became the Spider. Killing people is what I do best, especially now that I've honed my Ice and Stone magic. But back then, I had yet to learn one very important rule: arrogance will get you, every single time.
This particular job seemed simple: murder a crooked building contractor with ties to ruthless Fire elemental Mab Monroe. My mentor, Fletcher Lane, had some misgivings, but I was certain that I had the situation under control . . . right up until I exposed my weaknesses to a merciless opponent who exploited every single one of them. There's a reason assassins aren't supposed to feel anything. Luckily, a knife to the heart can fix that problem, especially when I'm the one wielding it. . . .
This book is a prequel origin story that takes place about 10 years before the events of Spider's Bite, the first book in the series. So readers will get to see the assignment that truly turned Gin into an assassin in The Spider. The book also delves a little deeper into Gin's relationship with her mentor, Fletcher Lane.
But what I think is the most fun about the book is Gin "meeting" some of the secondary characters for the first time. There are also lots of little Easter eggs and references to people and places in the books that I hope fans of the series will enjoy.
This really was a fun book for me to write, and I hope that everyone enjoys reading more about Gin's past and her relationship with Fletcher.
Happy reading and happy holidays, everyone!
8 Responses to "The Spider released …"
Charlie says:

This is so fun having an Elemental Assassin book released on Christmas Eve. This is one of the best presents i will receive this Christmas. Just downloaded the audiobook and can't wait to hear Ms. Fortgang tell the story of how Gin became The Spider. Thank you for writing such a special series!!!
Merry Christmas!!!

Jennifer Estep says:

Thanks! That's so nice of you to say. It has been fun having the book out during the holidays. I hope that you enjoy the audio book and Lauren's narration. Happy listening and happy holidays!

neal+b says:

Lions and Witches and Spiders! Oh My.. This is one of my favorite series (along with Lions and Witches who remain nameless) but Gin is just great as a character who is so human and cares so much. In many ways still somewhat broken (like so many of us) Her evolution as the Spider was so enlightening. without those mistakes how would we grow? And to see the little Cameo's of all those who show up in her life, like Owen and Bria was incredible. Thank you for this Holiday Present about Gin's ghosts from her past…

Jennifer+Estep says:

Thanks! I appreciate that and all the nice words about Gin. Glad that you enjoyed THE SPIDER. The cameos by the secondary characters were a lot of fun for me to write.

Mary Carter says:

Hi – Loved The Spider, but had been hoping since I heard it was coming out as an origin story that it would be the story of Fletcher's sorrowful demise ….. Will you ever do that ??

Jennifer+Estep says:

Thanks! Glad you enjoyed the book. Have you read SPIDER'S BITE, the first book in the series? That's where you find out what happens to Fletcher. Is that what you are talking about? Hope that helps to answer your question.

Mary+Carter says:

Thanks for the quick response — I have the whole series and plan to read them from the beginning when Poison Promise comes out ….. I remember that Gin did tell the story ….. But, because Fletcher was such a great character, I was hoping there would be more of his backstory in The Spider. ( I just hate it when a good character gets killed off at the beginning ! ) And, actually, I'd love knowing more about Gin's childhood ….. before it all came tumbling down ….. Looking forward to Her next adventures !

Jennifer+Estep says:

You're welcome. I may write a book more focused on Fletcher one day. I think it would be interesting. I'd like to do one from Finn's point of view too. So we'll see what happens. Hope you enjoy the books. Happy reading!