First Frost prequel e-story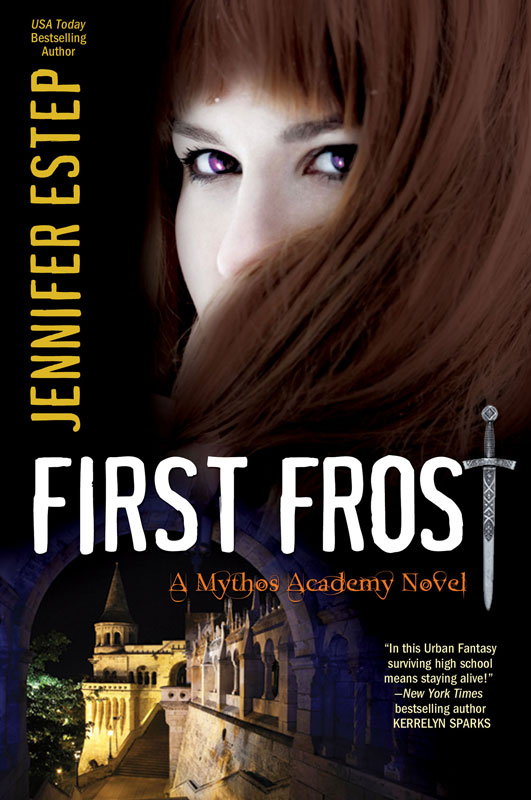 "Can I borrow your hairbrush?"
Paige Forrest stared at the long mirror mounted over the row of sinks that lined one wall of the girls' locker room. Gym class had ended three minutes ago, and all the girls were busy yanking off their sweaty T-shirts and shorts and changing back into their real clothes—the skinny jeans and tight, cropped tops they wore to impress themselves, each other, and most importantly the cute boys at Ashland High School.
Everyone except for Paige, who stood frozen in front of the mirror. She was pretty with her long black hair and pale green eyes, but I didn't think that Paige was looking at herself with the normal vanity of a sixteen-year-old girl. For one, Paige wasn't putting on a fresh coat of lip gloss or mascara or dusting her face with sparkling powder like the other girls crowded at the mirror were. She wasn't gossiping with the girls around her or wondering what disgusting, gray mystery meat was going to be served in the cafeteria today. She wasn't even texting on her phone or checking her messages.
No, Paige was leaning over the sink and peering into her own eyes as if she could see something in herself that everyone else couldn't—something horrible from the pained, twisted expression on her face.
The look made me want to know what she was hiding.
I was kind of nosy that way. Okay, okay, so I was a lot nosy that way. Okay, okay, so I was exceptionally, exceedingly, unstoppably nosy—to the point of obsession sometimes. I wanted to know everything about everyone around me. Why? Well, I blamed it on my Gypsy gift.
I was a Gypsy with psychometry magic. A fancy way of saying that I saw images in my head and got flashes of other people's memories and feelings off almost everything that I touched. A favorite necklace, a beloved book, a cherished photo of a family trip to the beach. I could get a vibe off anything that someone had a personal attachment or connection to, and I could see and feel exactly what that person had experienced whenever she'd worn that necklace, read that book, or looked at that photo.
I didn't know exactly why I had magic or why I was even considered a Gypsy in the first place, but I liked the power that my pscyhometry gave me. I liked knowing what everyone around me was really thinking, from whether a girl was truly my friend or talked about me behind my back to whether a boy was totally into me or was actually thinking about another girl instead. Like Drew Squires, my one and only boyfriend. Thanks to my psychometry, I'd flashed on Drew while we were kissing and felt him pretending that I was Paige. I'd dumped him on the spot.
Yeah, sometimes the things I saw and felt hurt, but I still loved knowing other people's secrets. And judging from the weird look on her face, Paige was hiding something—something big.
"Paige?" I asked again, a little louder this time, my voice rising over the chatter of the other girls, the squeak of shoes on the floor, and the constant slams of the locker doors.
Paige partially snapped out of whatever trance she'd been in and met my eyes in the mirror.
"Gwen? Gwen Frost?" she asked in a daze, almost as if she didn't recognize me.
Note: To read the rest of the story, check out First Frost, a prequel e-story to my Mythos Academy young adult urban fantasy series. First Frost is available now as a 99-cent download from Amazon and Barnes & Noble. You can also buy the book from your favorite bookseller or one of the other retailers listed in the Buy My Books box at the top of this page.