I attended the annual Romance Writers of America conference, held this year in Anaheim, California, on July 25-28. RWA is always fun, and it's always cool meeting so many other folks who love books. Here are some of the things I did during the conference:
WEDNESDAY
I had breakfast with the editor of my Mythos Academy young adult urban fantasy series, and we talked about the series, Crimson Frost, and what I have in mind for Midnight Frost, the fifth book in the series that will be out in 2013.
After that, I hung out in the conference lounge/goody room for a while and talked to authors including Ruthie Knox and Kristin Callihan, along with Cheryl Rabin.
Then I did a video interview with RITA-nominated author Joyce Lamb, who also writes for the USA TODAY Happy Ever After blog. We talked a little about the Mythos Academy series and my Elemental Assassin urban fantasy series. I think the interview will be posted sometime in August.
After that, Wheezley and I walked over to Downtown Disney, which is full of shops and places to eat.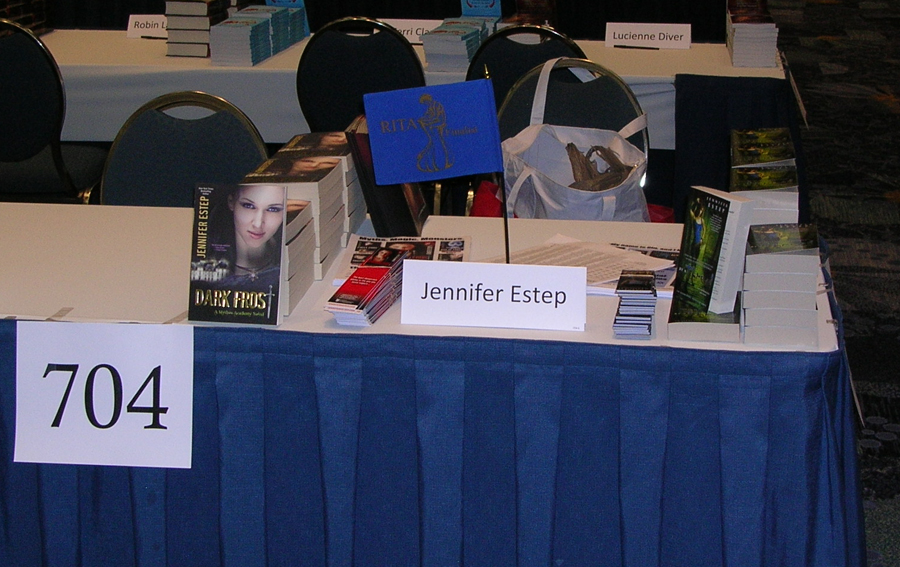 Then it was time for the annual literacy signing. Shown above is my spot at the event. The literacy signing is always fun, and this one was no exception. I got to talk to lots of folks about my books and just books/reading/writing in general. When the crowds died down a bit, I went around and talked to some other authors, including Carrie Lofty and Stephanie Laurens. Plus, I was sitting a couple of spots down from Keri Arthur, so I got to meet her too.
THURSDAY
Thursday was pretty much a meeting day for me, and I went down in the morning to the conference lounge to catch up on some e-mail. I thought the lounge was a really cool idea. It was nice to chat with other folks and take advantage of the free Wi-Fi at the same time.
After that, I had breakfast with Sarah Wedell of Smart Bitches, Trashy Books. We talked about books, what we've read so far this year, and more. Sarah is really smart and funny, and it's always cool to hang out with her.
After that, it was time for lunch with my agent, then Wheezley and I went out and about for a couple of hours.
Finally, it was time for the annual dinner that Pocket Books throws for its authors at RWA. I think around 15-20 authors were at the event, and it was cool meeting folks like Jenn Bennett that I had tweeted with online. We ate at the Napa Rose restaurant in the beautiful Grand California Hotel. Of course, my favorite part of the meal was dessert, which was an excellent vanilla creme brulee with raspberries. So good.
FRIDAY
Another breakfast, this time with Rosemary Potter from Rosemary's Romance Books in Australia. We talked about bookselling, what we like to read, and more. Plus, Rosemary gave me some Tim Tams from Australia, which was awesome. I need to send her some Moon Pies in return.
After that, I went to the Avon book signing for a few minutes. I'm always looking for new books/authors to try, especially when it comes to contemporary romance, so I picked up some books by Candis Terry and others. Then it was time to meet reviewer Jill Smith of RT Book Reviews. We sat and chatted about what we've been reading lately.
Another lunch, this time with the editor for my Elemental Assassin series. We talked about Widow's Web, Deadly Sting, and some other things regarding the series.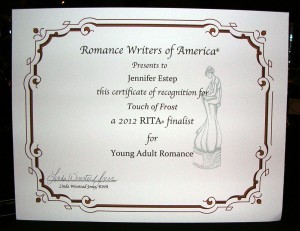 Then it was time for the reception for the Golden Heart and RITA finalists. It was really cool meeting so many other nominated authors. Plus, we all got certificates for being finalists, which I thought was awesome. I'm totally getting mine framed. Shown at left is the certificate I got for Touch of Frost.
After that, Wheezley and I had a wonderful dinner at Morton's. Again, dessert was the best part, and the hot chocolate cake I had was delicious.
 SATURDAY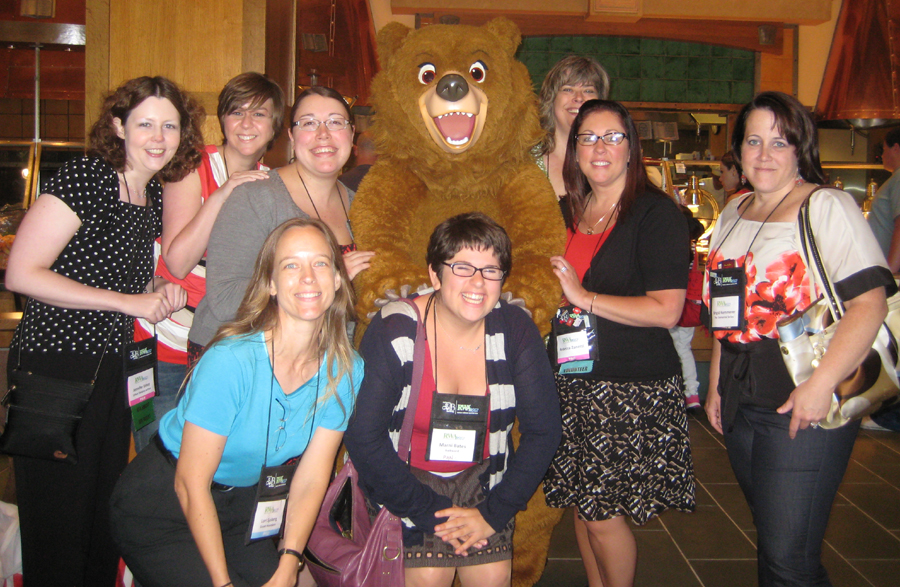 This was definitely my busiest day at the conference. I had breakfast with some of the KTeen (Kensington young adult) authors at one of the Disney cafes. It was fun meeting the other authors like Brigid Kemmerer and Marni Bates that I had tweeted with online. Shown above is the authors at the breakfast, along with Alex, the social media guru for Kensington. I'm on the far left. Thanks to my editor at Kensington for sharing the photo with me.
Then, at noon, I did the Pocket author signing. After that, I had to go to the rehearsal for the Golden Heart and RITA awards ceremony. Then it was off to the Kensington author signing. Did I mention that this was a busy day? LOL.
And finally, it was time for the Golden Heart and RITA awards ceremony. Wheezley was with me, and we got to sit with Thea Harrison and Nalini Singh. Thea won, and it was really great seeing how happy she was. You can see all the winners here. Once again, congratulations to all the winners and nominees.
I was nominated in the Strong Romantic Elements and Young Adult categories. SRE went to Barbara O'Neal, while Ann Aguirre won the YA category. I know everyone says this, but it really was an honor just to be nominated with so many great books and authors. So many folks spoke to me at the conference and congratulated me on my nominations (and I tried to do the same as well). That's one of the things I love about the romance writing/reading/blogging/reviewing community in general — almost everyone is super-nice.
FINAL THOUGHTS
And that was my conference. I haven't even mentioned a fraction of the people I met, but I enjoyed chatting with everyone. I'm already looking forward to next year's conference in Atlanta.
What about you guys? Did you go to RWA? If so, what were some of your highlights?
2 Responses to "RWA conference wrap-up …"
Barbara Elness says:

I got to go to the RWA Literacy signing and one of the highlights was meeting you and getting our picture together! I had such a blast meeting so many great authors and being able to do it with my sister, who lives in California (I live in Florida now).

Thanks! That's so nice of you to say. It was great meeting you too. I always think the literacy signing is a lot of fun because it brings so many authors and readers together in one place.
Back to Top