Rob-Con 2017 appearance on July 29 …
I will be one of several authors, artists, and more appearing at Rob-Con 2017. The convention runs from 9 a.m. to 5:30 p.m. Saturday and Sunday, July 29-30, at Viking Hall in Bristol, Tenn.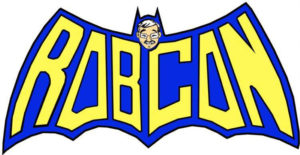 I will be signing books Saturday only — July 29 — from 9 a.m. to 1 p.m. I will have copies of Snared to sign, as well as copies of my other books.
Also, T-shirts are available featuring the Rob-Con graphic, created by artist John Hairston Jr.
A one-day pass is $10; a two-day pass is $15; kids under 10 get in free. A costume contest will be held at 3 p.m. on Saturday. More information is online here.
Also, one of the special guests this year is Timothy Zahn, who writes Star Wars novels and more. An event will be held with Zahn on Friday, July 28. Visit the Rob-Con website; the Rob-Con Facebook page; or email the organizers for more details.
Hope to see you there! 🙂