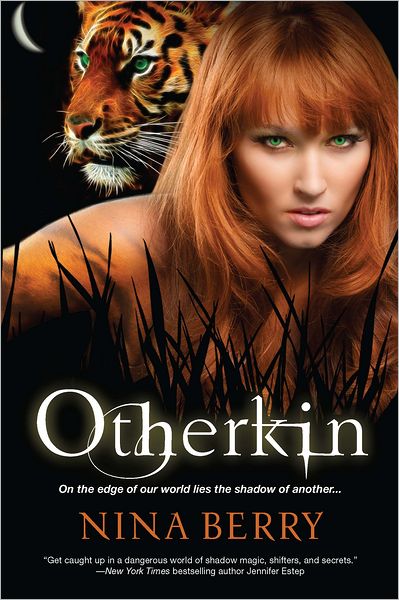 Note/disclaimer: I was asked by the author to give a cover blurb for this book, which I did. In fact, you can see my blurb on the cover. It says "Get caught up in a dangerous world of shadow magic, shifters, and secrets." — New York Times bestselling author Jennifer Estep
Book: Otherkin

Author: Nina Berry

Series: Otherkin series #1

Genre: Urban fantasy young adult

Summary: Despite the back brace that she has to wear to keep her spine from curving due to scoliosis, Desdemona "Dez" Grey is living a pretty normal life — until some guy shoots her with a tranquilizer dart. When Dez wakes up, she's in a cage, her whole world has been turned upside down, and she learns a lot of things she didn't know before — like the fact that she's a shifter who can transform into a tiger. With the help of the cute, but mysterious Caleb, Dez escapes from her captors and soon finds herself at a school for other shifters like her. But when danger threatens again, Dez and her new classmates will have to learn how to work together just to survive …

First line: "Freak." I tore off the back brace and threw it on the floor. "Why'd you let him touch you?"
Cover thoughts: I think this is an interesting cover, and it definitely gives you a hint about the shapeshifter story inside.

What I liked: Dez. She's an interesting character. She learns so many things about herself that she didn't realize, and she goes through a lot in the book, but she always keeps fighting and trying to do the right thing. I liked that about her.

Other thoughts: Another thing I really liked about the book is how the other shifter kids don't really trust each other at first, but how Dez convinces them that the only way for them to defeat their enemies is to work together. I'm a sucker for that sort of plot device, and Berry uses it well in the book. Plus, there's also a lot of action in the book, which is another thing I enjoyed about it.

Overall: An entertaining book that should appeal to both urban fantasy and young adult fans, as well as those who like shapeshifter stories.

Would I read this author again: Yes. I'm looking forward to the other books in the series.
My grade: B
2 Responses to "Otherkin …"
I honestly didn't like the cover as much but I have to say your blurb and review makes me want to read it. I like a good shifter novel and you know I love UF.

The colors on the cover really pop on the print version. If you like shifter books, you might enjoy it. Plus, there's a nice romance between Dez and Caleb, and the magic/world building is pretty interesting too.