New covers for Bigtime superhero books …
Some of you have seen these online already, but I have put some new covers on my Bigtime superhero paranormal romance series. The books are still the same, but I wanted to update the cover art and give the series more of a comic-book feel.
The covers were designed by the awesome Jenny Zemanek of Seedlings Design Studio. Thanks, Jenny!
The covers are all so cool that I don't know which one is my favorite. Maybe A Karma Girl Christmas, or Nightingale, although I really like them all. 🙂 Which new cover do you guys like the best?
If you've never checked out the series, my Bigtime books are paranormal romances that feature superheroes and ubervillains. They are very fun, zany, and campy — sort of like the Batman show with Adam West or Wonder Woman with Lynda Carter.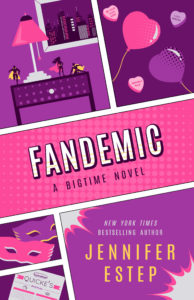 Book #5
As of right now, I do not have plans to write any more books in my Bigtime series. I'm currently writing three other series — Elemental Assassin, Mythos Academy spinoff, and Kill the Queen epic fantasy series — which is all that I can juggle. So the Bigtime series is the odd series out. I hope to get back to it someday, although I have no idea when that might be. Not anytime soon, though.
The books (with the new covers) are available at all the usual sites in ebook format — Amazon, Barnes & Noble, Kobo, etc. The books are also available in print format from Amazon and will be available in print format from Barnes & Noble and Ingram in the next few weeks — in case you work in a bookstore and want to order some print copies.
Karma Girl — Amazon Kindle — Amazon print
Hot Mama — Amazon Kindle — Amazon print
Jinx — Amazon Kindle — Amazon print
A Karma Girl Christmas — e-novella — Amazon Kindle — also available in the print version of Karma Girl
Nightingale — Amazon Kindle — Amazon print
The Bigtime Bundle — e-bundle — Karma Girl through Nightingale — Amazon Kindle
Fandemic — Amazon Kindle — Amazon print
I hope that everyone enjoys the new covers and gets a chance to check out the series, if you haven't already. Happy reading!
4 Responses to "New covers for Bigtime superhero books …"
Love the new covers! Total bummer to hear that you won't be getting back to the series anytime soon, as they were my intro to your writing and I always enjoy reading these books. I get a huge grin on my face any time I see the city/characters mentioned in Gin or the Mythos books!

Thanks! I appreciate that.

I enjoy writing the Bigtime series, but I am booked up with other projects for at least the next year, maybe longer. Maybe I will get back to it someday, though.

I always enjoy putting the books/series Easter eggs in my works for readers to find. Glad you are enjoying them too.

The new covers seem tilted more toward the mystery aspect rather than the romance. Interesting what the different cover designs focus on. It's a good look. I'm not surprised you're taking a break from Bigtime with everything you're juggling. (This is the first I've heard of Kill the Queen. Epic fantasy. Mmmm.)

Actually, we wanted to play up the superhero element, not a mystery element.

Yep, I will be sharing more info about the KILL THE QUEEN series soon. Thanks!
Back to Top