Guest blog: Maria V. Snyder on a taste of romance …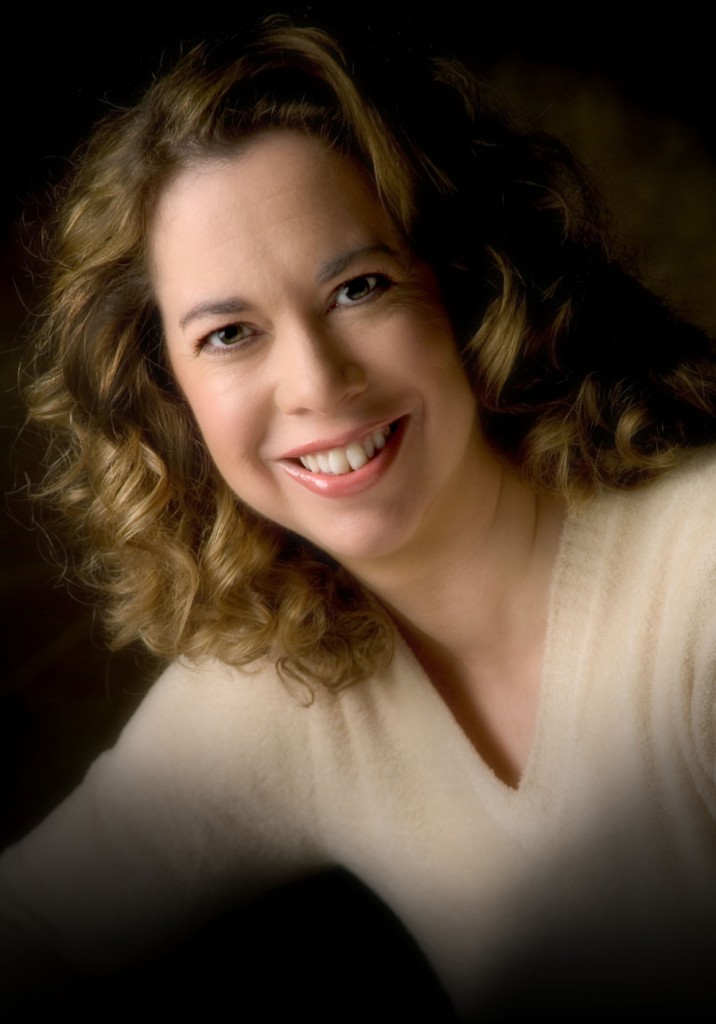 Today, I'm pleased to welcome fantasy author Maria V. Snyder to my blog.
Maria is the author of the Study series, which includes Poison Study, Magic Study, and Fire Study. Her most recent series is the Healer series, which includes Touch of Power, Scent of Magic, and Taste of Darkness.
I have to be a total fangirl for a moment and say that I always enjoy reading about Maria's strong heroines and her interesting world building.
Take it away, Maria:
MARIA V. SNYDER ON A TASTE OF … ROMANCE?

I am a fantasy writer. Or so I thought when writing my very first fantasy novel, Poison Study a number of years ago. At that time, fantasy novels had action, adventure, political intrigue, epic struggles of good vs. evil, and magic. Not romance. Nope, not more than a distant love affair re: Lord of the Rings.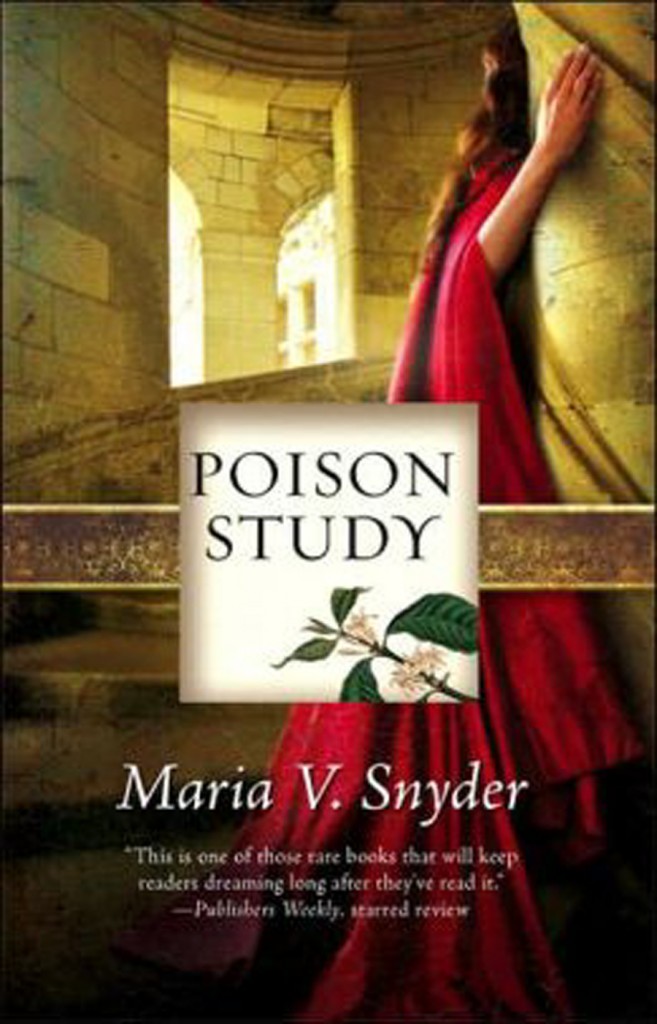 Yet, I insisted my book was pure fantasy even though when I sparked on the idea for Poison Study, I imagined a King had fallen in love with his food taster. And someone had poisoned his food and she HAD to taste it because of protocol and laws and he watched her bite into the food with his heart breaking in two. Yeah, sounds cheesy, but I knew I could just nail that scene. Then I changed my King to a Military Dictator because every fantasy novel had a monarchy and I wanted my story to be unique. No problem, my Commander would fall in love with his food taster (yep, scene would be nailed). Except, his chief of security stole the show and the girl despite all my efforts to stop him (never did write that scene L).
Fast forward to the finished book getting soundly rejected by all the big fantasy publishing imprints, DAW, ROC, BEAN, TOR, etc… Not enough political intrigue, not enough setting details, not enough authentic language for a medieval fantasy, too much romance. What? You got to be kidding? That's just a tiny little subplot – I guess I could delete it…except I couldn't. The story seemed…soulless without it.
When I saw LUNA books was looking for fantasy novels with strong female protagonists and romantic subplots – I still didn't think I had enough romance, but I certainly had the girl power – I sent them my story. LUNA loved it and bought both Poison Study and Magic Study (and my next nine books). Oh, and by the way, LUNA is a imprint of Harlequin. You know Harlequin right? One of the biggest publishers of romance novels? Well, all my peer group knew them for their romance and that's the first thing anyone would say, "I didn't know you wrote romance." And my immediate response, "I don't. They do publish other stories as well…sheezh!" (yeah, very bratty).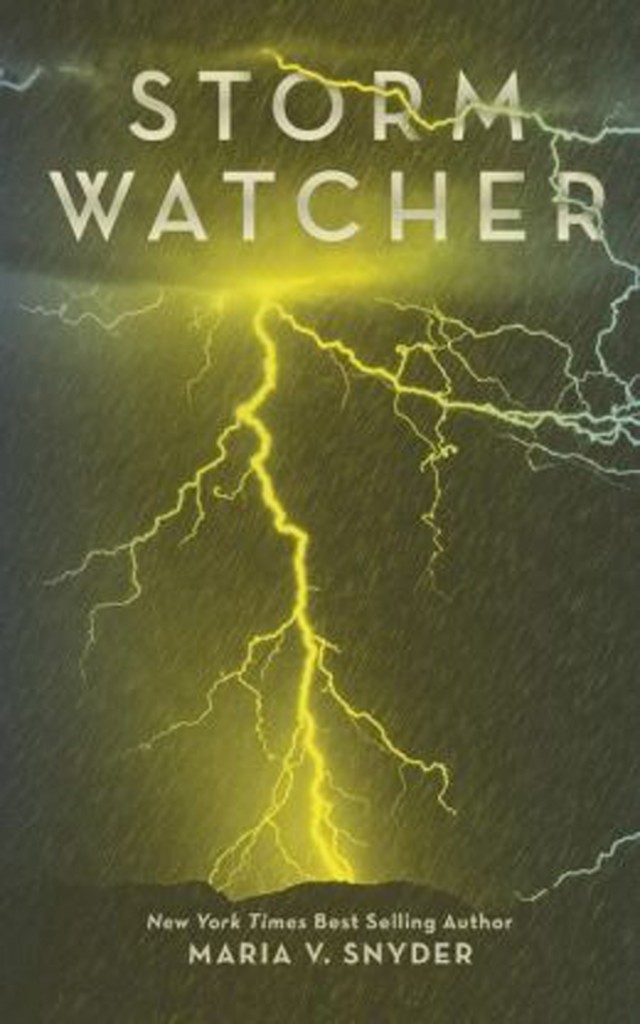 Since then I've embraced my inner romantic. I've joined Romance Writers of America (a fabulous organization and great source of professional and creative advice), but I'm still a member of Science Fiction Writers of America (also includes fantasy as well). I've gotten nominations and awards from both RWA and the SF/F side of the genre divide.
All my stories (except Storm Watcher and a couple short stories), have a taste of romance in them. I can't help it. I love writing about that connection between two people and developing it throughout the story. I enjoy putting them into situations where they'll fight and bicker and yet work together as partners, solving problems and saving the day. After all, everyone needs a taste of romance.
MORE ABOUT MARIA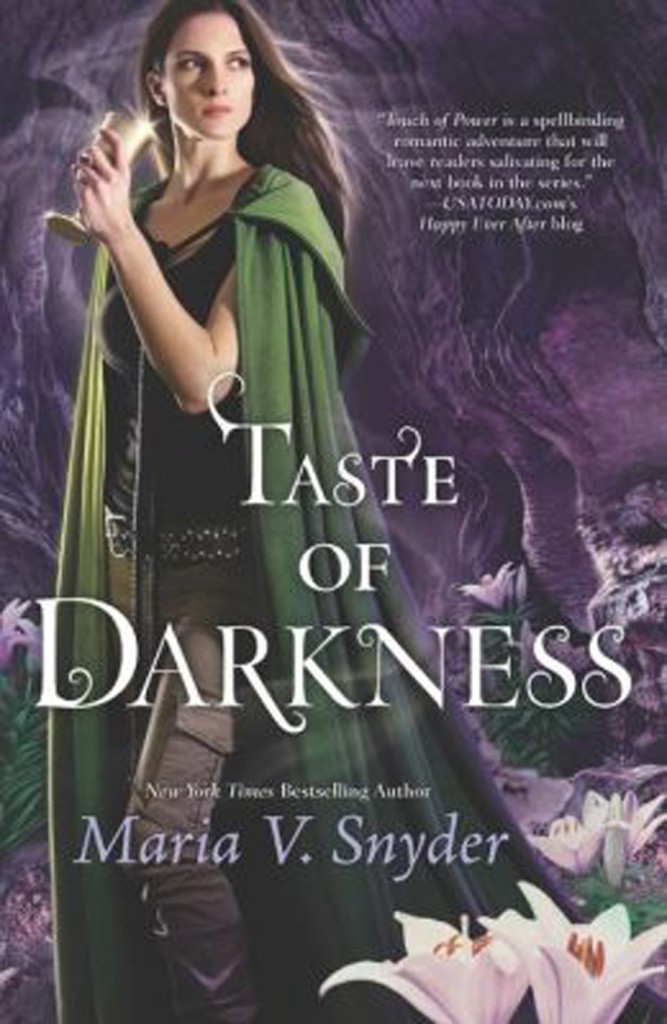 Maria V. Snyder switched from meteorologist to novelist when she wrote the New York Times best-selling Study series (Poison Study, Magic Study, and Fire Study). Born in Philadelphia, Maria dreamed of chasing tornados and earned a BS degree in Meteorology from Penn State University. Unfortunately, she lacked the necessary forecasting skills. Writing, however, lets Maria control the weather, which she does in her Glass series and in Storm Watcher, her debut middle-grade novel. Maria earned a MA degree in Writing from Seton Hill University where she is currently teaching. Maria's latest release is Taste of Darkness, the final book in her award-winning Healer series.
You can visit Maria at her website and blog, and follow her on Facebook and Goodreads.
Note: Storm Glass, the first book in Maria's Glass series, is currently less than $2 on Kindle, if you are interested in checking out that series.
A big thanks to Maria for being on my blog today. Thanks so much, Maria!
GIVEAWAY TIME
Maria is giving away a signed copy of Poison Study — open internationally. To enter, use the giveaway form below.
a Rafflecopter giveaway

46 Responses to "Guest blog: Maria V. Snyder on a taste of romance …"
Rowan Brosam says:

Poison Study is an all time favorite book! I have read it six times and I go back to it whenever I need a little bit of escapism. Thanks for such wonderful books and characters.

Samantha Wallace says:

I would love to receive Killer Frost and City of Heavenly Fire.

Veronica G says:

The Study series sounds very cool. I don't consider myself a romance reader but I always like to have some romantic elements woven into the story. Love is a part of life and it's what makes the tribulations that our heroes and heroines endure worth it in the end, after all. Hope I win!

Oh I so want to read Poison Study! I loved the Healer series so I need to read that trilogy as well. Loved the post. Glad you embraced your inner romantic.

As to what books? I have hyperboyle in my head yelling "ALL THE BOOKS!" LOL

Barbara Elness says:

I haven't had a chance to start this series yet, so it would be awesome to win a copy of Poison Study.
As for books, I have a wish list a mile long and I usually give my sis GC's because she's like me with the wish list.

Maybe31 says:

I won't say no to books ever. Chocolates and jewellery are also great!

Musicgirl488 says:

I LOVE Maria's Study Series they are one of my all time favorite series (along with your Elemental Assassins and Mythos Series Jennifer!!!) Yelena and Valek, & Gin and Owen are definitely in my top ten fav book couples! I love you guys please don't ever stop writing you incredible stories!!!!!!!

Emma says:

I'm a fan of Maria since the first page of Poison Study. The romance is what makes this book so special. I love reading the story over and over again just to see Yelena fall in love with Valek once more. Taste of Darkness arrived just this morning and I can't wait to read how Avry and Kerrick will prevail!

lori simpson (@lary1971) says:

I haven't read these…yet. New to me author. Would be great to win, so I can start them.

Amanda B. says:

I haven't read this series, but I have read the Healers series. And I can honestly say its one of the best series I have read!! I cant wait to read more of Maria V. Snyder's books

Thanks for inviting me to your blog Jennifer! And thanks to all for your comments Good luck to everyone who enters!

Besides the next study book? I'm really dying to get my hands on The One by Kiera Cass. And Assassins Blade by Sarah J. Maas
Great post! I'm glad you didn't change a thing about Poison Study! It's perfect just as it is!

Racehl Leong says:

Love the poison study series, but am definitely looking forward to the conclusion of the mortal instruments series!

Rachel Leong says:

Love the Poison study series, and am also looking forward to the conclusion of the mortal instruments series!

Loring says:

Love Poison Study, Love Maria Snyder

Natalie says:

This is awesome but I thought Storm Watcher had underlying lovey subplots.

Sigh… there are lots of books I'd like to get…. but I am keen for two of Julie Kagawa's books The Forever Song and The Traitor Son

chau says:

I love Poison Study xD And I have read most of your work at least 3 times every book. I just love your writing Maria Snyder!!

Maud says:

Aaah I love Maria Snyder! Her writing is amazing and I love strong female leads >:)

Jasmine Shaw says:

Can't actually desvribe how much I love the Study series, the Healers ones come in a very very very close second…Has anyone figured out how to grow their own Valek yet by the way??

Maria says:

I love, love, love the study series. I own three copies of each book and I have read them so many times I've lost count. They are so beloved that when I went to Greece a few years ago, I took the paperbacks with me. I couldn't imagine three months away without access to my favourite books. I can't wait for the next installment at the end of this year.

Katie says:

I love Maria V Snyder's books and always recommend them to my friends! For the holiday's I love to receive any books from any genre! My biggest love is paranormal romance

Jess says:

The study books are my favourite books ever! Whenever someone asks me for a recommendation these are top of the list… to the point I lent out my Poison study and never got it back! Next time I'm definitely buying/gifting a new copy instead!

This is still my favourite book even years and years on. If I ever have a rut in my reading this is always the book I go to as it picks me up and reminds me why I love reading. I can't wait for more books with Valek and Yelena.

Jordan says:

I love how Maria's books are fantasy with a little romance thrown in! That's my favourite kind. Adore Poison Study and everything else.

Natalie says:

Touch of Darkness, Healer series by Maria! Loved the Study series, my favourite books!

Paola Galelli says:

Haha 2 of my fave authors interviewing together – just had an eek moment! Most of my shelves and goodreads profile filled with Gin Blanco books and MVS Opal and Yelena series! Would be great to add signed book to that collection *fingers crossed*

Katie V says:

I love love love this series but don't actually own a copy yet so this would be awesome!!!
I'm looking forward most to Kim Harrison undead pool and I always love going to the bookstore to see what I can find if the budget is looking good that month

lente says:

I love all her books! So excited about the books that are due next year!

Dori says:

I have loved this author since High School and she inspired me to write again. Her recent Healer series I feel lacks the luster of the old novels but I still enjoyed them. I hope she continues to write romance/fantasy.

I once had a signed cover copy of Poison Study that she sent me ages ago with a personal note. It was ruined in a tragic event of water damage during a move. I have since ordered a new copy of Poison Study but it always stings to know the original is gone.

Candace Adkins says:

I love all of her books. I did my 8th grade author study on her, probably my favorite project ever, I got to read 3 of her books, even though I read more, then do a ton of research. But she is so nice and actually emailed me back to answer some questions for my project. Love her. Anyways I'm really looking forward to reading the last book in the divergent trilogy.

Gayla Wennstrom says:

I love your books. Imaginative fantasy magic combined with love stories that I care about — it's like peanut butter and chocolate. Better together!

Debbie Ford says:

Now I know why your books are in the romance department! I always thought they should be in fantasy. Love your books!!

Joana says:

I can't wait for book 4 and 5 of the Study books next year.

Amber B says:

I would love a kindle gift card so I can start buying some of the 151 books on my Amazon wishlist. On the top of that list would be Taste of Darkness, Wild Things, Murder of Crows, and Lady Thief.

Alice says:

I really want to read the Healer series by Maria! Shes such an awesome author.

Hi, love these books, great to hear from Maria about how she changed the original idea to what we know and love – also how we nearly lost our beloved Yelena and Valek pairing!!! wow.
Can't wait for more Study based books to hit the shelves, virtual or otherwise.
Suz. xox

Amanda T says:

I would love to recive more Study books! I know that's not really an option right now but I just love Yelena and Valek so much I can't let go of their story.

Jaky says:

I'm crazy about Maria's books… I've read all of them! poison was my first one, and I have to say that is my favority after magic study… I haven't found another author that I ñpve that much as maria, winning a signed copy would be a dream came true!!

Katie Buzan says:

Two of my favorite authors together!!!! I love Maria's Study series, Glass series, and Healer series. I love Jennifer's Mythos Academy series. They are both awesome!!!!! So many books to read, and so little time.

Heather Harrigan says:

I'm hoping to get City of Heavenly Fire. Poison Study sounds really good, do if I dint win the giveaway I'll add it to my list

Jeanne says:

Maria's books are what turned me on to reading. I never had an interest in reading. In grade school, the choices they would have us read never interest me. Well, until I found Shakespeare's Taming of the Shrew. Yeah, I know, Shakespeare!? Then College, well, don't get me started. Let's say Cliff Notes were my friend. Through my working and child raising years, I never had the time to read or so I thought. Then I became ill. Nothing serious, just needed bed rest. Meanwhile a student in one of my classes referred me to Maria's Poison Study. I gave it a try and during those many nights of being unable to sleep because of the symptoms of my illness, I fell in love with all of her books. Study, Glass, and In and Out series I am sure I am forgetting one of her series but they were all AWESOME! Looking forward to the additional Study series books. For the love of Valek!

Jeanne says:

Oh and I am lovin' the layout and coloration of your website. Very eye appealing.

Poison Study is a rare plot I've never heard of before. Very interesting.

Christie Joralemon says:

Always interested in new series. Im stoked!

I am looking forward to getting the Legend trilogy!