Guest blog: Jess Haines on Urban Fantasy and Strong Heroines …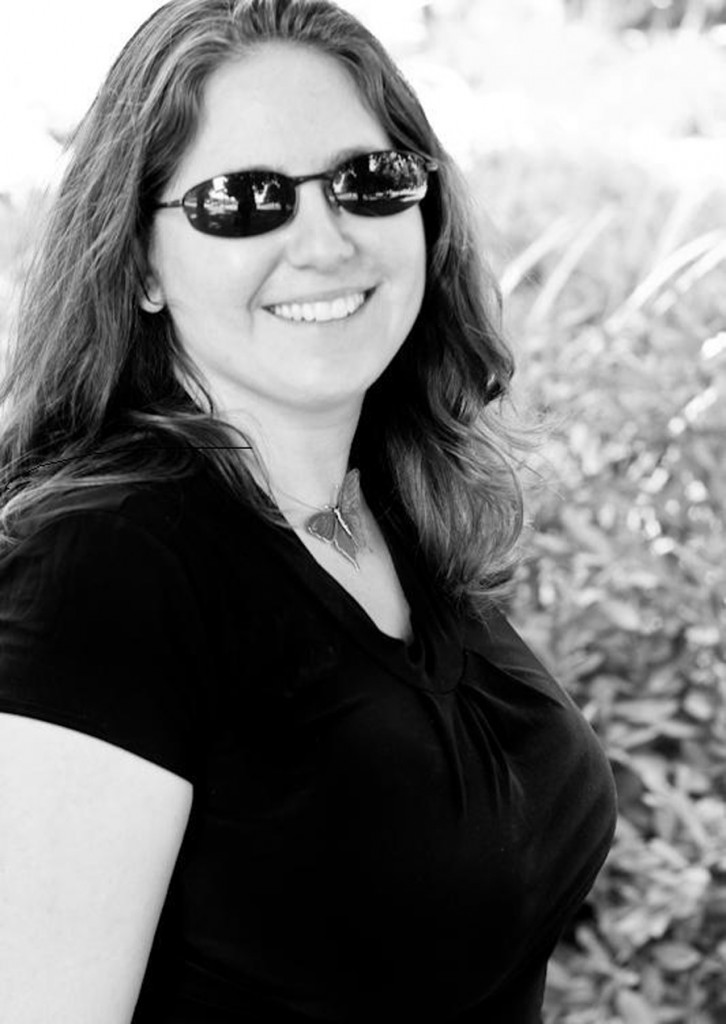 Today, I'm pleased to welcome Jess Haines to my blog. Jess is the author of the H&W Investigations urban fantasy series, which includes the upcoming book, Forsaken by the Others, out on July 2. Take it away, Jess:
URBAN FANTASY AND STRONG HEROINES
Hello there!  Jess Haines here.  I'm the author of the H&W Investigations series — urban fantasy novels about Shiarra Waynest, a human private investigator in an alternate, present-day New York. Somehow she keeps getting pulled into supernatural troubles way above her pay grade …
One of the things I enjoy about writing Shiarra is having her grow into her big girl panties. So many urban fantasy novels start out with a powerful woman with magical powers who grows more powerful over the course of the book or series. Shia is something of a rare breed — not only is she human, she starts out both phobic and, frankly, racist against Others (supernatural creatures like vampires, werewolves, etc).
Over time, she's become stronger, wiser, and more tolerant of those not like her. It's one of the things I admired about stories like Laurell Hamilton's Anita Blake series and Kim Harrison's Hollows series. As the series went on, the heroines came to understand that sometimes issues that started out seeming so black-and-white really weren't so clear-cut after all.
Physical and magical ability has nothing to do with a heroine's strength of character or what they are capable of as a person. When it comes to making the hard choices — the life or death choices, the decisions about whether to start or end friendships, knowing who they can really trust — that is where the real strength in that character lies.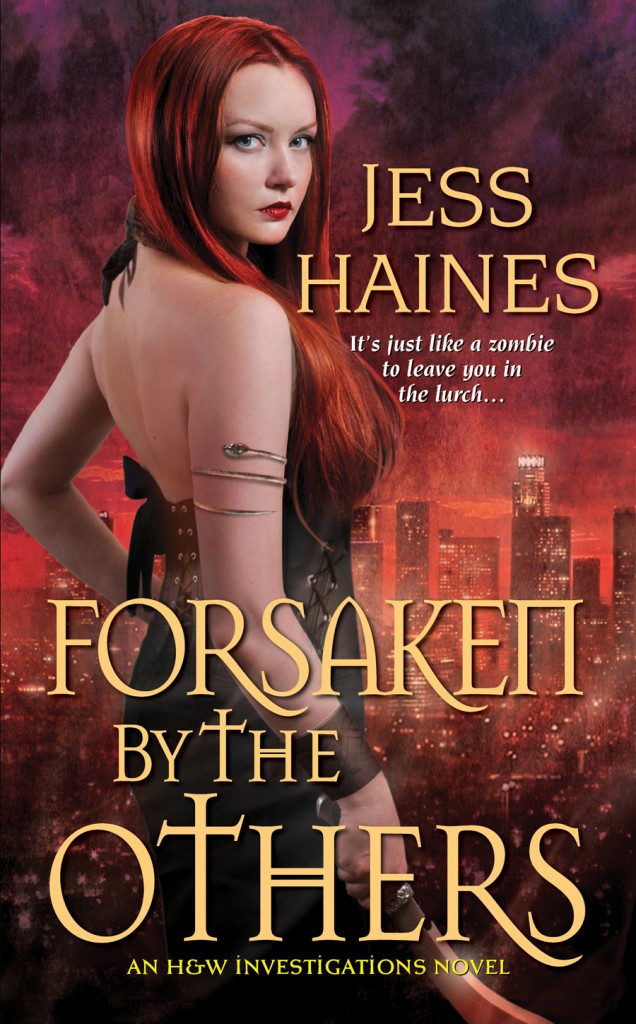 That is one of the aspects of Shiarra I have really enjoyed exploring. Finding and pushing her limits to build on that inner core of strength. Making her look beyond her assumptions. In some cases, having to reevaluate some of my own.
That is one of the joys of being a writer. Discovering what makes your character tick can sometimes open up new avenues of exploration for yourself and your own nature. Finding their backbone to have them stand up for the issues they believe in is one of the greatest joys of building a character over the course of time.
Shiarra is one of those characters who is supposed to rub the wrong way on some levels from the start. Even though I don't delve too deeply into social issues in my novels, I do like to think that I have given her a compelling case of character growth over the course of the series. She starts out afraid and distrustful of all vampires and werewolves. Over the course of the books, she learns that, like people, some are worthy of her trust and respect — and some aren't.
As a reader, this is one of the things I love best about urban fantasy heroes. Harry Dresden and the fae, the Sisters of the Otherworld and their take on humans, Rachel Morgan and demons, Anna and her view of Charles and the rest of the werewolves — they've all grown in different ways over time. Seeing why and how is a fascinating journey, and I hope you'll feel the same way about how Shiarra's feelings change about Others and how she grows as a person over the course of the series.
WHERE TO FIND JESS ONLINE
Thanks so much for being here today, Jess.
For the next stop on the blog tour, be sure to visit the official FORSAKEN BY THE OTHERS blog tour calendar. You can also visit Jess on the web at the following sites:
Website: www.JessHaines.com
Facebook: http://www.facebook.com/JessHainesAuthor  
Twitter: http://twitter.com/#!/Jess_Haines  
Goodreads: http://www.goodreads.com/jesshaines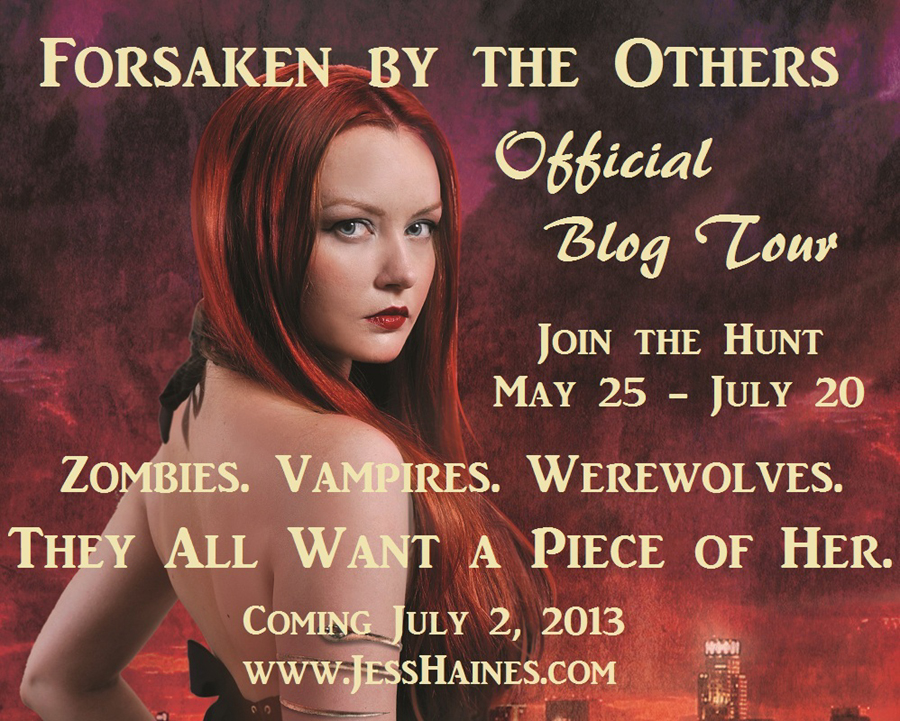 FORSAKEN BY THE OTHERS BOOK DESCRIPTION

The Others – vampires, werewolves, things that go chomp in the night – don't just live in nightmares anymore. They've joined with the mortal world. And for private investigator Shiarra Waynest, that means mayhem …
Have a one night stand with a vampire, and you can end up paying for it for eternity. P.I. Shiarra Waynest, an expert on the Others, knows that better than most. Yet here she is, waking up beside charismatic vamp Alec Royce with an aching head … and neck. Luckily, Shia has the perfect excuse for getting out of town – namely, a couple of irate East Coast werewolf packs who'd like to turn her into a chew toy.
On Royce's suggestion, Shia temporarily relocates to Los Angeles. But something is rotten – literally – in the state of California, where local vampires are being attacked by zombies. Who could be powerful enough to control them – and reckless enough to target the immortal? Following the trail will lead Shia to a terrifying truth, and to an ancient enemy with a personal grudge …
BUY LINKS FOR THE BOOK
Amazon / Amazon UK / Amazon Canada
Barnes & Noble
Book Depository
Books-A-Million
Powells
Indiebound
GIVEAWAY TIME
To enter the giveaways that are part of the blog tour, use the Rafflecopter form below. Jess will be announcing the winners at a later date.
12 Responses to "Guest blog: Jess Haines on Urban Fantasy and Strong Heroines …"
twiser says:

Out of those options vampires I guess. 🙂

Lee Todd says:

werewolves are my faves

Love love love Jess's books! Reluctant heroes or heroines, in this case, are my absolute favorite! Besides that VAMPIRES!!!

chris Mccoy says:

I can not wait to read your latest book!

Actually my fave kind is either mermaids or shifters. However, I have been enjoying anything unusual or a different take on a supernatural!

Love that she pushes through assumptions.

I like reading about all kinds of creatures. For me, it's more about how the magic system/overall world building works. I also like seeing a heroine grow/change and become more powerful as a series goes along.

Crystal Stoner says:

I love Jess' books. Vampires are my favorites

Thanks so much, everybody! Hope you all enjoy the latest book.

And thanks again for having me, Jennifer! =)

<3,
-J

You are quite welcome. Thanks for taking the time to guest blog. I appreciate it. 😉

CrystalGB says:

I love shapeshifters and werewolves.

Dena Kabbaz says:

I would love to read ur books.

EvelynS says:

My favorite are shifters!!