Guest author: Amanda Bouchet talks about Heart on Fire …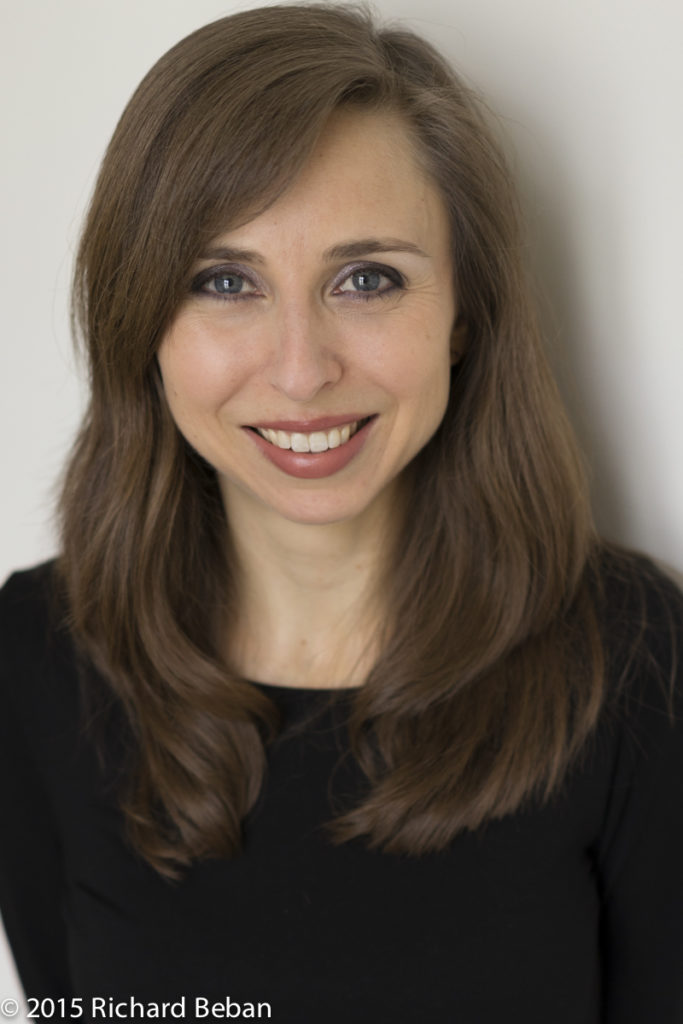 Today, I am pleased to welcome USA Today bestselling author Amanda Bouchet to my blog. Amanda is the author of the Kingmaker Chronicles epic fantasy romance series.
Jennifer: Welcome, Amanda! Please tell readers about your new book, Heart on Fire. 
Amanda: Thank you for inviting me, Jennifer! Heart on Fire is the final book in the Kingmaker Chronicles, a fantasy romance trilogy that began with A Promise of Fire and then Breath of Fire. In this final part of the story, Cat and Griffin continue their quest to reunite the three realms of Thalyria and go through difficult and sometimes terrifying trials as they fight to overthrow the last and most powerful of the land's vicious leaders—Cat's own murderous mother. 
Jennifer: This is the third book in your Kingmaker Chronicles series. Can you tell us a little about the series?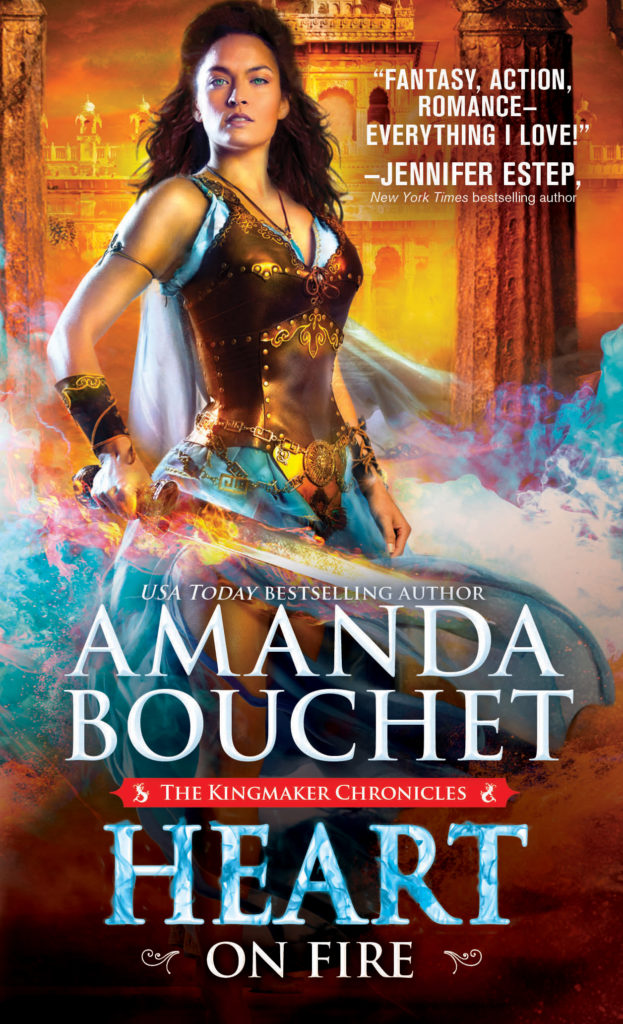 Amanda: The books are set in a fantasy world based on ancient Greek mythology. The gods, legends, and mythical creatures we know as stories are an actual part of the characters' reality, and the gods play an active role in the affairs of men. There are two types of people in Thalyria, those with magic and those without, an imbalance that has led to power abuse and conflict. Griffin is a warlord without magic but with a burning desire to overthrow the exploitative, brutal magical class. Cat is a powerful Magoi in hiding from her own people. For years, she's been carefully avoiding her own magic and the cruel royals who would capture and use her for it. The moment he sees her, Griffin knows that Cat can help him accomplish his goals. Unfortunately for him, Cat wants nothing to do with him or his grand design for Thalyria, especially if it means exposing the secrets she's been guarding for years. But Griffin isn't letting her get away from him anytime soon—or possibly ever. Sparks fly, wills clash, and adventures begin!
Jennifer: What appeals to you about the fantasy and romance genres?
Amanda: So much! In fantasy, there are endless possibilities. As a writer, I can literally make up anything I want. How fun is that? But there is also a base to fantasy literature that incorporates things that stir me as a reader and writer—the loyalty and kinship of a band of warriors on an epic quest, the trials, the adventures and battles, the heartbreak and suffering, and the ultimate payoff of good triumphing over everything else. All of that is actually really close to what appeals to me in romance, too. I need that happily ever after in the end, but that doesn't mean that getting there is easy or trial-free. Conflict and difficulties inevitably arise, but they only make the positive outcome for the romance all the sweeter. In both instances, it's the journey that counts.
Jennifer: What inspired you to write the Kingmaker Chronicles series?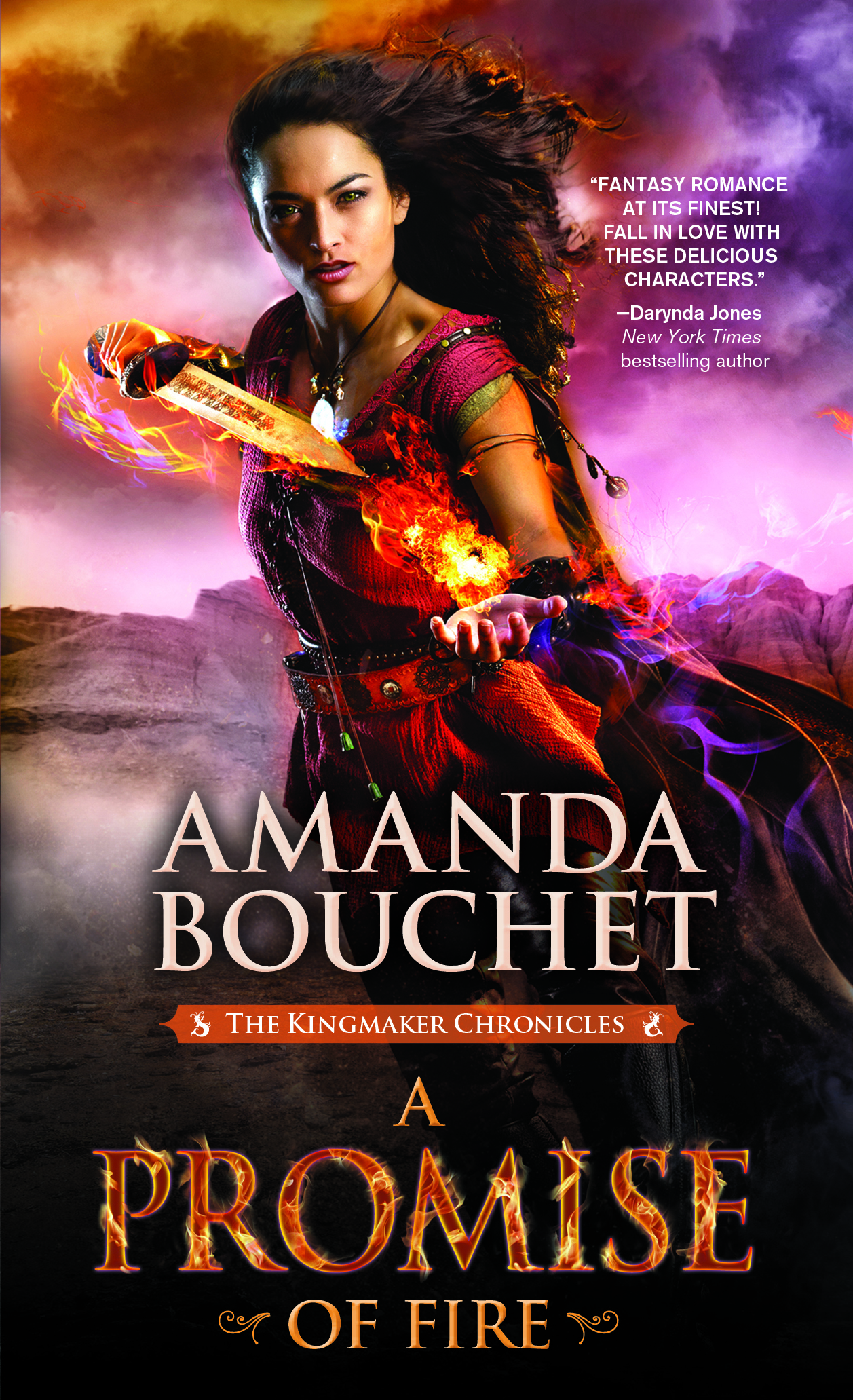 Amanda: It was the heroine, Cat! She got into my head and wouldn't get out, even though I was writing a different story at the time. She was extremely vivid, very sarcastic, and absolutely demanded to get on the page. She wasn't a fully-formed character in my head, though, so once she got her claws into me, I had to brainstorm about what would make her different, what was going on in her world, and who her love interest would be. For the setting, I think I must have had "Greek-ness" in the back of my mind from being half Greek myself and familiar with the mythology. Tapping into my own heritage was a way to introduce gods, monsters, and magic into the books while keeping the terminology familiar for readers. In a way, it streamlined the world building and left more room for the romance and adventure.
Jennifer: What are some of your favorite fantasy and romance books/authors and why?
Amanda: With so much talent out there, it's hard to pick only a few. For fantasy, the first that comes to mind is J.K. Rowling and her Harry Potter books. To me, they were sheer brilliance, with so much cleverness and imagination. Also, J.K. Rowling gave us Hermione, who showed us that it's cool for girls to be smart and not be shy about it. And she gave us Harry, who didn't always need to be the smartest or the best, as long as he was loyal and brave. In romance, I'm a huge fan of historicals, and I'll buy and read anything by Julia Quinn the day it comes out. I love the humor, dry wit, and complicated path to love. To combine both fantasy and romance, Kresley Cole is a definite favorite. I've been reading her Immortals After Dark series since the very beginning, and they never fail to sweep me off into the adventures of the characters, make me laugh out loud, and make my heart pound from the steamy love scenes.
Jennifer: Have you always wanted to be a writer? What got you started on your writing journey?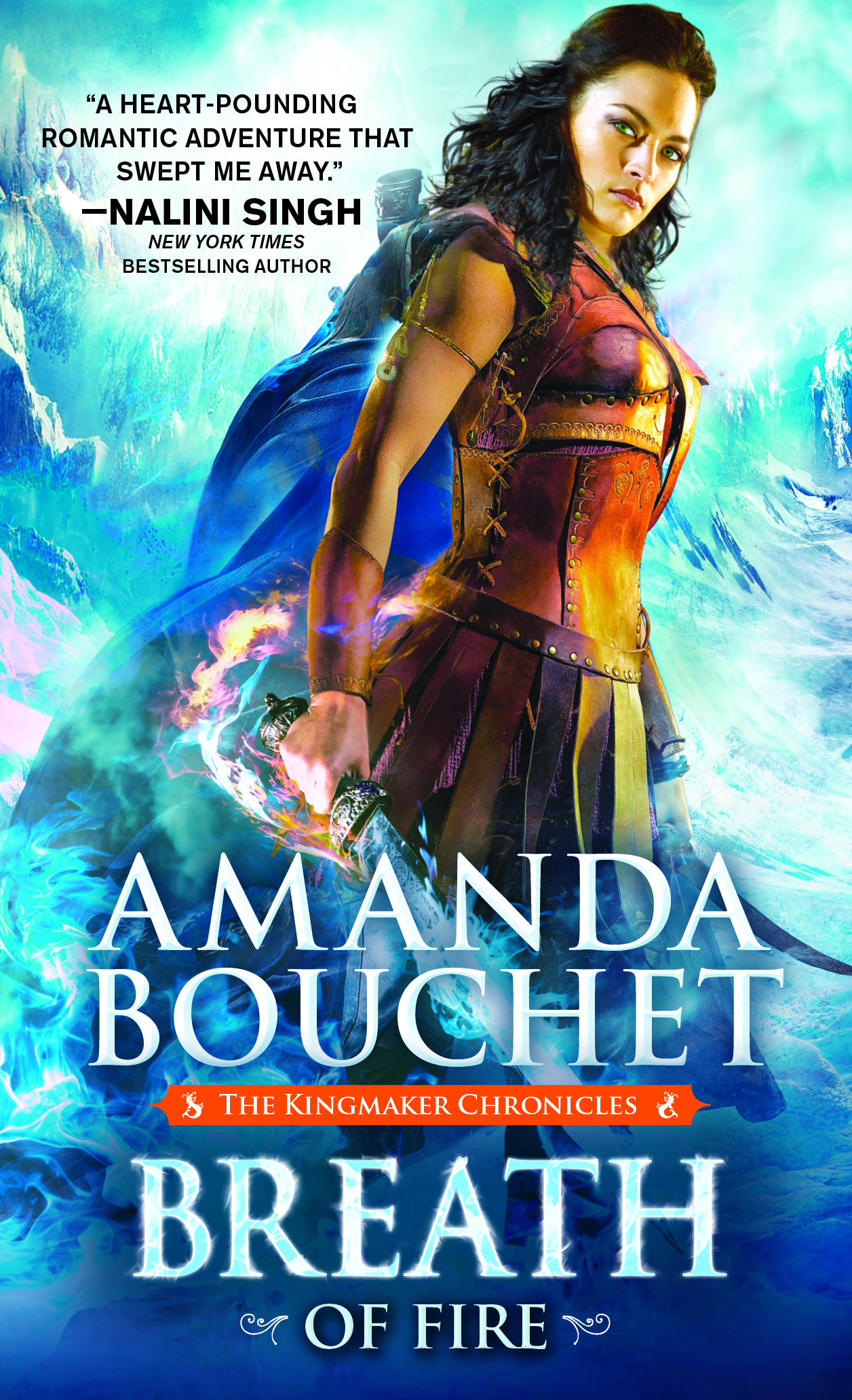 Amanda: I didn't always imagine being a writer, but I have been making up stories in my head for as long as I can remember. I didn't actually start writing anything down until about a dozen years ago, though. After I graduated from college, I moved to France and pretty quickly married the man I'd met while studying abroad. That left me with an American degree in French, living in France, and no career plan. I spent a number of years in jobs I didn't really enjoy before deciding to start writing with the goal of publication in mind. I had plenty of imagination, but no practice at all in writing down a full story from beginning to end. It took a lot of writing, some starts and stops, and maybe five years before I hit on the story I really wanted to polish and try to sell. That was A Promise of Fire. I spent a long time self-editing the manuscript before querying it to literary agents, but once I started the querying process, everything went very fast. 
Jennifer: What's next for you? What are you working on? 
Amanda: Right now, I'm working on a new trilogy that I like to describe as Robin Hood meets Star Wars. It's a futuristic romance where the captain of a rebel spaceship gets herself into deep trouble and needs a little help getting out. The problem is—who can she trust? And when she turns to a stranger for aid, it could mean losing her freedom, or her heart. The series is tentatively called Endeavor, and the first book should come out in early 2019. I'm loving writing something totally new for now, but I do plan on returning to the Kingmaker world to tie up some loose ends. There are secondary characters whose stories still need to be told. 
Thank you so much for having me as a guest on your blog! 
ALL ABOUT AMANDA 
Amanda Bouchet grew up in New England where she spent much of her time tromping around in the woods and making up grand adventures in her head. It was inevitable that one day she would start writing them down. Drawing on her Greek heritage for the setting and on her love of all things daring and romantic for the rest, her debut trilogy, The Kingmaker Chronicles, took form. She writes what she loves to read: epic exploits, steamy romance, and characters that make you laugh and cry.
A French master's graduate and former English teacher, Amanda lives in Paris, France. She met her husband while studying abroad, and the family now includes two bilingual children who will soon be correcting her French. 
Visit Amanda's website, or follow her on Facebook and Twitter.
GIVEAWAY TIME
Amanda is generously offering up one signed, print bundle copy of the three books in the Kingmaker Chronicles. This giveaway is open to those 18 and older. This giveaway is open internationally. To enter, use the form below.
20 Responses to "Guest author: Amanda Bouchet talks about Heart on Fire …"
Hayley says:

There are a lot of good fantasy books coming out in 2018. I can't wait to read High Voltage by Karen Moning, Burn Bright by Patricia Briggs, A Court of Frost and Starlight by Sarah Maas, and Magic Triumphs by Ilona Andrews.

Stephanie Gerstein says:

Heart on Fire desperately! New JR Ward, Ilona Andrews, Patricia Briggs, Nalini Singh, Sarah J Maas, Anne Bishop, Faith Hunter, Karen Marie Moning… so many new books by my favorite authors! And when are we seeing a new Gin book??

Yep, there will be a new Gin book this year. I'm hoping to release VENOM IN HER VEINS, book #17, sometime in the spring. We'll see what happens.

I am SOOOOOO freaking excited for this book!!!!

Shelby p. says:

Ahhh I love this series so much! Another fantasy series I'm looking forward to is the last throne of glass book!

Elizabeth Dougan says:

I started reading the first book when I was in hospital but my friend borrowed the book and I've not gotten it back yet. I love Cat v

Wendy Negron says:

I absolutely LOVE Cat and Griffin and will be sad for their story to end. Will the secondary characters get their own books/story?

Patricia Briggs' Burn Bright, and of course Breath of Fire!

Cynthia H. says:

Oh definately Breath on Fire by A.B.

KatieEvenstar says:

As a huge Greek mythology nerd, the Kingmaker Chronicles have everything I could ask for in a series. I look forward to the conclusion of the series, and yet not because I don't want it to end! I'm so conflicted! Thank yo for this wonderful series that has stollen my heart.

Sandra Carter says:

Really enjoyed the interview with Amanda, the Kingmakers Series contains in-depth world building and characters.

Nicole Burton says:

So excited to read the last book tomorrow!!

Betul E. says:

Magic Triumphs by Ilona Andrews, Burn Bright by Patricia Briggs, and Lake Silence by Anne Bishop.

Lucy says:

Love this trilogy so much and I'm so glad Amanda will be tieing up those loose ends 😉

bn100 says:

maybe the heart of fire

Lynn says:

Such a good series, I will Cat and Griffin

Well, of course Heart on Fire and Venom in Her Veins, Aliens Abroad by Gini Koch, Judgement Road by Christine Feehan, Burn Bright by Patricia Briggs, and Lake Silence by Anne Bishop. Just the ones that are coming out soon-ish and that I remember! 🙂

Also, I kinda pressed a letter and then enter, so my twitter entry isn't right, here's the link:
https://twitter.com/lpcoolgirl/status/947889439522504704

Besides Heart on Fire? The next October Daye novel and the last Kate Daniels novel (sob).

Dawn Roberto says:

Magic Triumphs by Ilona Andrews and Kevin Hearne's Scourged

Carla says:

Anything by Heather R. Blair or Juliette Cross.