Fantasy books in my TBR pile …
Is it just me or has this been a really good year for fantasy books? Here are some fantasy books that are on my TBR pile and that I'm looking forward to reading later this year. Note that the descriptions are from Amazon.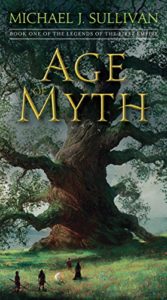 Age of Myth by Michael J. Sullivan
Out now
One of fantasy's finest next-generation storytellers continues to break new ground.
Michael J. Sullivan's trailblazing career began with the breakout success of his Riyria series: full-bodied, spellbinding fantasy adventures whose imaginative scope and sympathetic characters won a devoted readership and comparisons to fantasy masters Brandon Sanderson, Scott Lynch, and J.R.R. Tolkien himself. Now Age of Myth inaugurates an original five-book series.
Since time immemorial, humans have worshipped the gods they call Fhrey, truly a race apart: invincible in battle, masters of magic, and seemingly immortal. But when a god falls to a human blade, the balance of power between humans and those they thought were gods changes forever.
Now only a few stand between humankind and annihilation: Raithe, reluctant to embrace his destiny as the God Killer; Suri, a young seer burdened by signs of impending doom; and Persephone, who must overcome personal tragedy to lead her people. The Age of Myth is over. The time of rebellion has begun.
My thoughts: I bought Wheezley the first book in Sullivan's Riyria Revelations earlier this year. Wheezley really enjoyed it, and he's read the rest of the Sullivan's books. So I'm hoping to read some of Sullivan's books as well.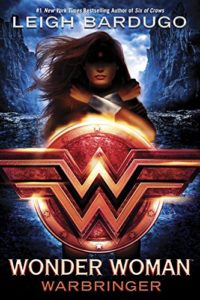 Wonder Woman: Warbringer by Leigh Bardugo
Out now
The highly anticipated, entirely new coming-of-age story for the world's greatest super hero: WONDER WOMAN by the # 1 New York Times bestselling author LEIGH BARDUGO.
She will become one of the world's greatest heroes: WONDER WOMAN. But first she is Diana, Princess of the Amazons. And her fight is just beginning. . . .
 
Diana longs to prove herself to her legendary warrior sisters. But when the opportunity finally comes, she throws away her chance at glory and breaks Amazon law—risking exile—to save a mere mortal. Even worse, Alia Keralis is no ordinary girl and with this single brave act, Diana may have doomed the world.
 
Alia just wanted to escape her overprotective brother with a semester at sea. She doesn't know she is being hunted. When a bomb detonates aboard her ship, Alia is rescued by a mysterious girl of extraordinary strength and forced to confront a horrible truth: Alia is a Warbringer—a direct descendant of the infamous Helen of Troy, fated to bring about an age of bloodshed and misery.
 
Together, Diana and Alia will face an army of enemies—mortal and divine—determined to either destroy or possess the Warbringer. If they have any hope of saving both their worlds, they will have to stand side by side against the tide of war.
My thoughts: I've always been a Wonder Woman fan, and I also liked Bardugo's Six of Crows series. Count me in.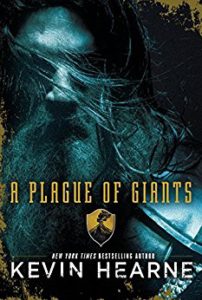 A Plague of Giants by Kevin Hearne
Out on Oct. 17
From the author of The Iron Druid Chronicles, a thrilling novel that kicks off a fantasy series with an entirely new mythology—complete with shape-shifting bards, fire-wielding giants, and children who can speak to astonishing beasts
MOTHER AND WARRIOR
Tallynd is a soldier who has already survived her toughest battle: losing her husband. But now she finds herself on the front lines of an invasion of giants, intent on wiping out the entire kingdom, including Tallynd's two sons—all that she has left. The stakes have never been higher. If Tallynd fails, her boys may never become men.
SCHOLAR AND SPY
Dervan is an historian who longs for a simple, quiet life. But he's drawn into intrigue when he's hired to record the tales of a mysterious bard who may be a spy or even an assassin for a rival kingdom. As the bard shares his fantastical stories, Dervan makes a shocking discovery: He may have a connection to the tales, one that will bring his own secrets to light.  
REBEL AND HERO
Abhi's family have always been hunters, but Abhi wants to choose a different life for himself. Embarking on a journey of self-discovery, Abhi soon learns that his destiny is far greater than he imagined: a powerful new magic thrust upon him may hold the key to defeating the giants once and for all—if it doesn't destroy him first.
Set in a magical world of terror and wonder, this novel is a deeply felt epic of courage and war, in which the fates of these characters intertwine—and where ordinary people become heroes, and their lives become legend.
My thoughts: I've enjoyed Hearne's Iron Druid series (although I am several books behind), so I'm interested to see his take on epic fantasy.
What about you guys? Which fantasy books are you looking forward to reading?
2 Responses to "Fantasy books in my TBR pile …"
These all look great!

I think they all sound interesting. Hope you enjoy them.