Elemental Assassin backlist book giveaway …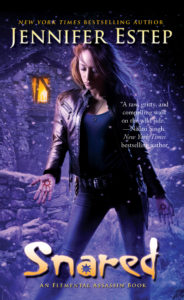 One of the things I'm hoping to do this summer is catch up on my TBR pile — especially when it comes to book series that I've started. I have several series that I need to get caught up on.
There are a lot of books in my Elemental Assassin series now — Snared is book #16 — so I thought I would help some of you guys catch up on the series this summer. 🙂
Let's do a giveaway. Five folks will win a print copy of any one book in my Elemental Assassin series — from Spider's Bite, book #1, to Snared, book #16 — winner's choice.
To enter, use the form below. Note that the giveaway is open to those 18 and older, U.S. addresses only, due to postage costs. Happy summer reading!
42 Responses to "Elemental Assassin backlist book giveaway …"
Oh I have a few that I have fallen behind on. There's the Black Dagger Brotherhood, Midnight Breed, Lords of the Underworld and Immortals after Dark.

Allyson Williams says:

I love your Elemental Series!

Sandy Giden says:

I'm one book behind on the Elemental Series. I'm also trying to catch up with Heather Graham's Krewe of Hunters series.

Stephanie Gerstein says:

I need to read the newest PsyChangeling by Nalini Singh and Destroyer, the final Elemental book by Shannon Mayer… also need to read the newest Jane Yellowrock.

Vanessa Castello says:

Your series is amazing, by far one of my favorites! 🙂

Leslie says:

Love the Elemental series! Love Gin and the gang. Need to get caught up on this one though…

Dawn Roberto says:

I have a few- The Hollow Series, Black Dagger Brotherhood, Dark Hunters, Souls of Fire are just a few to get caught up on.

Kelli Jo Calvert says:

I would like to read all of Christina Dodd's Virtue Falls series.

Liz Popolow says:

MUST catch up on Elemental Assassin! <3

Tonya Perry says:

Great series. I love all Jennifer's books

Lisa Rivera says:

just re-read Ilona Andrews Kate Daniels series and her Hidden Legacy books

Michelle says:

I love this series but I'm so behind due to missing books and being poor haha love ya Jennifer!!!

Jennifer Eastep says:

I already have every one of the Elemental Assassin books to date. I've been following the series since the very first book!!

Jennifer says:

I love the Elemental Assassin series! I mean honestly what isn't to love about Gin? I even dragged one of my friends into the series after another friend shared it with me. =)

April says:

BLACK DAGGER BROTHERHOOD!

Rachel Flesher / Raonaid Luckwell says:

I feel bad because I have only the first book in my TBR pile, but in my defense I had been swamped with review books and writing.

Kathi says:

Loved Snared. Love the elemental series.

Billie Dee says:

I am behind! Must get more Gin!!

Melinda Zedekar says:

The Ghostwalker series

Joleen L says:

Series? So behind, Kate Daniels, Rylee Adams & Larkspur, Nalini Singh, and Gina Koch. Add in all the the indie authors too, and I will never catch up, but I'll be happy trying.

donnas says:

Im actually a couple books behind and looking to catch up this summer.

Jessica says:

Love the elemental assassin series!! I'm behind but I'll catch up and have fun doing it. I love gin blanco! I wish this series would go on tv it would be a blast to watch!!!!

Carla Hollar says:

Your books keep getting better! Just waiting for the cookbook…

Graceley Knox says:

I'm flying through this series right now! Can't wait to finish it!

Alice says:

I really love the stories about Gin Blanco 🙂
Unfortunately I´m from Germany, but I still hope to get a signed copy one day 😀 Never stop dreaming 😀
I´m really looking forward to the next book. Please keep up the awesome work you´re doing! 🙂

Best regards!

Rebecca says:

Would love to finish your Black Blade series

Absolutely one of the best series out there.

Jacki S says:

I'm going to catch up on your Elemental Assassin series, I am a few books behind.

Samantha says:

I can't wait for the Dark Tower movie to come out in August so in July I'm planning on rereading the entire series to get ready for it.

Hi Jennifer,

I'd love to win a print copy of one of your books 🙂 I've listened to the audiobooks from Elemental Assassin 1 – 5 and I fell instantly in love with these series! It would be a huge honour to have the prints on my shelf 🙂 <3

Have a great day!

Jen

Jamie says:

Absolutely love this series. Keep up the awesome job. Can't wait to read unraveled.

Marnie Cate says:

I think it is time to reread the Elemental Assassin Series. Nothing like catching up with some old friends.

Kristan says:

I want to catch up on the Charley Davidson series by Darynda Jones!

Nickie says:

I need to catch up on your series. Right now I'm catching up on the Downside Ghosts series by Stacia Kane.

Ann Williams says:

Rereading Patricia Biggs Mercy Thompson series and catching up on others like Elemental assig

Emily R says:

Along with your books, I'm currently wanting to get caught up with Patricia Briggs's "Mercy Thompson series", and am waiting for one of my other favorite authors, Vera Nazarian, to publish the third book in her Atlantis Grail series!

Thanks for creating a kicka$$ heroine. Wishing you continued success in all your writing endeavors. Having read the Mythos Academy series, Black Blade series, and now working on the Elemental Assassin series, I worry about your burnout. Know that you are appreciated. Thanks again for providing hours of reading pleasure.

ellett says:

I'm caught up and waiting to pounce on whatever gets released next. Meanwhile I'm looking to see what I can load up the tablet with for the London to San Francisco flight tomorrow.

Kino says:

I am currently catching up on the Nightside series, by Simon R. Green. I love it very much <3

Mary Pappas says:

I'm so behind on this series!! But I love it!! Always will too, I've just been more into reading YA at the moment and working on my own works.

Tina says:

I started your series with audio book when I was force to travel for work..then ..I switched to buying them on Kindle..since I didn't have the first 5 books in print (I Prefer print) but I am only up to book 10 right now ..But I would take a free signed copy in a heart beat 🙂

Ann M. Blackall says:

Can not wait for the newest one. Love them
Back to Top