Elemental Assassin series (for adults)
Elemental Assassin
Book #1
Elemental Assassin
Book #2
Elemental Assassin
Book #3
Elemental Assassin
Book #4
Elemental Assassin
Book #5
Elemental Assassin
E-Novella #5.5
Elemental Assassin
Book #6
Elemental Assassin
Book #7
Elemental Assassin
Book #8
Elemental Assassin
Book #9
Elemental Assassin Frequently Asked Questions
Question: What are the Elemental Assassin books about?
Answer: The Elemental Assassin books are set in the fictional Southern metropolis of Ashland, where Tennessee, Virginia, and North Carolina meet in the heart of the Appalachian Mountains. The books focus on Gin Blanco, an assassin codenamed the Spider who runs a barbecue restaurant called the Pork Pit in her spare time. Gin is also an elemental or person who can control one of the four elements – Air, Fire, Ice, and Stone. Gin has the rare gift of being able to control two elements, Ice and Stone in her case. Besides elementals like Gin, Ashland is also home to giants, dwarves, and vampires.
Books in the series are Spider's Bite, Web of Lies, Venom, Tangled Threads, Spider's Revenge, By a Thread, Widow's Web, and Deadly Sting. Thread of Death, an e-novella, is also available.
Heart of Venom, the ninth book, due out on Aug. 27, 2013. Parlor Tricks: An Elemental Assassin short story will also be published in the Carniepunk urban fantasy anthology, due out on July 23, 2013.
Haints and Hobwebs: An Elemental Assassin short story can be found in The Mammoth Book of Ghost Romance.
Note: The Elemental Assassin books are intended for adults only. You should be be 18 years old or older to read the books or the excerpts that are posted on my website.
Question: How many books will be in the Elemental Assassin series?
Answer: Right now, I'm contracted for ten books. Books in the series so far are Spider's Bite, Web of Lies, Venom, Tangled Threads, Spider's Revenge, By a Thread, and Widow's Web, along with an e-novella, Thread of Death. So there will be three more books after Widow's Web.
The first five books — Spider's Bite to Spider's Revenge — finish out the first major story arc with Gin and her nemesis and answer a lot of the big questions in the series. Thread of Death, the e-novella, takes place around the time of the end of Spider's Revenge.
However, I think there are a lot of Gin stories left to tell and a lot of bad guys still left for her to face, so I'm happy that I'm going to be able to write at least ten books in the series. Of course, I would like to write more books in the series beyond that, but that depends on sales. So if you like my books, please tell your friends about them.
I've also written several short stories to go along with the Elemental Assassin books. You can find the stories on the Excerpts page. You don't have to read the short stories to enjoy the books, but I thought the stories would be something fun and extra to offer readers.
Question: Why write about an assassin? That doesn't seem like a very sympathetic character.
Answer: Ever since I started reading epic fantasy books in high school, I've been intrigued by assassin characters and the moral questions that they raise. Do some people deserve to die? Does killing someone for money automatically make you a bad person? Does an assassin ever feel guilty about killing? These are some ideas I wanted to explore, so I created my own assassin Gin Blanco, with her own motivations, quirks, powers, and problems.
Assassins might not be the most sympathetic characters or the easiest to identify with, but I think they are some of the most fascinating. Plus, I wanted to write a really smart, strong, tough female character, which I think that I've done with Gin Blanco.
Question: What exactly is urban fantasy?
Answer: Urban fantasy is a genre that's really exploded in popularity in recent years. Urban fantasy books are usually set in a contemporary world (one with cars, electricity, etc.) that also features magic and magical creatures of some sort. Elementals, vampires, giants, dwarves, demons, elves, selkies, trolls, witches, wizards – all those and more can be found in urban fantasy books.
In urban fantasy, the focus is usually one main character, and the story is often told in the first-person point of view. Readers follow this one character through her various trials and tribulations. Examples of urban fantasy include my Elemental Assassin series, the Dresden Files by Jim Butcher and the Hollows/Rachel Morgan series by Kim Harrison, among many others.
Question: Why is the tone of the Elemental Assassin books so much darker and grittier than your Bigtime series?
Answer: The Bigtime books are basically tongue-in-cheek comic book spoofs. The tone is light, fun, and campy in keeping with the old television shows like Batman with Adam West and Wonder Woman with Lynda Carter. They're just fun, breezy reads.
But I wanted to write a different kind of book with the Elemental Assassin series – a dark, gritty urban fantasy full of magic, power, and danger. My city, Ashland, is a violent, corrupt, southern metropolis where anything can happen, so I wanted to make my heroine, Gin Blanco, as strong, capable, and deadly as she could be. Also, Gin is an assassin – she kills people for money, which necessitated the darker tone of the books.
But in the end, I think the Elemental Assassin books have a lot in common with my Bigtime series. Both books feature strong, smart, kick-butt heroines, cool magical powers, awesome action scenes, and steamy romance. I think they're all just fun reads. Everything is just a little darker and grittier in the Elemental Assassin series, including the humor.
Gin's Recipe Box
Want to cook like Gin Blanco does in the Elemental Assassin series? Then check out these recipes. Every so often, I swap out the recipes and post new ones.
Note: I did not come up with these recipes myself. Some of them are ideas and recipes that I've combined, added onto, or otherwise tweaked to suit my own tastes. Others are tried and true favorites that I've collected over the years from various relatives, friends, cookbooks, magazines, food product packaging, and more. Some of the recipes are so old that I don't even know where they came from, especially the ones that my family has been making for years.
Also, most of the dishes mentioned in the Elemental Assassin books, like Fletcher Lane's secret barbecue sauce recipe, exist only in my imagination. But I hope you'll see something here that you might like to make. Enjoy!
APRICOT-GLAZED CARROTS
1 package baby carrots
Apricot preserves, to taste
Brown sugar, to taste
Put carrots into a pot of water. Bring the water to a boil, and boil carrots until they are tender (about 5 minutes or so). Drain water off carrots. Add 1/4 to 1/2 cup apricot preserves to the carrots, along with 1 to 2 tablespoons of brown sugar (depending on your taste preferences and how much glaze you want). Stir preserves, sugar, and carrots together, until the preserves and sugar have dissolved and formed a sweet glaze. Serve immediately.
Note: If you are cooking a large bag of carrots, just add more apricot preserves and brown sugar until you have enough glaze to cover all the carrots, and the glaze is the desired sweetness that you want.
Blackberry Dessert Salad
1 (8-ounce) cream cheese, softened
1 (14-ounce) can sweetened condensed milk
1 (21-ounce) can blackberry pie filling
1 (8-ounce) tub whipped topping, softened
Using the mixer, beat the cream cheese until smooth. Add the sweetened condensed milk and beat until smooth. Gently stir in the whipped topping and the blackberry pie filling. Refrigerate until cold and serve. Note: You can use any kind of pie filling you like in this recipe. Cherry works especially well. For a really sweet, fruity salad, use two cans of pie filling instead of just one.
Spicy Southwestern Chicken
4 boneless, skinless chicken breasts (or however much you like)
Chili powder
Cumin
Black pepper
Red pepper
Lime juice (about 1 cup)
Honey (optional)
Arrange the chicken breasts in a baking dish. Season both sides with the chili powder, cumin, black pepper, and red pepper, forming a spicy rub. (The more seasoning you use, the spicier the chicken will be.) Pour the lime juice over the chicken, putting enough in the baking dish so that the chicken won't dry out while it cooks. Bake at 350 degrees until the chicken is done. Before serving, drizzle the chicken with the honey for a touch of sweetness.
Sweet Summer Strawberries
1 gallon fresh strawberries
Sugar, to taste
Wash and cap strawberries. Let strawberries dry, then cut them into bite-size pieces and place in a large bowl. Starting with about a cup of sugar, add sugar to strawberries until desired sweetness is reached. (The more sugar you add, the sweeter they will be.) Stir the sugar until it is dissolved and has formed a syrup over the strawberries. Serve immediately, or ladle strawberries and syrup into airtight containers and freeze until ready to use.
Note: These strawberries are great on toast, as part of a PB&J, or over vanilla ice cream.
The Runes
Almost everyone in Ashland uses a rune of some sort to identify themselves or their power, or say something about their family, alliances, businesses, and more. Here are some of the runes mentioned in the Elemental Assassin books:

Spider: A small circle with eight thin lines radiating out of it. Spider runes are the symbol for patience. Gin Blanco had the rune burned into her palms by the mysterious Fire elemental who murdered her family when she was thirteen.

Snowflake: The symbol for icy calm and the personal rune of the Snow family. Gin's mother, Eira, wore a snowflake rune on a pendant around her neck – until she was murdered.

Ivy vine: The symbol for elegance and the personal rune of Annabella, Gin's older sister.

Primrose: The symbol for beauty and the personal rune of Bria, Gin's younger sister.

Cloud: Jo-Jo Deveraux uses a cloud rune to identify herself as an Air elemental.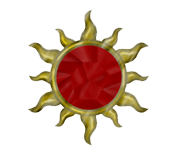 Sunburst: The symbol for fire and the personal rune of Mab Monroe. Mab is never seen out and about Ashland without wearing her signature sunburst necklace – a circular ruby surrounded by several dozen golden wavy rays. The diamond cutting on the gold makes the rays look like they are actually flickering – like Mab is actually wearing a ring of fire around her neck.

Heart and arrow: A heart with an arrow through it is the symbol for Northern Aggression, the upscale nightclub run by Roslyn Phillips.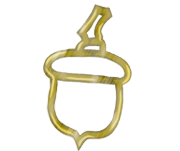 Five Oaks Country Club: The country club's rune is a gold acorn.

Hammer: The symbol for strength, power, and hard work. The personal and business rune of wealthy Ashland businessman Owen Grayson, who has an elemental talent for metal and a strange interest in Gin Blanco.

A lit stick of dynamite: The personal rune of dwarven coal mine owner Tobias Dawson, as well as the symbol for his business, Dawson Mining Company.

Riverboat and dollar sign: This is the rune for the Delta Queen, a riverboat casino owned by underworld shark Phillip Kincaid. The casino trolls up and down the muddy waters of the Aneirin River inviting folks to come on board and those their money in high style.

Orchid: The symbol for delicate grace. Assassin Elektra LaFleur has an orchid tattooed on the side of her neck – and always leave a white orchid on the bodies of the people that she kills.

Lightning: In addition to her fighting prowess, assassin Elektra LaFleur also has deadly electrical elemental magic at her disposal.

Viper: Brutus, an assassin that Gin Blanco has had numerous dealings with, has this symbol tattooed on his neck in honor of his assassin name, Viper.
Praise for the Elemental Assassin urban fantasy series
"Bodies litter the pages of this first entry in Estep's engrossing Elemental Assassin urban fantasy series … Fans of Estep's humorous paranormal romances (Jinx; Hot Mama) may be taken aback by the gritty violence and steamy sex, but urban fantasy fans will love it."
– Publishers Weekly on Spider's Bite
"When it comes to work, Estep's newest heroine is brutally efficient and very pragmatic, which gives the new Elemental Assassin series plenty of bite. Shades of gray rule in this world where magic and murder are all too commonplace. The gritty tone of this series gives Estep a chance to walk on the darker side. Kudos to her for the knife-edged suspense! 4.5 stars."
– Romantic Times on Spider's Bite
"Retirement doesn't seem to be in the cards for the assassin Spider. The second chapter of the first-person Elemental Assassin series is just as hard-edged and compelling as the first. Gin Blanco is a fascinatingly pragmatic character, whose intricate layers are just beginning to unravel. Estep has truly hit the jackpot with this outstanding series! 4.5 stars."
– Romantic Times on Web of Lies
"Estep has really hit her stride with the gritty and com­pelling Ele­men­tal Assas­sin series. She sur­rounds her fas­ci­nat­ing and com­plex hero­ine with a cadre of sup­port­ing play­ers, each of whom are intrigu­ing in their own right. Brisk pac­ing and knife-edged dan­ger make this an excit­ing page-turner. Kudos to Estep, who is rapidly head­ing toward the top of the urban fan­tasy genre! 4.5 stars and a Top Pick."
– Romantic Times on Venom
"A raw, gritty, and compelling walk on the wild side, one that had me hooked from the first page."
– Nalini Singh, New York Times bestselling author on Spider's Bite
"Watch out world, here comes Gin Blanco. Funny, smart, and dead sexy."
– Lilith Saintcrow, author of Redemption Alley on Spider's Bite
"A sexy and edgy thriller that keeps you turning the pages. in Spider's Bite, Jennifer Estep turns up the heat and suspense with Gin Blanco, an assassin who wit is as sharp as her silverstone knives … She'll leave no stone unturned in her quest for revenge. Spider's Bite leaves you dying for more."
– Lisa Shearin, national bestselling author of the Raine Benares series on Spider's Bite