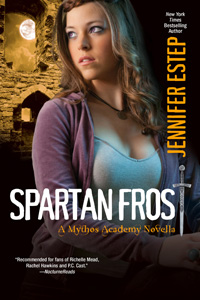 I'm happy to share the cover for Spartan Frost, an e-story in my Mythos Academy young adult urban fantasy series.
Please note that even though Gwen is on the cover, the story is actually from Logan's point of view — not Gwen's. In fact, the whole story is from Logan's point of view. I can't really say any more without getting into spoilers, but I wanted to make it clear that this is a Logan story.
Here's the description. Again, this does have spoilers for earlier books in the series, especially Crimson Frost, so if you haven't read that far, you may want to skip reading the description:
I'm Logan Quinn, the deadliest Spartan warrior at Mythos Academy. At least I was — until the day I almost killed Gwen Frost.
Professor Metis and Nickamedes say that I'm fine, that Loki and the Reapers don't have a hold on me anymore, but I can't risk it. I can't risk hurting Gwen again. So I'm leaving Mythos and going somewhere far, far away.
I know Gwen wonders what's happening to me, whether I'm safe.  I can't tell her, but this is my story …
Basically,
Spartan Frost
tells what happened to Logan after the events of
Crimson Frost
and leads up to the events of
Midnight Frost
(book five, which is due out in July 30). I got several e-mails asking what happened to Logan, so hopefully, the e-story will fill in some of the gaps, as well as giving folks a better understanding of Logan.
Spartan Frost
is about 14,000 words, and it will be priced at $1.99. It will be released on June 25 as an e-book only.
Spartan Frost
is up for pre-order at
Amazon
and
Barnes & Noble
. It will be available in all the usual e-book formats, and if it's not up for pre-order yet with your favorite e-bookseller, then it should be going up soon.
Hope everyone enjoys the look at the cover.