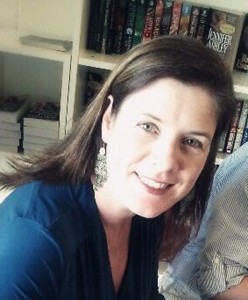 Today, I'm pleased to welcome my author friend and fellow Magical Musings blogger Michelle Diener to my blog. Michelle is the author of The Golden Apple and several other historical fiction and fantasy books.
Jennifer: Welcome, Michelle!
Michelle: Thank you so much for having me, Jennifer!
Jennifer: Please tell readers about your new release, The Golden Apple. This is the first book in your Dark Forest series. Can you tell us a little about the series too?
Michelle: There are only two books in the series, The Golden Apple, and coming this fall, The Silver Pear. The books are very loosely based on a Norwegian fairy tale, although the story starts almost where the original tale ends. It takes the reader into a world where sorcerers are sizing each other up for a battle for power. Kayla, a princess, and Rane, a woodcutter with a few secrets, who has won her hand in marriage in a bizarre tournament, have to journey into the mysterious dark forest to fulfill the terms of an enchantment, and in doing so, find a way to save themselves and uncover their strengths.
Kayla's world has been turned upside-down …
Her father has made her the prize in a deadly, impossible tournament, and Kayla has retaliated in the only way she knows how; by choosing her champion beforehand. But taking control of the outcome changes the game completely, and when the real reason behind the strange test becomes apparent, Kayla realizes not just her life, but her entire kingdom is at stake.
Rane's honor is torn in two …
In order to save his brother, Rane will do whatever he has to–including deceive and betray a princess. He knew nothing about this tournament would be easy, but when it turns into a deeper, far more sinister game, Rane is forced to see it through to the end, or leave his brother at the mercy of their enemy.
Now their fates are entwined, and they must venture into the deep, dark forest together …
Kayla and Rane are bound to one another by an enchantment and Kayla's actions. But the sorcerer forcing them to do his will may have miscalculated, because no one comes out of the Great Forest unchanged. No one.
Jennifer: What appeals to you about the fantasy and romance genres?
Michelle: I think fantasy and romance are both genres were you can lose yourself in another world, and if you put them together, it's almost twice the fun

Jennifer: What inspired you to write The Golden Apple?
Michelle: The books are loosely based on the Norwegian fairy tale, The Princess on the Glass Hill, inspired by just a few short lines in the original tale, where the princess helps the hero to win the contest her father has arranged for her hand. I was intrigued enough to wonder what the consequences of her interfering in the outcome of the tournament might be, and The Golden Apple and The Silver Pear are the result.
Jennifer: What are some of your favorite fantasy and romance books/authors and why?
Michelle: I love the novels of Ilona Andrews, because her characters are so real, and her world-building feels very organic and solid. I love the fantasy novels of Patricia Briggs as well. Both Andrews and Briggs write in a deep 3rd POV style I enjoy as a reader. Some fantasy just doesn't have a deep enough POV for me, and I feel like there is a layer between me and the characters, and I like to connect strongly to the characters I'm reading about.
Jennifer: Have you always wanted to be a writer? What got you started on your writing journey?
Michelle: Yes, I always wanted to be a writer, since I was very young. I really started to work seriously towards publication when I realized my dream would slip away unless I buckled down and go to it. When I'd made that decision, I found a wonderful critique group and began focusing on my craft.
Jennifer: What's next for you? What are you working on?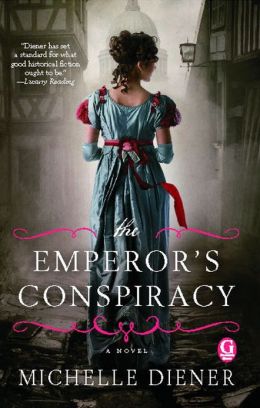 Michelle: I'm looking over the final proofs right now of A Dangerous Madness, a historical novel that's due out in May. It is historical romantic suspense, and is connected to The Emperor's Conspiracy and Banquet of Lies, in that some of the characters from the earlier two books make an appearance, though the books don't need to be read in any order. It is set in London during the Regency period, and centers around a race to find out who assassinated the British prime minister, Spencer Perceval. If you like your historical fiction with a good dose of romance and based around a real historical event, this might be a book you'd enjoy. Here is the blurb:
The Duke of Wittaker has been living a lie …
He's been spying on the dissolute, discontented noblemen of the ton, pretending to share their views. Now he's ready to step out of the shadows and start living a real life … but when the prime minister of England is assassinated, he's asked to go back to being the rake-hell duke everyone believes he still is to find out more.
Miss Phoebe Hillier has been living a lie, too …
All her life she's played by society's rules, hiding her fierce intelligence and love of life behind a docile and decorous mask. All it's gotten her is jilted by her betrothed, a man she thought a fool, though a harmless one. But when she discovers her former fiancé was involved in the plot against the prime minister, and that he's been murdered, she realizes he wasn't so harmless after all.
And now the killers have set their sights on her …
The only man who can help her is the Duke of Wittaker–a man she knows she shouldn't trust. And she soon realizes he's hiding behind a mask as careful as her own. As the deranged assassin who pulled the trigger steadfastly vows he acted alone, and as the clock ticks down to his trial, the pair scramble to uncover the real conspiracy. And as the pressure and the danger mounts, Phoebe and Wittaker shed their disguises, layer by layer, to discover something more precious than either imagined–something that could last forever. Unless the conspirators desperate to hide their tracks get to them first.
Thank you for having me!
MORE ABOUT MICHELLE

Michelle Diener writes historical fiction and fantasy. Her Susanna Horenbout & John Parker series, set in the court of Henry VIII, includes In a Treacherous Court, Keeper of the King's Secrets and In Defense of the Queen.
Michelle's other historical novels include Daughter of the Sky, The Emperor's Conspiracy and Banquet of Lies (loosely connected to The Emperor's Conspiracy).
Michelle's first fantasy novel, Mistress of the Wind, was published on Dec. 19, 2013 and her second fantasy, The Golden Apple, was published on March 24, 2014.
Michelle was born in London, grew up in South Africa and currently lives in Australia with her husband and two children.
When she's not writing, or driving her kids from activity to activity, you can find her blogging at Magical Musings, or online at Twitter, at Google+ and Facebook.
GIVEAWAY TIME
Michelle is giving away two copies of The Golden Apple, Kindle or print version, winner's choice, open to international entries. To enter the giveaway, use the form below.