Today, I thought I would share my conference schedule for 2015:
May 2 — Mountain Empire Comics, Bristol, Tenn.
I'll be signing here as part of the store's annual Free Comic Book Day events. Some other authors and artists should be on hand, and there will be giveaways, sales, and more. Exact signing time to be determined.
May 12-17 — RT Booklovers Convention, Dallas Texas
I'll be attending RT this year and participating in several events. You can find the panels, etc. that I will be on here. Note that you can use the Agenda tool to see which panels, etc. your favorite authors are scheduled to participate in. And check out the list of the authors signing at the Giant Book Fair on Saturday.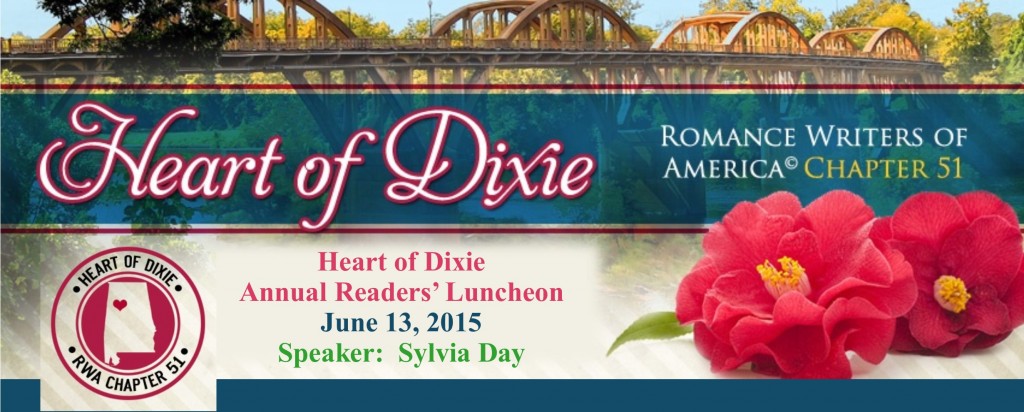 June 13 — Heart of Dixie Luncheon, Huntsville, Ala.
I'll be attending the annual Heart of Dixie Luncheon. This one-day event features a meet-and-greet with the attending authors, lunch, and a book signing. The keynote speaker for the luncheon will be Sylvia Day, and you can see the list of authors attending here. Go here for more information.
Aug. 1 — Rob-Con, Viking Hall, Bristol, Tenn.
I'll be signing at the con, which is hosted by Mountain Empire Comics. There will be lots of authors, artists, and venders at the con selling everything from books to comics to art. Exact signing time to be determined.
And that's pretty much it for my conference schedule this year. I have four books out this year, so I will be writing, writing, writing instead of traveling all that much.
Hope to see you at one of the events. Cheers!