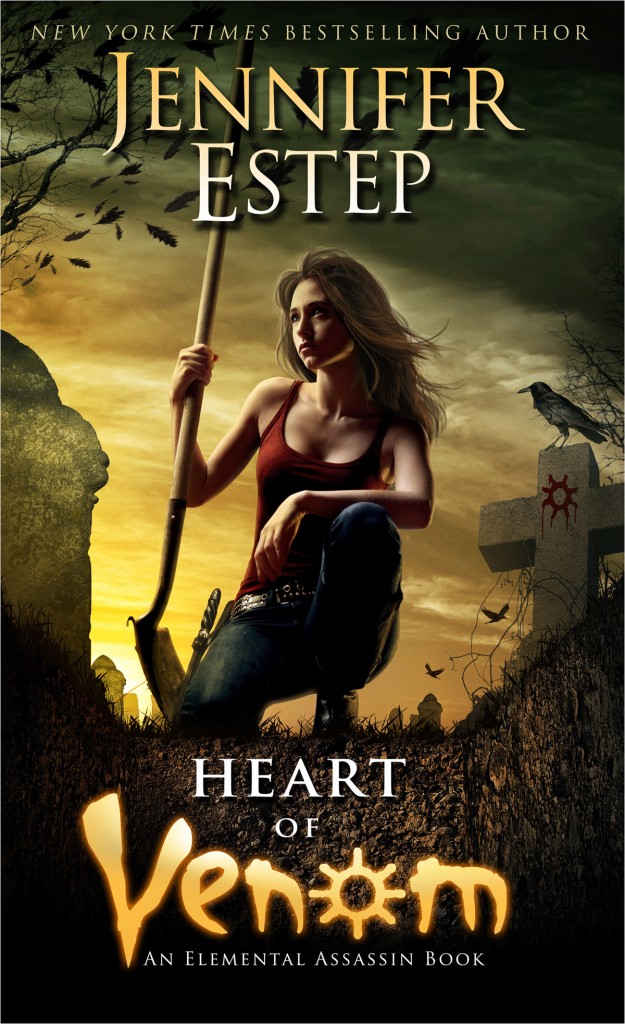 Some of you have seen this already over at Heroes and Heartbreakers, who did a cover reveal last week (thanks so much, guys!), but I thought I would also post it here on my blog.
Today, I'm sharing the cover art for Heart of Venom, the ninth book in my Elemental Assassin urban fantasy series. Huzzah!
Once again, the cover was done by Tony Mauro. He always does such a fabulous job with the covers, and this one is no exception. I think it looks really, really great, and it fits a scene in the story well. I especially love the spider rune on the tombstone. I thought that was a really cool and clever way to use the rune on the cover.
Here's the description of Heart of Venom. As always, if you don't want to be spoiled, you may want to skip reading the description:
When a terror from the past threatens Gin's friend and body-disposer, Sophia, Gin will stop at nothing to protect her, even if it means walking straight into a killer's trap. Meanwhile, the rocky romance between Gin and Owen reaches a turning point — can they reunite and rekindle their love? Or will the things Gin has been forced to do in her line of work as the deadly assassin the Spider keep them apart forever? Assuming, that is, she survives long enough to find out …
Heart of Venom is set to be released on Aug. 27 (it's a September book). There will be at least one more book in the series after this one.
Heart of Venom is up for pre-order at Amazon and Books-A-Million. It should be up for pre-order soon at Barnes & Noble and other booksellers.
Anyway, hope everyone enjoys this look at the cover.