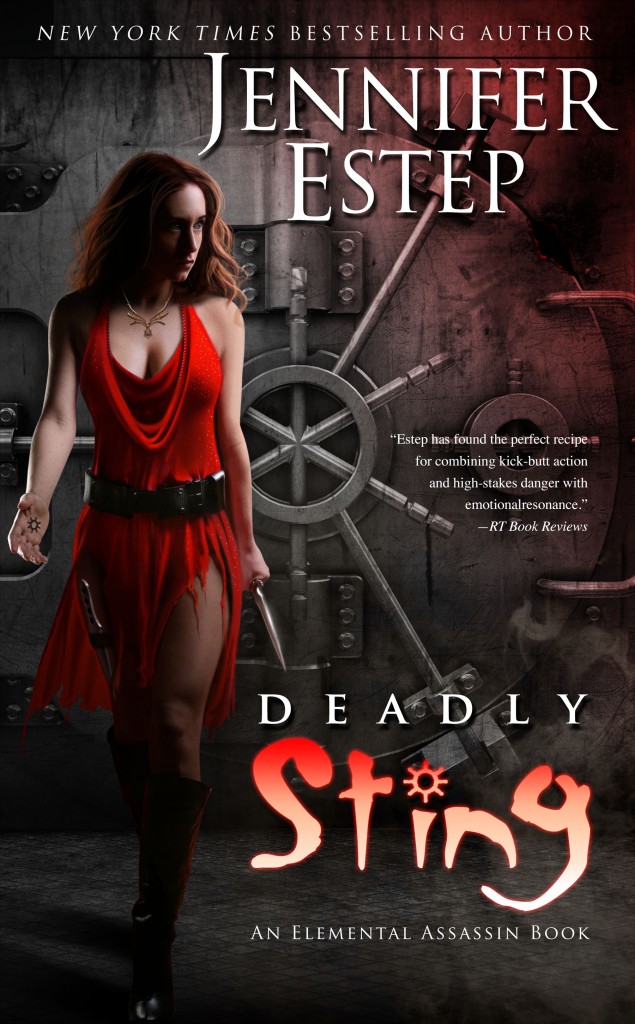 I have some news to share — there has been a change in the cover art for Deadly Sting, the eighth book in my Elemental Assassin urban fantasy series.
Originally, Deadly Sting was going to have a step-back cover, just like Widow's Web did. You can check out this blog post that I did about the old step-back cover.
But now, there will only be one cover for all of the Deadly Sting books — print and e-books. Basically, the new cover sort of combines the elements of the two old covers. The new and final cover art is shown at left.
Also, here is the book description for Deadly Sting. As always, if you don't want to be spoiled, you may want to skip reading the description:
Red is definitely my color. Good thing, because in my line of work, I end up wearing it a lot.
Most people shy away from blood, but for an assassin like me — Gin Blanco, aka the Spider — it's just part of the job. Still, it would be nice to get a night off, especially when I'm attending the biggest gala event of the summer at Briartop, Ashland's fanciest art museum. But it's just not meant to be. For this exhibition of my late nemesis' priceless possessions is not only the place to be seen, but the place to be robbed and taken hostage at gunpoint as well. No sooner did I get my champagne than a bunch of the unluckiest thieves ever burst into the museum and started looting the place.
Unlucky why? Because I brought along a couple of knives in addition to my killer dress. Add these to my Ice and Stone magic, and nothing makes me happier than showing the bad guys why red really is my color.
Deadly Sting will be released on March 26, 2013. The book is up for pre-order at Amazon, Barnes & Noble, and Books-A-Million. You can read the first chapter here, although please note that this chapter has spoilers for Widow's Web, so if you haven't read that far in the series yet, you may want to avoid reading the chapter.
Anyway, hope everyone enjoys seeing the new cover.