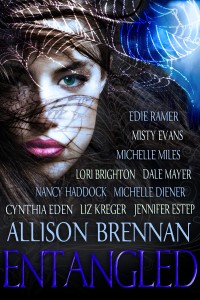 I'm one of several authors who contributed a story to Entangled, an e-anthology that was released in 2011. After the end of October, the e-anthology will no longer be available, so if you want to check it out, now is the time to download it.
Entangled is available for $2.99 at Amazon and Barnes & Noble.
This was a really cool project to be involved in because the money raised has gone to breast cancer research. 
My story is called Halloween Frost. It's about 6,500 words and is part of my Mythos Academy young adult urban fantasy series. The story takes place after the events of Touch of Frost. You can read an excerpt here, and here's the description:
It's Halloween at Mythos Academy, but Gwen Frost and her friends are in for more tricks than treats when they run into a mythological monster intent on killing them.
And here's some general info about the anthology, the other authors participating, and their stories:
Ghosts, vampires, demons, and more! Entangled includes ten suspense-filled paranormal short stories from authors Cynthia Eden, Jennifer Estep, Edie Ramer, Lori Brighton, Michelle Diener, Misty Evans, Nancy Haddock, Liz Kreger, Dale Mayer, and Michelle Miles, plus a Seven Deadly Sins novella by Allison Brennan.
Stacia Kane contributed the foreword. Formatting and cover art were also donated to the project by Lori Devoti and Laura Morrigan.
All proceeds go to the Breast Cancer Research Foundation.