Here are some of my highlights from the RT Booklovers Convention:
TUESDAY
Tuesday was mostly a travel day, and it was fun chatting with Graylin Fox, who was on the same flight that I was. I met Graylin at last year's RT.
That night, I went out to dinner at Grunauer that night with a group of authors and readers from Australia. A big thanks to Megan Bamford for inviting me to the event.
I was sitting at a table with contemporary romance authors Maisey Yates and Katee Robert, along with Cy, a bookseller. We had fun eating schnitzel and talking about books. It was a cool way to start the conference.
WEDNESDAY
On Wednesday morning, I had breakfast with the editor of my Mythos Academy series, and we talked about some things relating to the series. Plus, my editor is just a really nice person, and I always enjoy catching up with her.
That afternoon, I participated in an event with some of the other Kensington paranormal authors where authors paired up with groups of readers to create the perfect paranormal hero. I was teamed up with Marina Myles, who writes fairy tales with a twist. It was fun, and I was really impressed with how creative everyone was coming up with their perfect hero.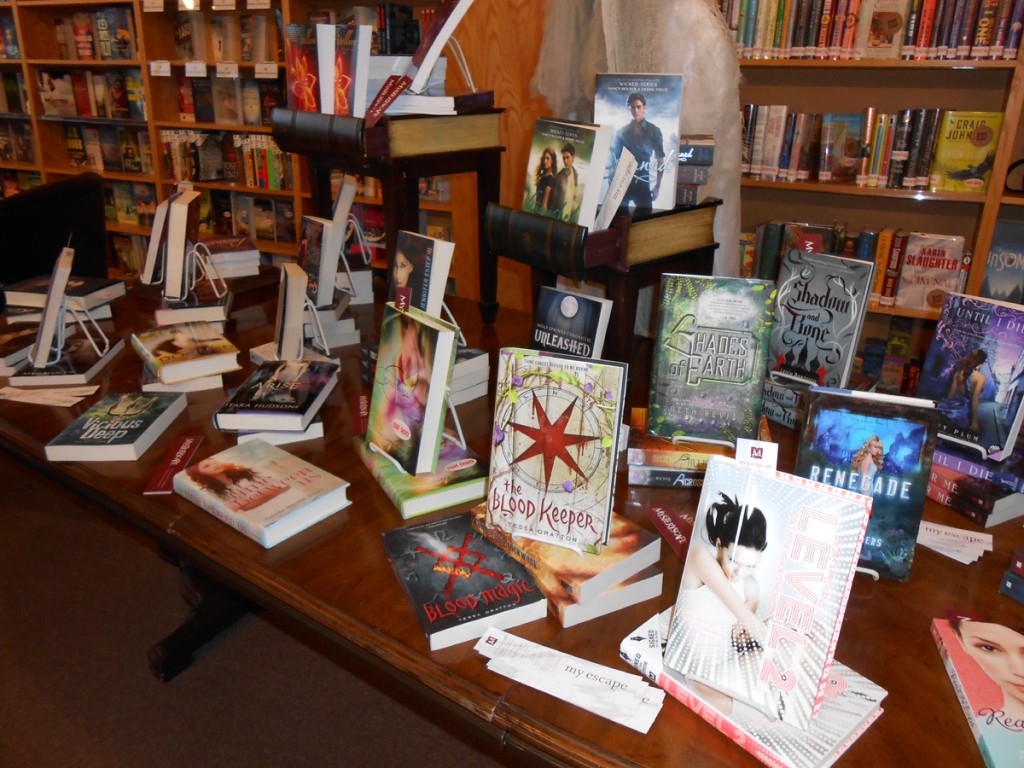 That night, I went out to Mysteryscape, a bookstore in Overland Park, Kansas, for a mixer event for YA authors, booksellers, and librarians. As you can see from the above photo, the store had a whole table filled with books by the YA authors who attended the event, which was really awesome.
It was a cool store, and a big thanks to the bookstore folks, author Gennifer Albin, and Kimberly Graff for putting the event together and inviting everyone.
THURSDAY
On Thursday morning, I had breakfast with Lisa Shearin, author of the Raine Benares fantasy series. Lisa has a new urban fantasy series coming out soon about paranormal investigators that sounds really cool.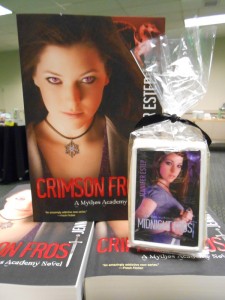 That afternoon, I attended the signing for the Kensington authors and shared a table with YA author Corrine Jackson. There were free books, food, and some really cool light-up necklaces and bracelets. Plus, they had cookies that had the authors' book covers on them. How cool was that? Here you can see a Midnight Frost cookie, along with the copies of Crimson Frost that were given away.
My last event for the day was the E-book Expo. I was sitting next to Monica Murphy (aka Karen Erickson), whose book, One Week Girlfriend, sounds really awesome. I was also sitting next to Margaret Ethridge (aka Maggie Wells) and chatted with folks like authors Cecily White and C.J. Ellison.
After that, Wheezley and I went out for steak at Pierpont's at Union Station. You have to have steak while you're in Kansas City, right? LOL.
FRIDAY
On Friday, I had coffee with a group of book bloggers, including Carmel from Rabid Reads; Jen from Red Hot Books; Amber from AwesomeSauce Book Club; and Jennifer from The Book Nympho. We sat and chatted about books, the conference, and more.
After that, I had another coffee with Kristen Callihan, who is a double RITA finalist this year for her Darkest London historical paranormal romances. Go, Kristen!
Then, it was time for That Old Black Magic urban fantasy panel, which featured Yasmine Galenorn, Ilona Andrews (Ilona and Gordan), me, Chloe Neill, and Richard Kadrey. The panel was moderated by Diana Rowland. We talked about world building, magical rules, and things like that, and it was a cool panel to participate in.
After that, I played hooky from the convention for the afternoon, and Wheezley and I headed over to Jack Stack for some barbecue. You have to have barbecue when you're in Kansas City, right? LOL. We both got pulled pork sandwiches, baked beans, cole slaw, and some sausage burnt ends. It was really good, although the sauces were a whole lot sweeter than what we have in our neck of the woods. Still, I think Gin would approve.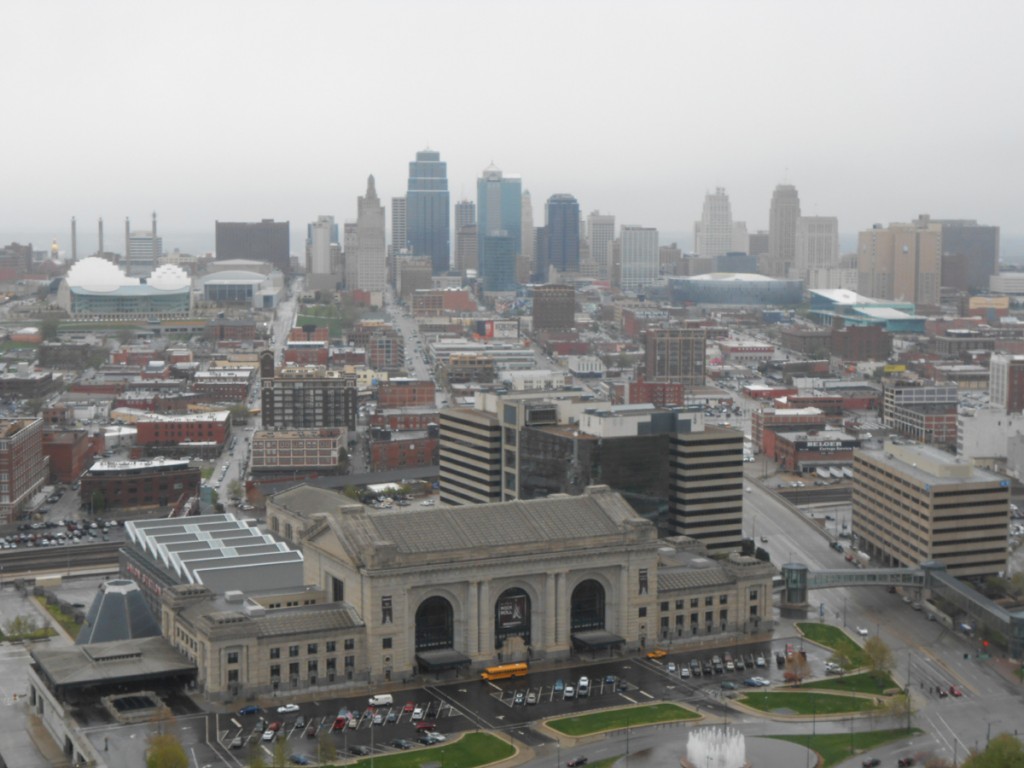 Then, Wheezley and I braved the weather (cold and rainy) and trekked over to the National World War I Museum. There were lots of interesting items on display, and the museum had some unusual features, like a field of poppies under a glass floor and a trench area. The museum also features a tower, and the view from the top was amazing (above).
Finally that night, I went to Avon's Red Slipper Lounge. This was another event with free books, and I picked up some books by Veronica Roth and Amy Plum, among other authors. I also got to chat with Mandi from Smexy Books, her friend, and some other folks.
SATURDAY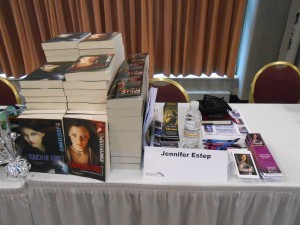 Saturday was the big book signing, which is always fun. At left, you can see my little corner of the world at the signing.
Before the signing started, I went around and talked to some authors that I wanted to meet, including Leigh Bardugo, Jennifer Lynn Barnes, Lauren Dane, and others. During the signing, I was sitting next to Gayle Forman, author of If I Stay and other books.
I did think the crowd at the book signing was a little smaller this year than last year, when it was in Chicago. Then again, Chicago is a much bigger city than Kansas City. But I got to meet lots of readers, librarians, booksellers, and more. So it was all good.
After the signing, I did a speed dating event as part of the Teen Day events, where you go around to different tables and pitch your books to folks, and I attended the Teen Day party that night. I thought it was awesome that so many teens and their parents came for the Teen Day activities.
Once the party wrapped up, it was time to go back to the room, pack up, and get ready to head out on Sunday morning.
AND THAT'S A WRAP
And there you have it. Some of my highlights from RT. Of course, I haven't mentioned half of the people that I talked to, like Jenna Black, Molly Harper, Laura Kreitzer, and many, many others, but I enjoyed speaking with everyone, and I'm already looking forward to next year's event in New Orleans.