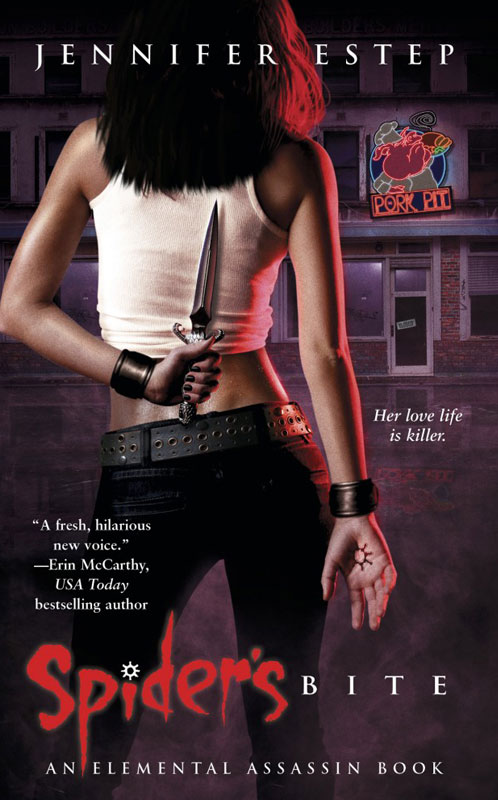 Some of you may have seen this on my Facebook and Twitter sites already, but I wanted to let everyone know that the e-book of Spider's Bite, Elemental Assassin #1, is on sale for $1.99 through Friday, May 2.
The Spider's Bite e-book deal was originally at Barnes & Noble, but it looks like most of the other retailers, including Amazon and iTunes, have picked it up as well.
So I would check with your favorite e-book site and see if they have matched the price.
Spider's Bite is available at the following sites: Amazon / Barnes & Noble / Books-A-Million / iTunes / Kobo
Here is the book description:
My name is Gin, and I kill people.
They call me the Spider. I'm the most feared assassin in the South — when I'm not busy at the Pork Pit cooking up the best barbecue in Ashland. As a Stone elemental, I can hear everything from the whispers of the gravel beneath my feet to the vibrations of the soaring Appalachian Mountains above me. My Ice magic also comes in handy for making the occasional knife. But I don't use my powers on the job unless I absolutely have to. Call it professional pride.
Now that a ruthless Air elemental has double-crossed me and killed my handler, I'm out for revenge. And I'll exterminate anyone who gets in my way — good or bad. I may look hot, but I'm still one of the bad guys. Which is why I'm in trouble, since irresistibly rugged Detective Donovan Caine has agreed to help me. The last thing this coldhearted killer needs when I'm battling a magic more powerful than my own is a sexy distraction . . . especially when Donovan wants me dead just as much as the enemy.
Oh, Gin. Things were so much simpler back then, weren't they? You've made a lot more enemies since that first book. LOL.
Hope that everyone enjoys the e-book deal. Happy reading!