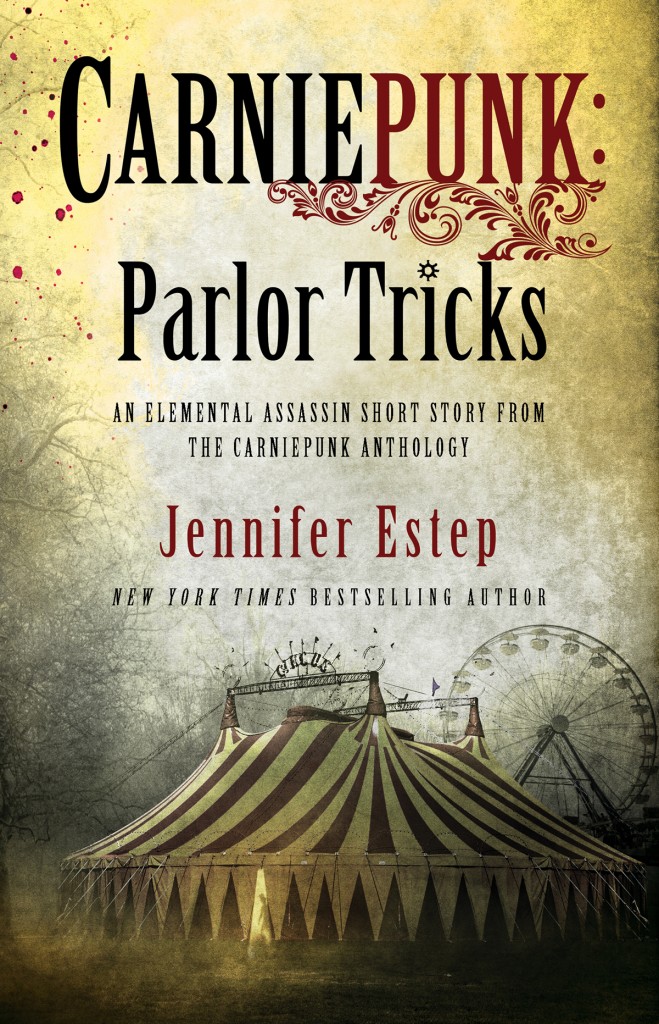 I have some cool news to share.
To help promote the Carniepunk urban fantasy anthology that's out on July 23, one of the short stories in the anthology is being offered as a free download — and that story is Parlor Tricks, my Elemental Assassin story. Huzzah!
Carniepunk: Parlor Tricks is available as a free e-download starting today, June 3. The cover for the e-download is shown at right, and it is very similar to the Carniepunk anthology cover.
I think this is a really cool promotional idea, and I'm happy that folks will be able to get a preview of the anthology.
Here's the Carniepunk: Parlor Tricks description from Amazon:
Come one! Come all! Witness Gin Blanco—aka the Elemental Assassin, aka the Spider—go toe to toe against the Esmerelda the Amazing's Wheel of Death and some dangerously creepy clowns! Only at The Carnival of Wondrous Wonders!
A free story from the forthcoming Carniepunk urban fantasy anthology starring bestselling authors Rachel Caine, Jennifer Estep, Kevin Hearne, Seanan McGuire, and Rob Thurman, and also includes Delilah S. Dawson, Kelly Gay, Mark Henry, Hillary Jacques, Jackie Kessler, Kelly Meding, Allison Pang, Nicole D. Peeler, and Jaye Wells. Samples of all fourteen tales are included to tantalize and to tease. Come to the Carniepunk midway and explore the creepy, mysterious, magical world of traveling carnivals today!
As I've said before, in Parlor Tricks, Gin and Bria go to a country carnival in search of a missing girl and find some unexpected sights and danger along the way. My story is about 9,000 words long, and you can read an excerpt here.
Currently, I only see the e-story up at Amazon, but it will be available at all of the usual e-booksellers. So if the story is not up at your e-bookseller, then it should be available soon.
Hope everyone enjoys the latest Gin short story and the anthology when it is published. Happy reading!