So it's June, which means that it's time to think about summer books and what you want to read on vacation.
I know I say this every single year, but this is going to be the summer when I put a serious dent in my TBR pile. We'll see if it actually happens or not. LOL.
But in the meantime, here are some of the books in my TBR pile that I'm looking forward to reading this summer. Note that the descriptions are from Goodreads.
With only the wedding dress on her back and her honeymoon luggage in the car, Kari Worthington is running away. Determined to put her controlling father, her rigidly structured life, and the uptight groom she left at the altar in her rearview mirror, she escapes to the Texas Hill country … and lands on a tall, dark, and gorgeous winery owner's doorstep. All she needs is a job and a place to live until she can get back on her feet. So why is she fantasizing about losing herself in his powerful arms?
For Marc Cordero, freedom is so close he can taste it. He's devoted his life to managing the family business and being a single dad. Now with his daughter away at college and his brother taking over the winery, Marc is ready to hop on his Harley for parts unknown-until a runaway bride bursts onto the scene. Free-spirited and tantalizingly sexy, Kari excites him like no other woman has before. But when irresistible passion turns into something more, will Marc give up his future to take a chance on love?
When post-grad Rachael Hamilton accidentally gatecrashes a pro-athlete party, she ends up face-to-face with Ryan Carter, the NFL's most beloved quarterback.
While most girls would be thrilled to meet the attractive young millionaire, Rachael would rather spend time with books than at sporting events, and she has more important things to worry about than romance. Like her parents pressuring her to leave her unpaid publishing internship for law school. Or her brother, who's obliviously dating Rachael's high school bully. Or that same high school's upcoming reunion.
Still, when Ryan's rookie teammate attaches himself to Rachael, she ends up cohosting Friday night dinners for half a dozen football players.
Over pancake brunches, charity galas, and Alexander the Great Rachael realizes all the judgments she'd made about Ryan are wrong. But how can a Midwestern Irish-Catholic jock with commitment problems and an artsy, gun-shy Jewish New Englander ever forge a partnership? Rachael must let down her barriers if she wants real love–even if that opens her up to pain that could send her back into her emotional shell forever.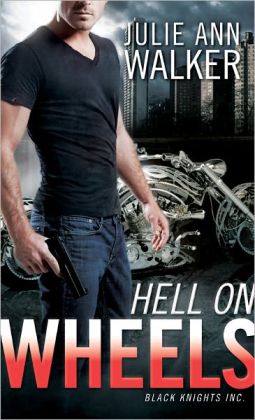 Hell on Wheels by Julie Ann Walker
He's the bad boy she's always wanted …
Nate "Ghost" Weller has loved Ali Morgan nearly half his life. But he's done something so heinous he's convinced she'll never forgive him if she discovers the truth, so he keeps his feelings and his secrets to himself. Then she blows into town with a mother lode of bad guys on her tail and Nate can't deny she's in serious trouble. Unfortunately, he's the only one who can help her.
She's the good girl he's kept at arm's length…
Ali knows Nate as the most solemn, aloof man on the planet. Sadly, he's also the sexiest. For years she's avoided him, unable to stomach his dark scowls and brooding silences … especially when she secretly yearns for his touch. Now she must rely on him to save her from the malevolent shadows ghosting her every move. When the bullets explode, so does their passion. But can love really conquer all? Or are some things just too terrible to forgive?
What about you guys? What books are you hoping to read this summer?