Midnight Frost, the fifth book in my Mythos Academy young adult urban fantasy series, has been released. Huzzah!
I hope that everyone enjoys reading about Gwen's latest adventure. Here is the book description. Note that this does have some spoilers for Crimson Frost, so if you haven't read that far in the series yet, you may want to avoid reading the description.
Here we go again … 
Just when it seems life at Mythos Academy can't get any more dangerous, the Reapers of Chaos manage to prove me wrong. It was just a typical night at the Library of Antiquities — until a Reaper tried to poison me. The good news is I'm still alive and kicking. The bad news is the Reaper poisoned someone else instead. 
As Nike's Champion, everyone expects me to lead the charge against the Reapers, even though I'm still hurting over what happened with Spartan warrior Logan Quinn. I've got to get my hands on the antidote fast — otherwise, an innocent person will die. But the only known cure is hidden in some creepy ruins — and the Reapers are sure to be waiting for me there …
WHERE TO GET THE BOOK
Midnight Frost is available in print, e-book, and audio book formats, including at the following sites:
The audio books are available through
Brilliance Audio
and
Audible
(as well as through Amazon, B&N, BAM, and other audio booksellers).
Note: If you want the print book and your local bookstore does not have it in stock, you can always ask them to order it for you. Or if you want to be sure that you have the print book as soon as possible, you can order it through Amazon, B&N, BAM, or another online bookseller and have it shipped to you.
SPARTAN FROST ALSO AVAILABLE
Just a reminder that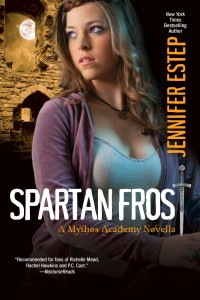 Spartan Frost, an e-novella in my Mythos Academy young adult urban fantasy series, is also available.
This e-novella is around 14,000 words and takes place between the events of Crimson Frost and Midnight Frost. It is told from Logan Quinn's point of view. Even though Gwen is on the cover, this is a Logan story — not a Gwen story.
Once again, here is the book description, although please note that this does contain some spoilers for Crimson Frost:
I'm Logan Quinn, the deadliest Spartan warrior at Mythos Academy. At least I was—until the day I almost killed Gwen Frost.

Professor Metis and Nickamedes say that I'm fine, that Loki and the Reapers don't have a hold on me anymore, but I can't risk it. I can't risk hurting Gwen again. So I'm leaving Mythos and going somewhere far, far away.
I know Gwen wonders what's happening to me, whether I'm safe.  I can't tell her, but this is my story …
WHERE TO GET THE E-NOVELLA

Spartan Frost is #4.5 in the Mythos Academy series. It is available as an e-book only for $1.99 at online e-booksellers, including the following sites:
Hope everyone enjoys the book and the e-novella. Happy reading!