So I was perusing through the calendars at my local Books-A-Million a few weeks ago looking for holiday presents, when I spotted a name that I knew on one of the calendars — Tony Mauro.
Tony is a well-known fantasy artist who (among many other things) creates books covers, including those for my Elemental Assassin urban fantasy series. Curious, I picked up Tony's When Darkness Falls calendar and turned it over.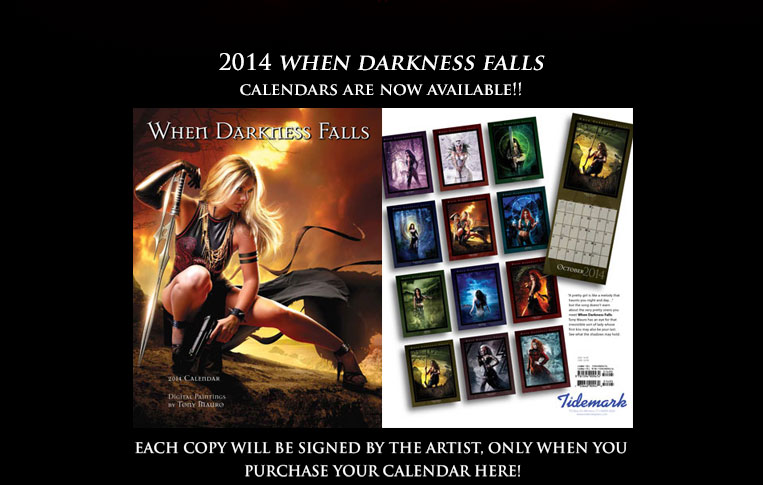 And what do I see but the cover art for Heart of Venom, Elemental Assassin #9, featured in the calendar. Woot! Woot! Gin is featured during the month of October.
I thought this was super-cool, and I e-mailed Tony about it. According to Tony, he's been creating the fantasy art calendars for about eight years now.
If you order the calendar through his website (as the above photo says), Tony will sign it for you. Again, how cool is that? I always buy a couple of calendars for Christmas, so if you're looking for a holiday gift for someone, this would make a pretty neat one. The calendars are $13.95, plus shipping and handling.
The calendars are also available at retailers like Amazon, Barnes & Noble, and Books-A-Million. But please note that those calendars are not signed by Tony.
CALENDAR GIVEAWAY
Tony has generously offered up a signed copy of When Darkness Falls for giveaway, and I'm including a print copy of Heart of Venom, along with some bookmarks and other swag. You can enter using the form below. The giveaway is open to those 18 and older, U.S. only, and will run through midnight, EST, Thursday, Dec. 5.