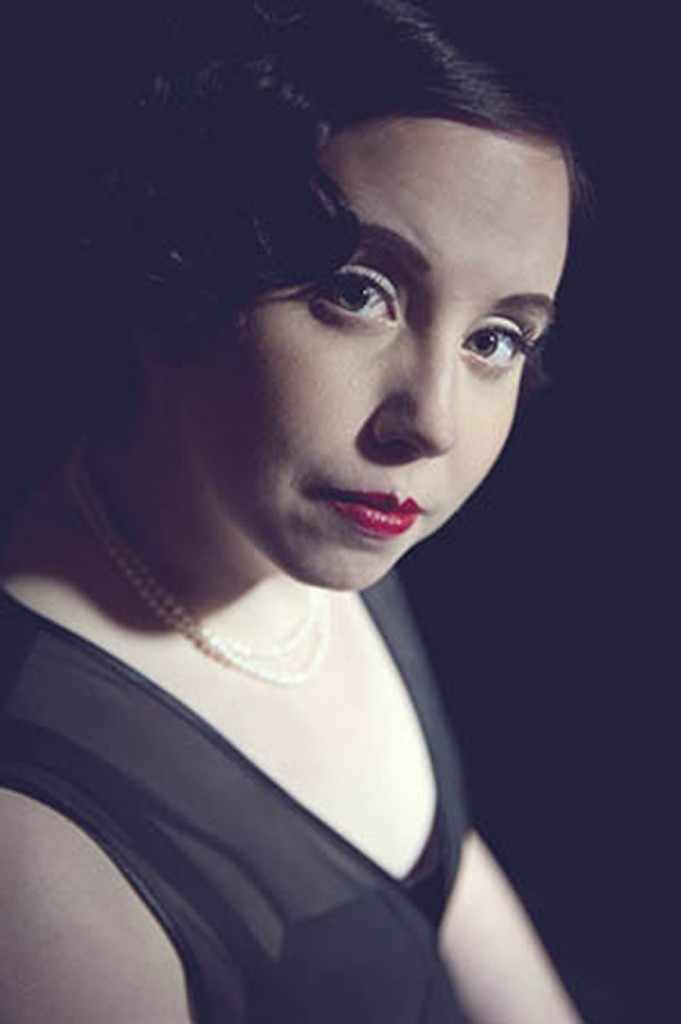 Today, I'm pleased to welcome Alex Hughes to my blog. Alex is the author of the Mindspace Investigations series, which includes Clean, Payoff, and Sharp. Take it away, Alex:
ALEX HUGHES ON SCIENCE FICTION AND MORE
Jennifer: Welcome, Alex! Please tell readers about your Mindspace Investigations series.
Alex: Thanks for having me on the blog, Jennifer. I'm a huge fan of your work and I'm thrilled to be here.
The Mindspace Investigations series is about a telepath who is also a recovering addict working with the police in future Atlanta to solve a series of crimes. The first book is about a serial killer who kills with the mind. I like to call them telepath police procedurals.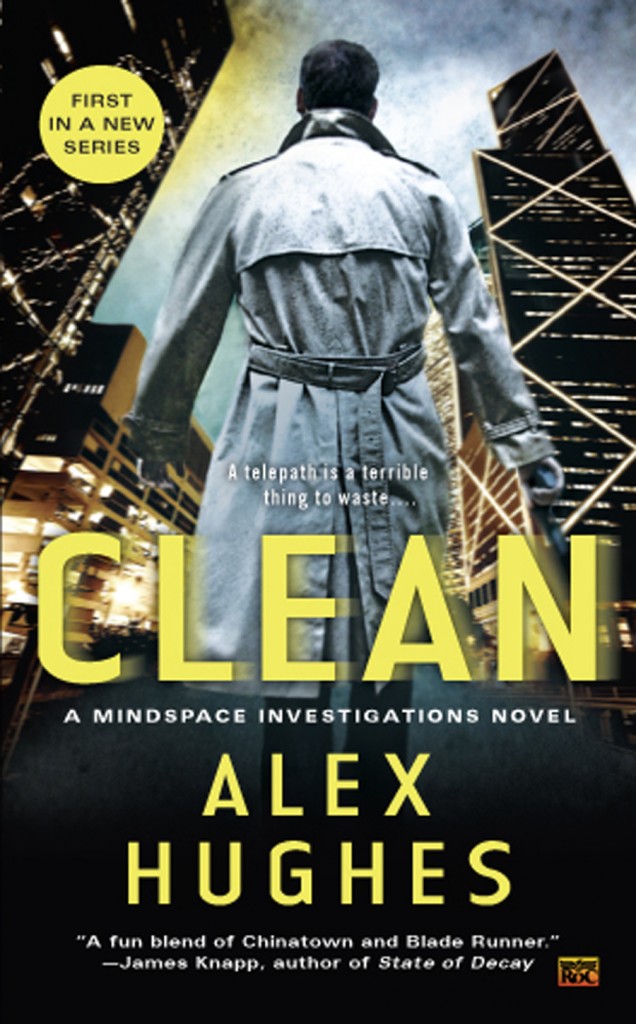 Jennifer: Works in the series are Clean, Payoff, and Sharp. Can you tell us a little about the characters and the story arcs in the series so far?
Alex: Sure. The major characters are Adam (our hero) and homicide detective Isabella Cherabino. At the start of the series they've been working together a few years, but this time she's brought him in on a particularly puzzling crime scene. When the killer threatens her life, Adam must step up to save her. He's more than half in love with her but thus far Cherabino is oblivious, which is hard. Adam is struggling with his addiction and slowly working the Twelve Steps program, slowly building confidence and competence. Then (in Book Two) at a crime scene he comes face to face with a murdered former student—someone he owed. And Cherabino must help him solve the case.
Jennifer: What appeals to you about the fantasy and science fiction genres?
Alex: I love nearly all types of fiction, with a special love for anything commercial (mystery, scifi, romance, suspense). I love reading about and telling stories about characters with flaws overcoming obstacles in any of those areas. For me, though, the present day real world is a very small sandbox. Sometimes the stories I want to tell fit nicely into that sandbox, but more often I'm playing with things in the grass outside. What could be and might be and wasn't—well, all of that is very interesting to me. Introducing an impossible element and study how normal people change when dealing with that element, making real world problems metaphorical and exaggerated to make a point, playing at the edges of what is possible now, playing with old stories and might-have-beens, all of those are interesting to me. And, as it happens, they call that approach science fiction and fantasy.
Jennifer: What inspired you to write the Mindspace Investigations series?
Alex: I had just re-read this amazing book by Joan D. Vinge called Catspaw, a cyberpunk book about a tortured telepath trying to make his way in the world. I wanted to write something very much like it, but since I was a cop show fan I wanted him to be a detective. One of my good friends at the time was struggling to recover from anorexia, and going through that struggle with her really touched me. I knew I wanted to talk about addiction, about her struggle, but I also knew a physical drug would be easier to understand in the context of what I had already. I did try to write cyberpunk, as well, but it turns out my personal style tends much more towards noir.

Jennifer: What are some of your favorite fantasy and science fiction books/authors and why?
Alex: Must I pick a favorite star in the sky? I grew up on (to name a few) authors like Heinlein and McCaffrey, Weber and Lackey and Bujold and Asaro. I love how they're about the people, the characters, and how they interact with the science or fantastical elements. Strong characters and societies just grab me and don't let me go.
Jennifer: Have you always wanted to be a writer? What got you started on your writing journey?
Alex: When I was a kid (maybe ten? Eleven?), I was a huge, huge reader. I mentioned to my mom briefly that I should write something like one of the novels I was reading, and my mom being my mom said, absolutely, honey. Write it. She set me up on the computer with a document open and said go. I think she was shocked when she came back in an hour and there was a chapter done. Not a very good chapter, mind you, but a chapter. I finished that book a few years later and have been writing ever since.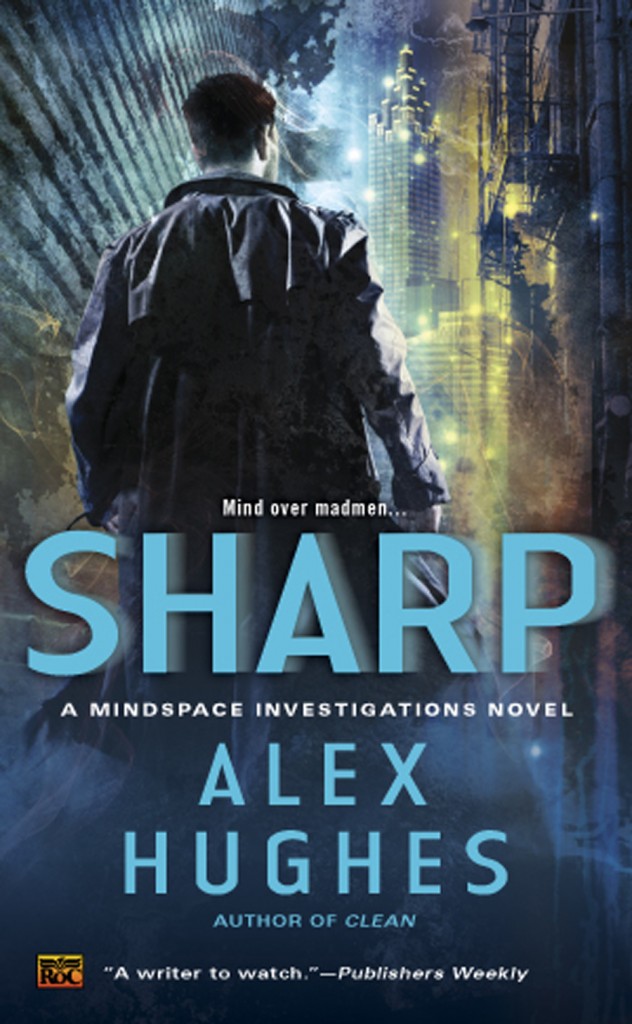 Jennifer: What's next for you? Will there be more books in the Mindspace Investigations series?
Alex: I'm working on Book Four right now; Book Three (Marked) is with the publisher and will be out in April. I've got a short story in the same world I'll be releasing myself in March, and I've got nine books planned out in the series. I have a lot to say in that world. But I'm also working on other ideas for other worlds to play in. I love writing, and I love connecting with readers, and I plan to do both for a very long time to come.
MORE ABOUT ALEX
Alex Hughes is the author of the Mindspace Investigations series from Roc. She is a Semi-Finalist of the 2011 Amazon Breakthrough Novel Awards, a Finalist in the 2013 Silver Falchion Awards, and a graduate of the pro-level Odyssey Writing Workshop. Over the years, she has lived in many neighborhoods of the sprawling metro Atlanta area, including Decatur during her time at Agnes Scott College. 
On any given week you can find Alex in the kitchen cooking gourmet Italian food, watching hours of police procedural dramas, and typing madly. Find out more about Alex at her website or follow her Facebook, Goodreads, and Twitter.
GIVEAWAY TIME
Alex is offering a print copy of Clean, U.S. residents only. To enter, use the form below.