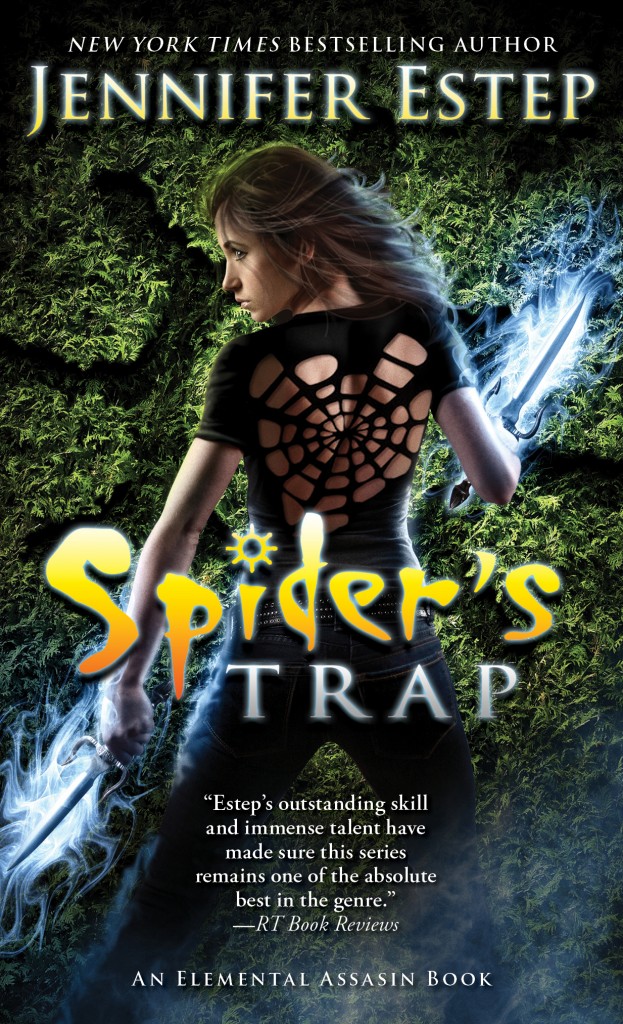 I posted this on my Facebook and Twitter pages a couple of weeks ago, but I wanted to share the cover art for Spider's Trap, Elemental Assassin #13, July 28.
The cover was once again done by Tony Mauro, and the model is Alexa Martino. From what I've been told, she has been Gin on all of the book covers.
I always enjoy seeing the covers and how tough, cool, and confident Gin looks. I especially like her shirt on this one. I think that's a cool nod to the spider theme.
Spider's Trap is up for pre-order at the following sites:
Amazon Kindle / Amazon paperback / Books-A-Million / iTunes / Kobo
It should be up at other sites, like Barnes & Noble, soon (if it's not already). Also, the audiobook will be available through Audible, although that pre-order link probably won't go up until sometime in May. Audible pre-order links don't usually go up until about six weeks before the publication date.
Here is the description for Spider's Trap:
Keep your friends close but your enemies within stabbing distance.

One important lesson I've learned in the assassination business is that to be the best you have to roll with the punches. Now that I'm queen of Ashland's underworld—by default, not by choice—a lot more punches are being thrown my way. But I suppose that's the price of victory for taking down some of the underworld's top dogs. Good thing I have my Ice and Stone magic to help me survive my volatile new position. Just when I think things are finally settling down, someone tries to murder me during a hush-hush underworld meeting. But the real surprise is how strangely familiar my shadowy assailant seems to be.
My job is to maintain order among killers, crooks, and thieves, and soon I'm embroiled in a bloody game where the ability to keep secrets could be the greatest superpower of all. My enemies have all sharpened their knives and laid their traps, waiting for me to fall. But this Spider weaves her own webs of death …
You can read the first chapter of Spider's Trap here. Scroll down and click on the Read Excerpt tab, although beware of spoilers for previous books in the series, especially Black Widow.
I hope that everyone enjoys the cover. July 28 will be here before you know it.