Black Widow cover revealed …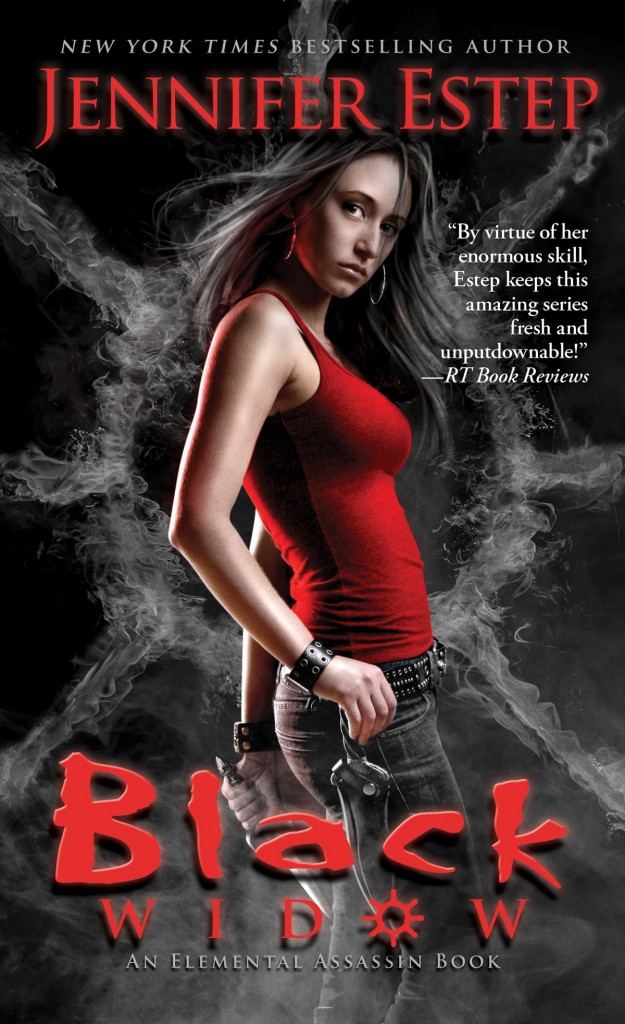 Today, I am happy to share the cover art for Black Widow, Elemental Assassin #12.
Isn't it cool? The art was once again done by the fabulous Tony Mauro, and I believe the cover model is Alexa, who has been Gin on all the covers so far. I think Tony and Alexa have really outdone themselves this time. This is one of my favorite covers of the whole series.
Spoiler warning: And here is the back cover copy for Black Widow. Please note that this does contain some spoilers, so if you absolutely do not want to be spoiled, you may want to skip reading the next few paragraphs.
There's nothing worse than a cruel, cunning enemy with time to kill—and my murder to plan.
With wicked Fire elemental Mab Monroe long gone, you'd think I could finally catch a break. But someone's always trying to take me down, either as Gin Blanco or my assassin alter-ago. Now along comes the Spider's new arch-nemesis, the mysteriously named M. M. Monroe, who is gleefully working overtime to trap me in a sticky web of deceit.
The thing is, I'm not the only target. I can see through the tangled threads enough to know that every bit of bad luck my friends have been having lately is no accident—and that each unfortunate "coincidence" is just one more arrow drawing ever closer to hitting the real bulls-eye. Though new to Ashland, this M. M. Monroe is no stranger to irony, trying to get me, an assassin, framed for murder. Yet, as my enemy's master plan is slowly revealed, I have a sinking feeling that it will take more than my powerful Ice and Stone magic to stop my whole life from going up in flames.
Black Widow will be published on Nov. 25. It is up for pre-order at Amazon, iTunes, and Books-A-Million. It should be up on Barnes & Noble and all the other usual book sites soon. The audio book will once again be available through Audible, although that pre-order link probably won't go up until sometime in the fall.
In the meantime, hope everyone enjoys the cover. Cheers!
10 Responses to "Black Widow cover revealed …"
Looks great!! Can't wait to read it.

Jennifer+Estep says:

Thanks! I appreciate that.

Barbara Elness says:

I agree, it's the best one yet! Although I hate to play favorites, because I love them all.

Jennifer+Estep says:

I think all the covers have been really good, but there's just something about this one that I really like. Maybe it's the combo of the red and black together.

I love it !

We wait the sixth opus in French… but nothing :'( I think, i am going to continue this fabulous serie in VO !

Jennifer+Estep says:

Thanks! I appreciate that. Unfortunately, I never get a lot of information about when the books are being released in other languages, so I don't know when BY A THREAD might be released in French. Wish I could be more help.

Although what is VO? Just wondering.

twiser says:

When the first chapter for Poison Promise ganna be up?

Jennifer+Estep says:

Not sure. Whenever I get a chance to post it, but I'm buried with work/deadlines right now. There is a brief teaser for it in the back of THE SPIDER, though. Hope that helps.

Vicki says:

I have loved all the covers…but this one is visually stunning. I love it. Too bad you don't have prints available for the covers. I would have this one on my wall in a second. Looking forward to this coming out.

Jennifer+Estep says:

Thanks! I like it a lot too. You might check out Tony Mauro's website. He might have prints available, and he does a fantasy calendar with his art every year too. I got one for this year, and it's really cool. Hope that helps!