Today, I thought I would share a few of the many books that are in my TBR pile. Apparently, today's books are brought to you by the letter B, given that the words bone, bite, and bloody are in the titles. LOL.
Note that the descriptions (in italics) are from Goodreads: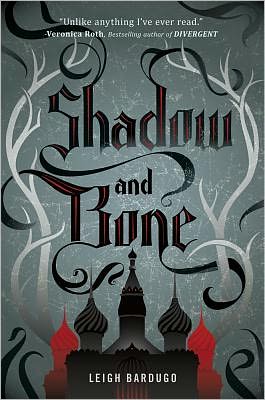 Shadow and Bone by Leigh Bardugo: It seemed like everyone was buzzing about this young adult book when it came out earlier this summer. I think the magic/world building sounds interesting.
Alina Starkov doesn't expect much from life. Orphaned by the Border Wars, the one thing she could rely on was her best friend and fellow refugee, Mal. And lately not even that seems certain. Drafted into the army of their war-torn homeland, they're sent on a dangerous mission into the Fold, a swath of unnatural darkness crawling with monsters who feast on human flesh.
When their convoy is attacked, all seems lost until Alina reveals a dormant power that not even she knew existed. Ripped from everything she knows, she is whisked away to the royal court to be trained as a member of the Grisha, the magical elite led by the mysterious Darkling. He believes she is the answer the people have been waiting for: the one person with the power to destroy the Fold.
Swept up in a world of luxury and illusion, envied as the Darkling's favorite, Alina struggles to fit into her new life without Mal by her side. But as the threat to the kingdom mounts, Alina uncovers a secret that sets her on a collision course with the most powerful forces in the kingdom. Now only her past can save her … and only she can save the future.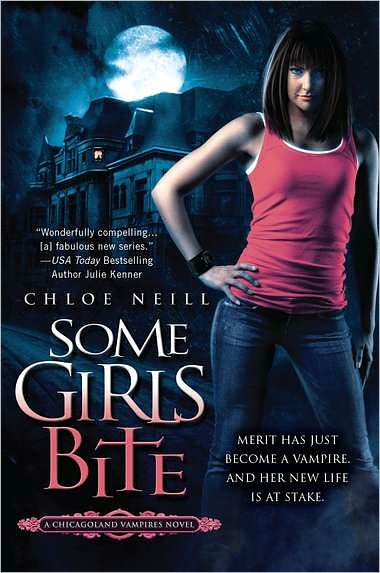 Some Girls Bite by Chloe Neill: I've heard a lot of good things about Neill's Chicagoland Vampire series, and I've seen the books get a lot of positive reviews. Plus, I've tweeted with Chloe a little online, and I'm looking forward to reading the first book in the series.
Sure, the life of a graduate student wasn't exactly glamorous, but it was Merit's. She was doing fine until a rogue vampire attacked her. But he only got a sip before he was scared away by another bloodsucker — and this one decided the best way to save her life was to make her the walking undead.
Turns out her savior was the master vampire of Cadogan House. Now she's traded sweating over her thesis for learning to fit in at a Hyde Park mansion full of vamps loyal to Ethan "Lord o' the Manor" Sullivan. Of course, as a tall, green-eyed, four-hundred- year-old vampire, he has centuries' worth of charm, but unfortunately he expects her gratitude — and servitude. But an inconvenient sunlight allergy and Ethan's attitude are the least of her concerns. Someone's still out to get her. Her initiation into Chicago's nightlife may be the first skirmish in a war — and there will be blood.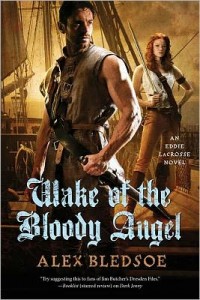 Wake of the Bloody Angel by Alex Bledsoe: I'm a fan of Bledsoe's Eddie LaCrosse novels, which are a cool mix of noir detective fiction and epic fantasy. This is the latest entry in the series. Alex was also nice enough to do a guest blog for my blog last year.
Twenty years ago, a barmaid in a harbor town fell for a young sailor who turned pirate to make his fortune. But what truly became of Black Edward Tew remains a mystery — one that has just fallen into the lap of freelance sword jockey Eddie LaCrosse.
For years, Eddie has kept his office above Angelina's tavern, so when Angelina herself asks him to find out what happened to the dashing pirate who stole her heart, he can hardly say no — even though the trail is two decades old. Some say Black Edward and his ship, The Bloody Angel, went to bottom of the sea, taking with it a king's fortune in treasure. Others say he rules a wealthy, secret pirate kingdom. And a few believe he still sails under a ghostly flag with a crew of the damned.
To find the truth, and earn his twenty-five gold pieces a day, Eddie must take to sea in the company of a former pirate queen in search of the infamous Black Edward Tew … and his even more legendary treasure.
What about you guys? What's in your TBR pile right now? What books are you looking forward to this year?