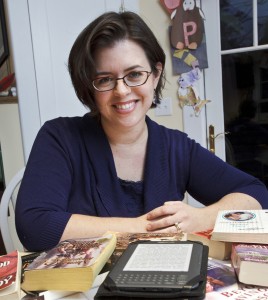 Today, I'm pleased to welcome author and blogger Sarah Wedell from Smart Bitches, Trashy Books. I'm always surfing over to the blog to see what's new, and when I saw that Sarah had a new book coming out, I asked her if she'd guest blog. She was nice enough to say yes and agreed to answer a few questions:
Question: Tell us about your new release, Everything I Know About Love, I Learned from Romance Novels.
Sarah: IT IS SO AWESOME. How's that? Seriously, I'm so proud of this book, because at its heart, this book is about the romance reading and writing community talking about the genre we love, and how valuable and valid it is in our lives.
Everything I Know About Love, I Learned from Romance Novels celebrates what romance readers already know: that romances can be a road map of what to do (and what not to do) in real life relationships. Instead of giving us (OH NOES) unrealistic expectations of ourselves and our partners and spouses, in reality romances provide models of overcoming conflict, recognizing heroism, and, most of all, being the heroine of your own life.
Question: What was the inspiration for this book?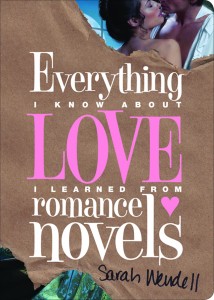 Sarah: I have run an advice column on SBTB for a few years now wherein I use the wisdom of romances to answer people's letters about their problems. Part of the inspiration for the book comes from that — there's a great wealth of knowledge about human interaction coded into romances. Other inspiration came from recognizing over the years that the community of women who read and write romance are terribly wise and generous people.
Question: What do you love most about the romance genre? Any pet peeves?
Sarah: I love the happy ending, the reassurance that no matter how bad it is, it will all work out. I love how far I've traveled and how many people I've met within the books I love, and how many other readers I've met through discussing how much I love the genre. When we started SBTB, I had no idea there were so many romance readers around the world who were eager to talk with one another.
As for pet peeves? OH LORDY. My top two: stilted, unrealistic dialogue and plot contrivances that are wooden and unlikely. I don't want to read a book and say to myself, or to the characters, "OH COME ON NOW."
Question: You run a popular romance site called Smart Bitches, Trashy Books. Tell us a little about what the site does and what the inspiration for it was.
Sarah: I do! The site reviews romance, discusses the genre, and helps connect readers with books to read, re-read, and discover again after years apart. The site began when Candy Tan and I "met" online, had a relatively random email conversation and somehow ended up discussing romances – how much we both loved them, how wonderful the best of them were, and how annoying it was that so few people took them seriously. One of us said, "We should start a blog and review them, working the power of our English degrees and our love of cursing," and the other one said, "Uh, ok!" And Smart Bitches, Trashy Books was born. Really, the inspiration was to discuss everything readers love and despair about the genre — and the site is still going 6-plus years later.
Question: What do you think are some trends on the romance horizon? What would you like to see more of in romance books? What would you like to see less of?
Sarah: I think with the many options and opportunities available to authors, more distinct niche sub genres will emerge, because it will be easier for authors to connect directly with those readers who are demonstrably interested in that specific setting or trope or character type. I myself am not picky as far as what I want: I love contemporary and historical romance, and some light paranormal now that I've gotten my mental taste buds re-interested in paranormals. I love characters who seem real, who struggle with their attraction or feelings of determination for someone else, and who emerge at the end of the story as better and stronger people.
Question: What are some of your favorite books and authors?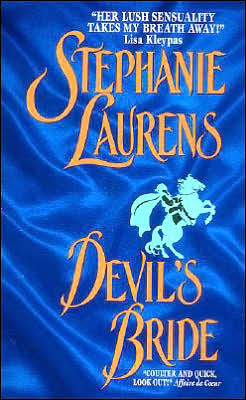 Sarah: The books that are falling apart on my bookshelf: Perfect by Judith McNaught; Bitten by Kelley Armstrong; and Born in Ice by Nora Roberts. Oh — and Devil's Bride by Stephanie Laurens. Among my new favorites: the Alpha and Omega series by Patricia Briggs is something that I can't remove from my phone or reading device in my purse. I keep re-reading parts of it.
Question: What's next for you and Smart Bitches?
Sarah: Let's see: more reading time! I always want to connect with new or newly curious romance readers, and those who love the genre and are searching for something new to read. So I've restarted the podcast (link one, link two) with Jane Litte from DearAuthor.com. I'm hoping to expand on that in the future. My goal is always to find new books, and new readers of romance to talk to.
ARC GIVEAWAY
Thanks so much for being here, Sarah! As part of her guest blog, Sarah is giving away an ARC of Everything I Know About Love, I Learned from Romance Novels. To enter, just leave a comment on this blog post talking about a romance you've enjoyed, what you like about the romance genre, or some books you are looking forward to.
The giveaway is open to folks 18 and older. The contest will run through noon, EST, Thursday, Sept. 15, and the winner will be randomly drawn and announced here on the blog on Friday, Sept. 16. Happy commenting!