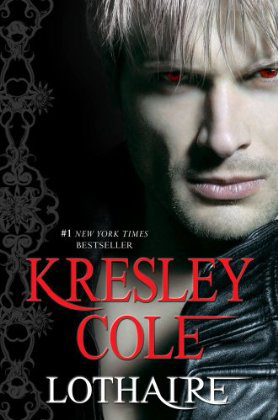 Book: Lothaire

Author: Kresley Cole

Series: Immortals After Dark #12

Genre: Paranormal romance

Summary: Lothaire, the Enemy of Old, a fierce vampire, has been searching for his Bride, the queen who will rule by his side, for centuries. Lothaire thinks his Bride is Saroya, a vampire/death goddess trapped in the mortal body of Elizabeth "Ellie" Peirce. Ellie is about to be executed for a series of murders that Saroya committed while in control of Ellie's body when Lothaire rescues her. Lothaire plans to keep Ellie prisoner while he searches for a ring that will extinguish Ellie's soul and let Saroya take full possession of Ellie's body — forever. Despite her precarious situation, Ellie finds herself attracted to Lothaire, and she knows that the only chance she has of living is to convince the vampire that she's his true Bride …

First line: "What fresh humiliation does this day bring?" Ivana the Bold asked her son, Lothaire, as guards escorted them to the vampire known as Stefanovich — the king of the Vampire Horde.
Cover thoughts: An okay cover, but not my favorite in the series. I like the style of previous covers, like Dreams of a Dark Warrior, better than this one.

What I liked: Ellie. She's been through enough to drive almost anyone else insane, but she always manages to roll with the punches. I thought she was an interesting, strong heroine who always tried to make the best of all the many bad, bad situations she was put it. She never stopped thinking, fighting, and plotting, and I liked that about her.
Plus, I always enjoy the new characters and friendships that Cole creates among the various immortals. She's really good at introducing characters that you want to learn more about, like Thad and Hag, who become Ellie's friends. It was also cool to learn more about Nix, Lothaire, and their past history together.

What I didn't like: Lothaire. He treats Ellie really, really badly for most of the book, and he didn't really redeem himself all that much, to me. There's one thing he does to Ellie near the end of the book that I really didn't like, since Ellie asks him not to do it (or to at least give her more time to think about things). I also got tired of Lothaire thinking he always knew what was best for Ellie and that she should just go along with whatever he wanted. Overall, Lothaire just worked better for me as a secondary character, rather than the main hero.
Also, I'm from the Appalachian region, and all of Lothaire's snide comments about Ellie being from that region got old pretty fast. Like Ellie says at one point, I've heard all the put-downs and jokes before, and I've made some of them myself.

Overall: Not my favorite book in the series, but an interesting read that sets up future action/stories. If you like action-packed paranormal romance, you should check out Cole's books.

Would I read this author again: Yes. I like this series a lot and am looking forward to more books in the Immortals After Dark world.
My grade: C

2 Responses to "2,008 and counting …"
It was really great to meet you, Jennifer! Hope you are recovered from RWA and back to writing. Hopefully we'll cross paths again at RT or RWA in Atlanta next year.

Thanks! I appreciate that, and it was great meeting you too. Hope to see you at another conference soon.