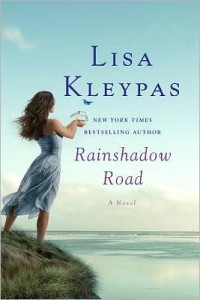 Book: Rainshadow Road

Author: Lisa Kleypas

Series: Friday Harbor #2

Genre: Contemporary romance

Summary: Glass artist Lucy Marinn is happy with her life — until she finds out that her boyfriend has been cheating on her with her younger sister. Heartbroken, Lucy wonders if she can ever really love again. But then vineyard owner Sam Nolan enters her life. Lucy and Sam are attracted to each other, but Lucy is wary of opening herself up to Sam. For his part, Sam doesn't know how good he would be at a long-term relationship, given his alcoholic parents and tough childhood. But as Lucy and Sam grow closer, these are the questions they'll have to answer …

First line: When Lucy Marinn was seven years old, three things happened; Her little sister Alice got sick, she was assigned her first science fair project, and she found out that magic existed.
Cover thoughts: A very lovely cover.

What I liked: The writing. Kleypas has a wonderful way with words, from the descriptions of Friday Harbor and Lucy's glass work, to the emotions and uncertainties that both Lucy and Sam are wrestling with. I just really connect to and enjoy the way she writes. Lucy and Sam are also very down-to-earth and likeable, and there are some amusing secondary characters as well.

What I didn't like: The magic. Lucy has a magical gift of being able to turn glass into living things, like birds and insects. However, I don't remember anyone having magic in Christmas as Friday Harbor, the first book in the series, and it just didn't seem all that necessary to the story in this book. Also, the descriptions of things like Sam's house and vineyard are lovely, but I thought they slowed down the pace of the book in some places.

Overall: A lovely romance about two people trying to overcome the emotional ghosts of their past. Not as knock-your-socks-off good as Kleypas's Travis series, but still a very enjoyable read that should appeal to those who like contemporary romance and women's fiction.

Would I read this author again: Yes. Kleypas is one of my favorite authors, and I want to read more about the characters in Friday Harbor.
My grade: B

3 Responses to "2,006 and counting …"
Awww… thanks! Seems we also have same taste in blogs.

although I can't seem to put the comment in the right place. LOL

You're welcome. I know. I need to do a post about where to put the comments. LOL.