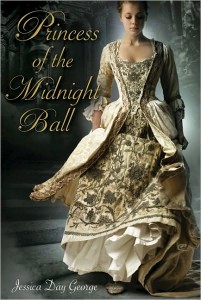 Finished Princess of the Midnight Ball by Jessica Day George. This is a young adult epic fantasy book.
Galen is a soldier coming home from war and searching for his mother's family when he meets an old woman. Galen is kind to the old woman, who gives him several gifts. Galen travels on to the city, finds his family, and is soon working in the palace gardens, where he meets Princess Rose and her eleven sisters. Galen is enchanted by Rose, but the princesses seem to be under some sort of curse since their shoes are worn through every morning but no one ever sees them leave the palace. Galen decides to get to the bottom of the mystery and finds himself in a strange world full of magic and promises …
I really enjoy fairy tale retellings, and this book is a take on The Twelve Dancing Princesses fairy tale.
Galen and Rose are both likable characters, especially Galen, who has been through so much during the war. I also sympathized with Rose, who is desperate to free her sisters and herself from a terrible bargain their mother made but just doesn't know to do it. Also, the writing was lovely and descriptive and definitely gives the story a fairy tale feel.
One of the things I liked most about the book was the fact that Galen was an avid knitter. It was a skill he picked up during the war, since he often had to knit socks for himself. George ties that into the story really well, and Galen's knitting is one of the things that ends up saving everyone in the end.
However, the first half of the book is a little slow, and the action and adventure don't really kick into high gear until Galen decides to help Rose and the other princesses. I would have liked a little less set-up in the story and more scenes after Galen discovers what Rose and her sisters are hiding.
Overall, this is an entertaining fantasy book. If you like fairy tale retellings, check this one out.
My grade: B
Would I read this author again: Yes. I think George has a lovely writing style, and I'm interested in reading more by her.
Memorable quote: "A tall, rather handsome young man was standing over her, looking concerned. His brown gardening smock was open at the collar, despite the chill in the air, and she could see a thin white scar slashing the tanned skilled it revealed. Curious, she couldn't stop staring at this."
2 Responses to "1,092 and counting …"
Haley Fedor says:

I love retellings of fairy tales too. My favorite is Entwined by Heather Dixon, also a retelling of the 12 Dancing Princesses. I hope this one is really good too. I'm excited to read it.

I haven't heard of that one. I'll have to check it out. Thanks for the tip.

I enjoyed this one. It 's just a nice fairy tale retelling. Hope you enjoy it.