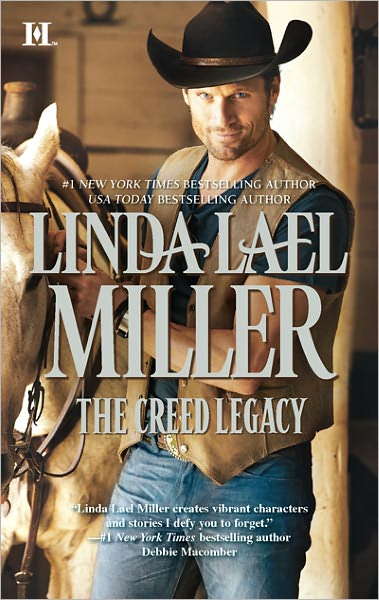 Finished The Creed Legacy by Linda Lael Miller. This is the third and final book in her Creed Cowboys trilogy.
After years on the road and a devastating personal tragedy, Brody Creed has finally come home to Lonesome Bend, Colorado to make amends with his twin brother, Conner, and the rest of their family. Brody also wants a second chance with Carolyn Simmons, a woman that he once had a relationship with but left behind. The attraction between Brody and Carolyn is as intense as ever, but Carolyn never really got over Brody breaking her heart, and she wonders if she can trust him with it a second time …
I've said it before, and I'll say it again. I love westerns (whether they are contemporary or historical), and Miller's books are just comforting, down-home reads. I know exactly what I'm going to get when I pick up one of her books — a sexy cowboy or two, men and women with strong roots and friendships with each other, a big extended family, and lots of pets.
This book follows that formula, but the elements just didn't quite gel for me this time. My main problem with this book is that there just didn't seem to be all that much romance in it. Brody and Carolyn talk and think about each other a lot, but it didn't seem like they were actually on the page together at the same time all that much. I would have liked to have seen much more of them interacting with each other and working through their issues.
Overall, this book didn't work for me as well as some of Miller's other titles have, but if you like westerns, you should check out her books.
My grade: D+
Would I read this author again: Yes. Despite the fact that this book didn't work for me, I still enjoy Miller's westerns.
Memorable quote: "On the other hand, Brody reflected, the beauty of that land could heal, take a man by surprise, even though he'd called the phone home all his life. That day, for instance, the sky was so blue it made Brody's heart ache, and the aspens, cottonwoods and pines lining the landscape were shimmering splashes of green, a thousand hues of it, ranging from silvery to near-indigo. The river wound like a ribbon through the valley, as clear as azure glass."
21 Responses to "1,062 and counting …"