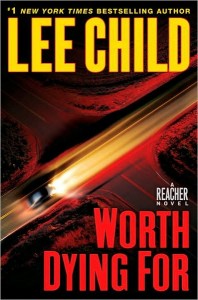 Finished Worth Dying For by Lee Child. This is one of the many novels in Child's popular Jack Reacher series.
This book takes place a few days after 61 Hours, which saw Reacher get injured in an explosion. In this book, Reacher is in Nebraska, trying to hitchhike his way to Virginia to meet a woman he talked to in 61 Hours. Reacher stops at a motel for the night and is soon breaking a guy's nose because the guy beat his wife. But the guy happens to be connected to the three men who run the town, and they send some more guys after Reacher. Pretty soon, you've got even more bad guys converging on the town, and everyone wants to get their hands on Reacher, who's trying to figure out what happened to a girl who went missing 25 years ago, among other things. Fistfights, shootings, car chases, and more ensue.
This book felt like a stop-gap to me — like Child was trying to come up with some trouble for Reacher to get into instead of hooking him up with the woman in Virginia already. The plot is pretty much the same as several other Reacher books — Reacher stumbles across a town being held hostage by a creepy powerful man (or men in this case) and sets out to make things right. There's nothing wrong with that, but the execution didn't live up to the idea for me this time.
Why not? Because the townspeople are so, well, wimpy. Basically, the three bad guys have a contract to haul everyone's crops to market, and the farmers are forced to do whatever the bad guys want because of this — even let their husbands and wives be brutally assaulted. As I read the book, I couldn't help but thinking don't these people have guns? Why don't they fight back? Why do they let themselves be controlled so completely? It was kind of hard for me to get past that.
Also, I figured out what illegal product the bad guys were dealing in about 50 pages before Reacher did. The mystery of the missing girl is solved, but Reacher just tells the people he's working with what he's found instead of Child letting the reader see how horrific it is for herself.
Any series has its ups and downs, but this one was more of a down for me.
My grade: D.
Would I read this author again: Yes. What can I say, the Reacher books are like crack. You just can't stop reading them.
Memorable quote: ""You seemed so angry."
"Me?" Reacher said. "I wasn't angry. I was barely interested. If I had been angry, we'd be cleaning up with a fire hose. As it is we're going to need a forklift truck."
2 Responses to "1,029 and counting …"
I like Lee Child's books. Readings are very good. I can recommend it to everyone.
My favorite:
http://www.konyv-konyvek.hu/book_images/14a/999640414a.jpg

I like Child's book too, but this one didn't work for me as well as some of the other ones. Thanks for the link. I always like seeing overseas covers of books.